William Toledo, the lead singer/songwriter of Car Seat Headrest, strode onto the First Avenue stage in full monochrome black. He played alongside his bandmates Ethan Ives (guitar and bass-backing vocals), Seth Dalby (bass) and Andrew Katz (drums, percussion), as well as members of Naked Giants, who joined Car Seat Headrest to perform their newest album, Twin Fantasy. Toledo has been building toward a more emphatic, ambitious sound for years, and needed all the help he could get for his songs to reach their full potential. The performance did not disappoint.
Car Seat Headrest and Naked Giants played through most of the Twin Fantasy tracks, showing off the expansiveness of the record. They spun an intricate maze of sound around Toledo's unique voice. One minute, he'd be belting like Joe Strummer from the Clash, then he'd shift into a raspy, folk-like monologue. Every song was a merry-go-round of ups and downs, with refrains building into climaxes that dipped back into refrains, over and over again.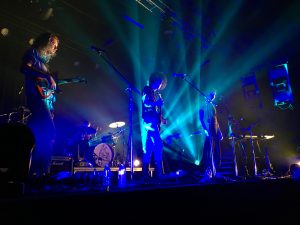 In the very first song, "My Boy (Twin Fantasy)," Toledo quickly rose to full strength until he was screaming through a wall of sound. Later in the night, Toledo became almost pensive, giving his more poignant lyrics space to breath. These quieter moments revealed Toledo's emotional journey; the process of heartbreak and renewal written into every song on the record.
Throughout the show, Car Seat Headrest transitioned abruptly from near-climax screams to slower, introverted whispers, only to build again to the next moment of transcendence. The effect was jarring at times, invigorating at others. A mosh pit of head-bangers formed at the center of the dance floor, but they had trouble keeping the beat. The music shifted too quickly from one tempo to another, from one extreme to the next.
The song "Beach Life-in-Death" was the ultimate marriage of extremes in Twin Fantasy. Lasting over 13 minutes, "Beach Life-in-Death" was a jumble of guitar screams, heartbreaking story-telling and powerful chord progressions. Toledo let himself wander through the song, commenting in both lyric and song on the inertia of everyday life. Despite this sense of inertia, the song's intensity steadily builds until reaching an explosive climax.
The band also drew from some of their older records to play classics like "Drunk Drivers/Killer Whales." The crowd sang along to some of the bands' signature refrains, which often start five, six, sometimes ten minutes deep into a song. Car Seat Headrest made the crowd work to uncover those hidden gems, those fragmented lyrics that jump out of the chaos and grip you by the shirt collar.
In these moments when the band reached its full capacity, they ascended to another level, some new found glory. Turn the clock back eight years to when Toledo started recording, and you wouldn't hear this assertive, full-bodied sound.
Toledo began writing music as a teenager experimenting with lyrics and instrumentation, self-releasing tracks recorded in bedrooms and cars. Using the band name Car Seat Headrest, he crafted lyrics with an introverted, poetic quality embedded in murky instrumentation. A deep dive into Toledo's Bandcamp past reveals his lo-fi origins, in which he let his words flow stream-of-consciousness through endless peaks and valleys of indie rock emotion.
Toledo self-produced 12 albums before signing onto Matador Records in 2015. He released the record Teens of Style the same year and began touring with a full band in 2016. The cult-like fan-base Toledo amassed on Bandcamp followed him to the stage, and Car Seat Headrest began its ascent to fame. Soon after they signed on with Matador, they were featured in the New Yorker, NPR's All Songs Considered, Pitchfork, and the Chicago Tribune. They released another album in 2016 called Teens of Denial, and fans continued pouring in.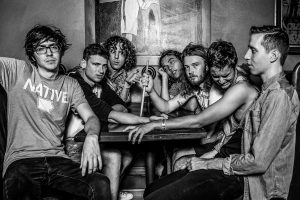 Still feeding off the momentum from these albums, Car Seat Headrest released Twin Fantasy in 2018. Like Teens of Style and Teens of Denial, Twin Fantasy continues to explore the harrowing restlessness of teenage-hood. Many of the band's new tracks are re-releases from Toledo's past, before he ever came into the spotlight.
So what makes Car Seat Headrest so special? There is no lack of angsty indie rock in the depths of Bandcamp and SoundCloud, but few artists have emerged from these spaces onto record labels and world-class stages. Yet there are few artists like William Toledo.
Toledo has refused to thin instrumentation, shorten his songs, or simplify his themes. He's made it clear that a growing audience won't influence his songwriting, and that he will continue voicing the echoes of his younger self. That teenage boy who recorded songs in the backseat of his car is very much alive in the grown-up, intricate rock ballads of Toledo's present day. Often, they are the same lyrics he wrote in high school and college, just sung to a different tune.
Toledo is a perfectionist in more ways than one. He often remakes songs from his past, obsessing over small details and crafting his songs in long, drawn-out arcs that loop back in on themselves. Every song is a window into a fascinating mind. Listening to Toledo's lyrics is like listening to the inner dialogue of a tortured genius (or a self-conscious teenager).
Listening to Car Seat Headrest is like being suspended in the drug-fueled haze of teenage-hood, which Toledo dwells in as much as he rejects. He sings openly about depression, about the struggles of being young and lost and alone. Yet he also sings about finding love, healing and, finally, closure.
Almost the entirety of Twin Fantasy fixates on a "you" figure, and the lyrics are intimately, almost obsessively focused on that "you." The lyrics come from a chaotic relationship and a restless mind trying to make sense of that relationship. But they also come from some deeper urge to find meaning in the mundane, and to free oneself from the sadness of youth. These themes have repeated throughout Toledo's work since he began recording.
Each song from Twin Fantasy takes the listener on a path towards some realization, some deeper truth that Toledo's been circling around for years. He is a master of dark comedy, yet not afraid of being deadly serious. Through Car Seat Headrest, Toledo will continue putting his personal truths, his unadulterated pain, out into the world.