Did you know there's a hallway on campus that saves 600 pounds of waste a month and fights inequality at the same time? That hallway is the MacFreeSwap. The MacFreeSwap is a Sustainability Office program which allows students to donate items they no longer need to pick up items that others have donated. It's a similar concept to a thrift store, but minus the exchanging of money. The FreeSwap is located on the first floor of Kagin (Kagin Commons), behind the MAX Center and right next to the bathrooms.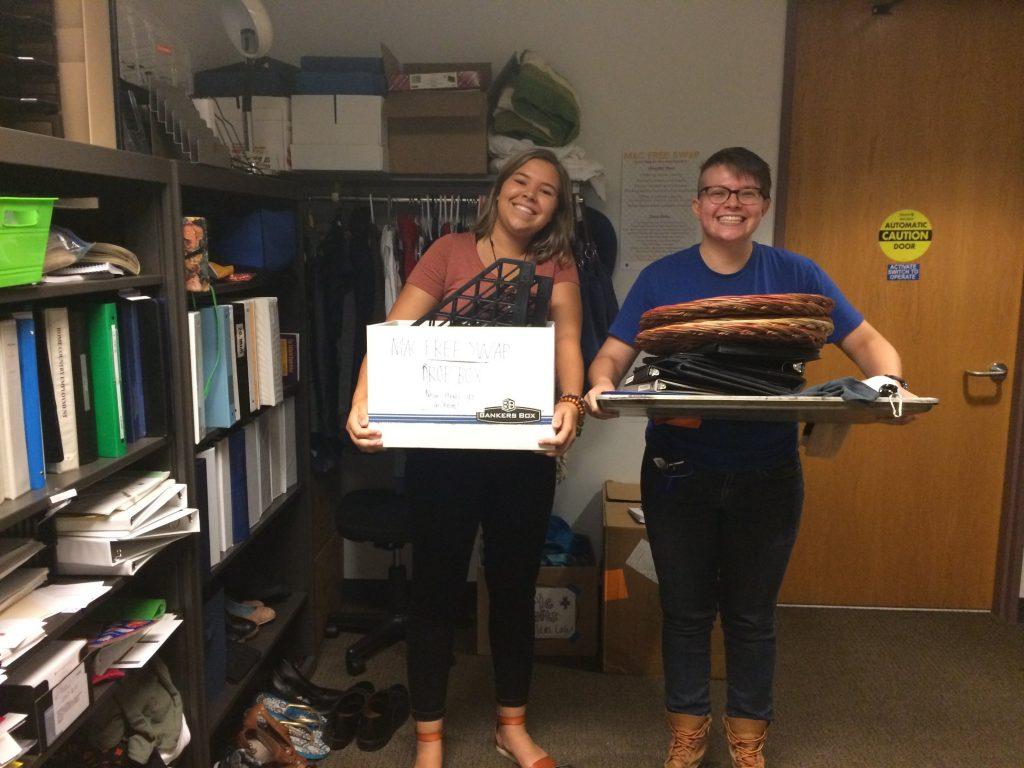 Visiting the MacFreeSwap is a visual and tactile smorgasbord. Once you pass through Kagin Commons, walk past the Sustainability Office, and turn left by the bathrooms, you spot colorful, organized chaos. Shelves brim with binders, T-shirts, clothes, shoes, pins, magnets and two bins of desk knick knacks. While clothes and gently used school supplies are the most abundant items, donated items run the gamut from stress balls to jewelry to cat food to much more. The FreeSwap, which has become the Sustainability Office's most popular program, began with two events in 2008 involving carpet squares and camping dishes. It started when Sustainability Project Manager Kurt Miller called Sustainability Manager Suzanne Savanick Hansen. He had a handful of scrap carpet that would be thrown away by the end of the day if it didn't find a home. Hansen emailed MacCares student organization list, and by the end of the day students had taken all the carpet pieces.
Later that summer, two student workers joked to Hansen about how few dishes they had at their apartment. Between the four people living in their house, they only had two camping forks, one plate and two bowls. Coincidentally, Hansen had a whole kitchen full of extra dishes from cleaning out her mother-in-law's house. She gave them to the very appreciative students.
Hansen developed a "free stuff" listing service on 1600Grand. Later, Facilities Services staff requested a physical drop-off location, so the Sustainability Office started a small "free table" in the office for the FreeSwap. When the table started overflowing, the Sustainability Office moved the FreeSwap to a former closet area that was more out of the way. Eventually, the FreeSwap moved to its current location, a larger area near the bathrooms in Kagin Commons.
The MacFreeSwap stems from a well-honored tradition. The modern American roots of a free swap come from the Digger Free Store, started by a group of San Francisco hippies in 1967. The idea of communities trading unneeded items caught on, and today many colleges and religious communities have similar 'drop off, swap off' ideas. Some of the most famous include the Telluride, Colorado Free Box (a town institution since the 1970s) and Saber Nation Station, a free store in the basement of Shakopee High School for students in need.
The MacFreeSwap is an example of how social justice and environmentalism can meet. Though the FreeSwap is open to anyone, it is a great resource to students from a working class background who might struggle to buy new school supplies or housewares. It can be useful to students from warm climates building their winter wardrobe, or to students who simply enjoy digging around for thrifty treasures. The FreeSwap reduces waste while helping students access much-needed items discreetly and for free. Any item that's donated is yours to take.
"A common misconception is that you have to bring something to swap every time you take something from the MacFreeSwap, " Hansen said. Take anything you need or want in the MacFreeSwap (with the exception of the bookcases and hangers used to display items). However, the success of the FreeSwap does rely on people bringing new things in. Try to 'pay it forward' every once in a while by cleaning out your closet and dropping off something new. There is always a need for warm clothing (especially mens'/masculine clothing), dishes, silverware and pots and pans.
Sustainability Office staff fondly remember the most notable things they've ever found in the FreeSwap. For Hansen, some favorites included a hot pink zebra print lamp, technical rain gear ready for the Boundary Waters and a witch hat with a snake on it. Macalester College Student Government Sustainability Officer Aubrey Arnt '21 wrote, "I found some greats, like a leather interview binder, incense and a high quality fleece sweatshirt."
Come check out the FreeSwap, and make sure to come back often, because you never know what you'll find. For Macalester community members, it's challenging to find something that's a win for the environment, a win for saving money and a win for improving your wardrobe or house. The MacFreeSwap is exactly this kind of win-win-win situation.