First Thursday speeches address racial climate in U.S., on campuses
On Thursday, September 6, a sea of Macalester students, staff and faculty filled the Alumni Gymnasium in the Leonard Center for the annual First Thursday convocation to usher in the new academic year.
In addition to welcoming new and returning members of the campus community, the event featured an address from celebrated poet and activist Claudia Rankine – whose work has been widely recognized for its contribution to conversations about racial violence and creativity with form.
Throughout, the speakers – including Chaplain Kelly Stone, Provost Karine Moe, MCSG President Malik Mays '18, and President Brian Rosenberg – urged the audience to take action against prejudice and injustice both on Macalester's campus and in the country at large.
Mays, in his first address to the community at large, called on the audience to remember the lessons from last year's walk-in. The late fall event that responded to a series of swastikas and anti-Arab graffiti at the college and called out both racist aggression and bystander culture on its predominantly white campus.
"We are a community that chooses to acknowledge our problems, rather than ignore them," Mays said. "There are people here who will put in the work to create a better Macalester. If I did not believe this, I would not have run for the presidency because I cannot do this work alone. MCSG cannot do this work alone. As we all know, real change, long-lasting change, requires an effort from the entire community."
Next, Rosenberg took the stage to remind students of their duty to lead in times of crisis – recalling the memories and legacies of former Macalester professor and 1968 Democratic presidential nominee Hubert Humphrey and the late former United Nations Secretary-General Kofi Annan '61.
"Good leaders must also be good listeners," Rosenberg said, quoting Annan. "Above all, a good leader must also be a good follower. It's counterintuitive, but a good leader cannot always be right. There are people around you with ideas, and, if they are good ideas and they are right, follow them."
After his remarks, Rosenberg introduced Rankine, whose speech wove quotes of Annan's into an examination of the evolution of race relations throughout her life. Rankine reflected that she was born just 11 days before the 16th Street Baptist Church bombing in Birmingham, Alabama that killed four young black women and served as an inflection point during the fight for Civil Rights in 1963.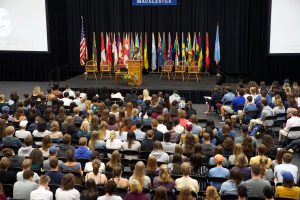 Rankine, born in Jamaica before immigrating to the United States early in her childhood, began her career as a poet studying the work of James Baldwin and Adrienne Rich at Williams College in Massachusetts.
It's my favorite word because it's both about being present – here I am – and handing someone something, – 'here.' I feel like that hereness is activated in these [college] years."
At Williams, Rankine began to understand her identity not just as a poet, but as a black woman living in the United States.
That's because the same problems that plague society at large exist at our colleges as well. She recounted a story of a white student at Yale calling the police on a black student who had fallen asleep while studying in the common room of their dorm.
"Our political and social environments enact a stratified class and race structure that historically has demonstrated a brutal disregard and disrespect of many around us – and that inhumanity has been buried in our academic relationships," Rankine said.
"This weaponized mode of behavior is striving to become the defacto norm as white people across the country call the police on people of color with the knowledge that our racist, white supremacist structures will keep them anonymous and protected," she continued.
"These rules of engagement governing our country as a whole are not suspended just because we are on a college campus. We are who we are wherever we are."
Shortly after her comments on race, Rankine highlighted the importance of voting – especially in the context of the coming midterm elections. To vote, she said, is to lead. Rankine called on the audience to remember the student leaders of the Civil Rights movement in the 1960s, and to draw inspiration from their initiative going forward.
"We are in that moment again and you are at the front lines," she said, before again quoting Annan: "'You are never too young to lead, and you should never doubt your capacity to triumph where others have not.'"
Rankine ended the speech by sharing a recent Nike ad featuring Colin Kaepernick among other remarkable athletes including Shaquem Griffin, Lebron James and Serena Williams – the latter of whom was also featured in Rankine's 2014 book Citizen: An American Lyric among photographs of Williams' previous conflicts with U.S. open umpires.
"For Serena, the daily diminishment is a low flame," Rankine wrote. "Every look, every comment, every bad call blossoms out of history, through her, onto you. To understand is to see Serena as hemmed in as any other black body thrown against our American background."
Just two days after Rankine's speech at Macalester, Williams found herself again at the center of an officiating controversy, when, during the final of the U.S. Open, chair Carlos Ramos penalized for three infractions including a seldom-enforced rule that bans interactions between coaches and players during matches. The tension between Williams and Ramos culminated when Williams defended herself to Ramos, calling him a 'thief' for purposefully targeting her in his scoring. Her defense cost her a game, and she ultimately lost the match.
"The Civil Rights Act of 1964 in theory ended segregation and in 1965 the Voting Rights Act in theory removed the barriers put in place to prevent people from exercising their rights," Rankine said.
"We all know that theory and practice are not the same thing," she continued. "I implore you to stay cognizant of the practices that play out around you even as you understand in theory what should be happening."