Daswani looks back on four years in MCSG, time at Macalester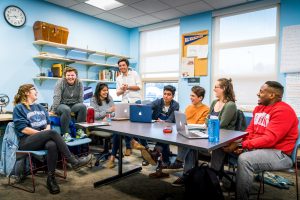 As the school year comes to a close, so does the four-year student government career of Suveer Daswani '18 – a senior who has served MCSG as a committee member, a committee chair and, this year, its president.
Daswani began his career on MCSG in 2014 as a class representative, when he served as a member of the Student Organizations Committee (SOC), fulfilling a goal that he held before ever arriving at Macalester.
"The reason why I chose to run was [that] back at home in India, in my high school, there was no student government," Daswani said. "We had a prefect council, but to be appointed on that council was the decision of our faculty and our professors.
"Before I had even applied to Macalester I had a chance to meet with a friend from my high school who was here, and I asked her if I would be able to run my own election and actually serve on election through a campaign," he continued. "After I arrived here, I signed up within the first week to run for MCSG."
Daswani's experience on MCSG during his first year motivated him to continue pursuing opportunities in student government throughout the rest of his college career.
"I love meeting people, interacting with people, and hearing what people wanted to see changed, which is why I chose to run for first-year representative," he said. "Since then, it's sort of been addicting."
Daswani credits his political endeavors with helping in his transition into the Macalester community during his first year at the school.
"I remember that when I was running my first campaign, I had to have a mini-event, and I remember thinking 'What do I do, what do I bring?' and I remembered I had these biscuits and since they're from India, I thought it would be more unique," Daswani said.
"That event was really memorable for me," he continued. "That was the first time I had taken the initiative as a first year, and I think doing that allowed me to get to know a lot of people."
As SOC chair his sophomore year, Daswani primarily focused his efforts on leadership of student organizations. His main goal was to make the transfer of leadership form one student organization leader to another more smooth.
At the end of that year, Daswani ran for MCSG President, but lost to Merritt Stueven '17. For the 2016-2017 year, Daswani again served as a class representative on the SOC.
"Although I was unsuccessful [in my presidential run], I knew I had the potential and the experience to continue serving on student government, and that's why I decided to run [for class representative] again," Daswani said.
At the end of the 2016-2017 Academic Year, Daswani made a second run for president– this time winning election with 87.9 percent of the vote.
The past year as president, Daswani has worked on connecting MCSG with academic departments and administrative committees. This became especially relevant as he worked on restructuring Macalester's subscription to The New York Times, which will go online next year.
"I brought up the idea of this funding restructure of changing from paper copies to an online subscription at the Board of Trustees meeting at the beginning of this semester," Daswani said. "One of the Board members was very interested and that support really helped me move the project forward." Next year, Daswani hopes that incoming MCSG President Malik Mays '19 will continue working towards increasing the mental health resources on campus.
"While there was no specific policy that we were able to get out of the year," Daswani said, "we were able to have the conversations to set the groundwork for next year.
As he nears the end of his career, Daswani feels that the highlights of his service on MCSG were the collaborative and leadership aspects. "My time on MCSG wouldn't have been possible if it wasn't for the people who supported me along the way," Daswani said. "I hope I've been able to give back in small ways to the people who have supported me."