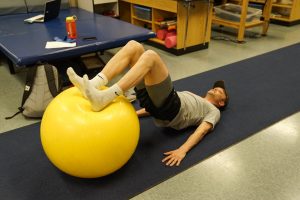 When Nick Fuselier '20 headed off to play pick-up soccer at the elementary school near his house on that sunny Colorado day over winter break, he had no idea that his leg was going to twist in the turf, keeping his foot in place while the rest of his body went the other direction. He had no way of foreseeing the pop in his knee, the instant agony and the innate knowledge that something had gone terribly wrong. He couldn't have imagined that after two doctor's visits, and an MRI, he would receive the news so many top athletes dread. While jogging slowly, not even near the heart of his pick-up game's action, he had no clue he was about to tear his ACL. When he heard his left knee pop, the midfielder went into shock, and immediately subbed out of the game before driving to his home nearby. Soon after, he and his mother went to the emergency room.
"I knew it was an ACL, right away," Fuselier said. "I knew I had torn something in my knee… We went to the ER, at the children's hospital right by my house. They saw me immediately, it was great. What was weird is all of the muscles and ligaments, tendons, whatnot in my knee spasmed, so they couldn't do — in the tests they were doing with my knee, they couldn't tell whether I had torn anything, because everything was so tight. So, usually when you do ACL and ligament tests, you can feel movement in the knee, and they couldn't feel anything. So, they were like, 'oh, you probably just hyperextended your knee or you just twisted your knee, and it's reacting like any knee would.'"
Despite getting what seemed a clean bill of health, Fuselier remained unconvinced. After returning home, he had his mother call a close family friend, an orthopedic surgeon, who agreed to look at Nick's knee the following morning. His swelling had decreased to the point that his knee could respond to the ACL tests — which it had not the day before — and indicated a tear. A subsequent MRI confirmed his fears: he had torn his ACL as well as part of a meniscus.
The injury blow was difficult on its own. High level athletes fear ACL injuries more than almost any other injury. Although surgery means the injury is not the career ender it once was, it is just a prelude to a grueling rehab process that can take anywhere from 6-12 months, depending on a person's age and physical condition. A lifelong soccer player, Fuselier had to mentally prepare himself for that process while also setting up doctor's appointments in Minnesota from his native Colorado, where he was spending winter break.
Once he returned to campus, Fuselier began meeting with pre-operation doctors, and had his surgery scheduled for January 26 with Dr. Aimee Klapach, the orthopedic surgeon for Minnesota United and an expert in knee and shoulder injuries. With surgery scheduled so soon after the injury, Fuselier targeted an ambitious return date: mid-late August, the beginning of soccer preseason, and around seven months after his injury. All signs seemed good until the morning of his scheduled surgery, when pre-operation doctors realized he had not been off a prescribed antibiotic long enough to go under anesthesia.
"I roll into surgery with my big purple suit, IV in my arm, I'm basically ready. They were about to mark my knee, where it would go in, and the anesthesiologist was like, 'just to make sure, you haven't been on this medicine for at least three weeks?'"
After answering no, Fuselier learned he couldn't have surgery that day, and it would have to be put off until the medication left his system. As frustrating as the experience was, it also brought benefits. A torn ACL does not prohibit any physical activity, and the two-week delay allowed Fuselier to get back in the gym and start strengthening his leg, keeping him on track to start playing again in late August or early September. In early February, he went under the knife and came out in a leg brace, with a new ACL and menisci. For the next three weeks, he couldn't walk, and wasn't even allowed to take a shower for the duration.
"This is the first time he's ever been on crutches, so that was interesting," Tom Ehrsam '20, Fuselier's teammate and roommate, said. "I was teaching him how to use crutches. He only fell a couple of times, and improved dramatically by the end of it."
After three long weeks, he could start walking again, and begin the arduous rehabilitation process. Fast forward two months, and Fuselier is progressing exactly as he hoped. He acknowledged that his rehab program is ambitious, but continues to target the end of preseason as the time he will step back on the soccer field, with the only visible sign of the injury the four-inch long scar on his knee. Although that is the moment that he always has in his mind's eye, the long-term goal that all of his small-term goals are building toward, he still has a hard time imagining exactly what it will be like.
"Coming back, and actually being able to play and not be scared and apprehensive of taking a step or passing a ball or moving somewhere, that's gonna be probably one of the best feelings I will ever feel." he said.
Although he has yet to fully conceptualize that moment, the one thing Fuselier knows for sure is that he will get back on the field again. When The Mac Weekly asked if he had ever thought about not trying to come back, he answered unequivocally.
"No. There was no way I could give up as a result of this."