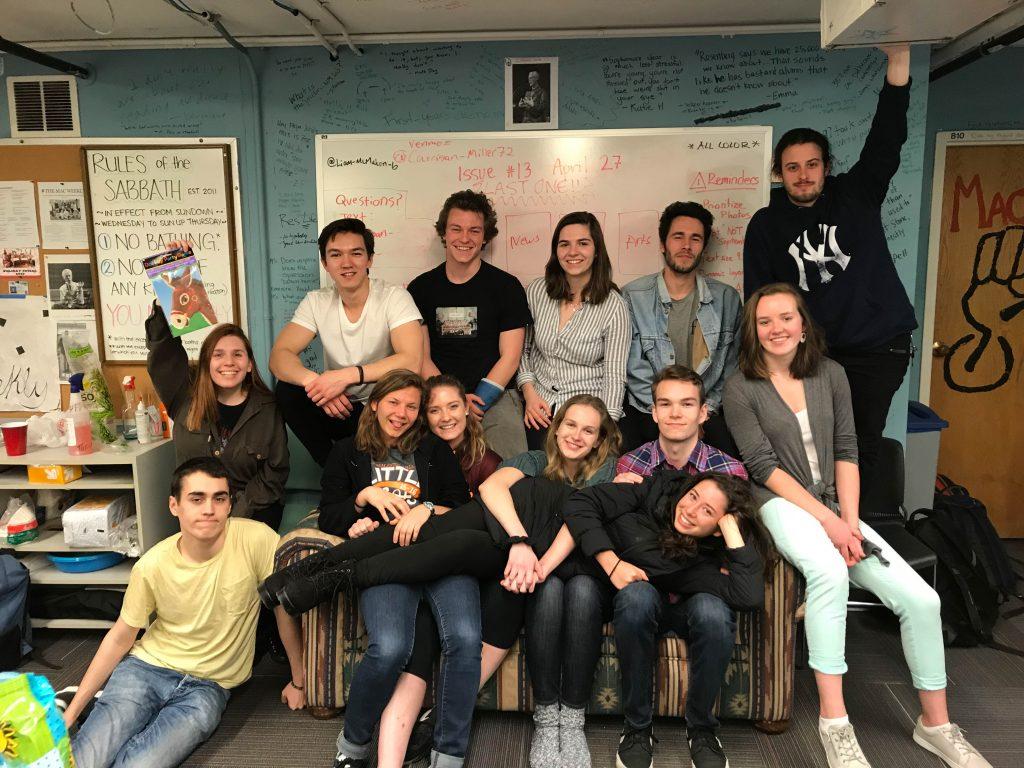 Each year, the final Senior Spotlight is dedicated to the departing Mac Weekly seniors. Here, the group of 14 discuss their experiences working on the paper.
TMW: In a word, how would people describe their Mac Weekly experience?
M.L. Kenney: Exhausting.
Josh Koh: Besides journalistic? Photographic and exploratory.
Maya Rait: Hectic.
Meg Britton-Mehlisch: Formative.
Max Harrison: Lawyer.
Mack Hartley: Newspaper.
Laura Gould: Overwhelming, but in the best way.
Marin Stefani: Free tickets.
Celia Heudebourg: The latest nights, ever.
Rachel Wilson-King: Exhausting.
Emmet Hollingshead: Invigorating.
TMW: When did you realize you were going to stay in The Mac Weekly?
JK: I never thought I would stay. So, I came on and Maddie [Jaffe '16] was here and Maddie was always so stressed, and I was like why are you so stressed? Now I know why.
MR: Actually I was really intimidated by Maddie Jaffe, so I thought I was going to run away immediately, to be completely honest. But I stuck it out and I'm still here.
MBM: As soon as I walked into the office. I heard the music and I saw the people and there was free food, so it was a done deal.
Mack: I realized I was going to stay once the bureaucrats at Apple approved the app's release.
RWK: Once I became an editor.
TMW: What is everyone's favorite story that they've written?
MR: Well I've only written one article, even though I've been here four years, but I actually loved it. It was great. It was about a local musician, and I talked about it so much, I apologize. But it was the best experience ever. I also really liked working on the mental health issue and creating the cover for that.
MBM: I think if I had gotten this question a week ago, before we published the mental health issue, then it would have been the golf cart article. But I think the end of the product of the mental health issue has been really successful. So golf cart is now number two.
LG: Thinking back to my first year, one of the first articles I wrote was about the men's cross country team. After it was published their coach emailed me in color-coded all caps and he was super excited and loved the article, so it made me want to keep writing.
RWK: Very early on in my Mac Weekly career I wrote an article about schools banning cheers at sporting events, and it was cool because at the same time Kim [Chandler, athletic director] was trying to ban one of the cheers at the soccer games. Yeah, because cheering at soccer games is one of my favorite things, and when people cheer at soccer games is my favorite thing, so getting to write about that was dope.
MS: I did a piece at the beginning of the semester about "An American Ascent," which relates a team of African American climbers climbing Denali, and the Allos are super amazing, but they're really really white and so it's nice when you have people like that pushing it to be more inclusive and open and the dude who was in charge of marketing for the campaign really liked the article and thought it was cool.
CH: The best piece I wrote was the last minute cover for Abe Asher '20, where I announced the Springfest person. It was two paragraphs long.
TMW: What is your favorite app that you've developed?
Mack: I can speak to this one! I've worked on many apps at The Mac Weekly, but my favorite one… oh, that's tough. It would probably be the Mac Weekly app. I didn't see this one coming!
RWK: The awkward thing would be if he said it wasn't the Mac Weekly app.
Mack: It was a hard choice.
TMW: Bigger mistake: "Winnners" or "raciwsm"?
MBM: Oh, come on!
JK: Oh! That was a great question! Yes! It's gonna be… "Winnners!"
MBM: Are you kidding me?
MK: No!
JK: Yes!
MK: Also, it wasn't "raciwsm," it was "raciwst."
MBM: Definitely "raciwst." Did you hear about "winnners" though? No.
Mack: Where do you put the "W"? Like I can understand…
MBM: Exactly! It's so stupid.
JK: The one with "winnners" also had a generic photo caption. That's why that one's worse, because it's an all-encompasing fuckup.
Adrianna Jereb: "Raciwsm," definitely.
CH: In defense of both "winnners" and "raciwst," if we didn't fuck up regularly, the Hege would not have content.
TMW: What is your favorite story from the office?
MK: Not the show "The Office."
MBM: Are these all favorites?
JK: That question sucks.
MK: No, I like that!
MBM: It's just a question.
MK: There are so many good ones! Are you kidding? I would need to think for a second though.
Max: I like the one where Dwight starts the fire.
MR: My favorite memory of the office is watching Meg clean things.
MBM: Awww.
MR: It just feels so futile. And she still does it. It's such an inspiration.
TMW: What would people like their legacy to be?
RWK: The sports section having writers.
CH: I think the app.
Mack: I want the app to get acquired by Facebook.
MK: I honestly believe that in the four years we've been here, especially this year, it's gone from … a club that existed to have fun—and we still have, in my opinion, a lot of fun—though I think in some ways it's become more pre-professional and cutting edge than I'm aware that it's ever been. And I like to think that we all share some of the credit for that.
JK: Are we the oldest org on campus at this point?
CH: That's not a fact, so maybe.
EH: We'll make it fact.