Macalester writers' work recognized in the Nick Adams Short Story Contest
The Nick Adams Short Story Contest is an annual writing contest for students who attend an Associated Colleges of the Midwest (ACM). ACM is a group of fourteen private colleges in the midwest, including Macalester, Carleton, Luther and Grinnell. Every year, students from these colleges submit short stories to be judged. This year the guest judge was Will Boast, a New York Times bestselling novelist and essayist who wrote the memoir Epilogue and recently published his debut novel, Daphne: A Novel.
A group of six finalists are chosen by a faculty panel after each of the Associated Colleges of the Midwest submits four pieces for consideration. The guest judge then chooses a winner and an honorable mention. This year Bethany Catlin '19 was a finalist and Zeena Yasmine Fuleihan '18 won the honorable mention. A Macalester student hasn't placed as winner or honorable mention since 2009.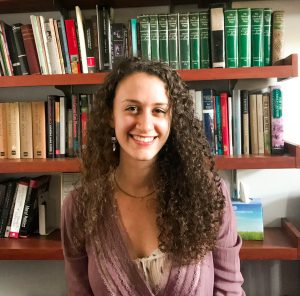 Fuleihan is a senior English (creative writing) major and music & Arabic minor. Her piece, "Za'atar Croissants", centers on a daughter who is cleaning out her late grandmother's apartment with her father. "A recent history of violence and death is felt strongly, but so is the energy and invention of the city, as epitomized perhaps in the titular croissants. All of this is achieved in about six pages, and I would happily read another sixty," guest judge Will Boast wrote.
The Mac Weekly: What inspired Za'atar Croissants? Zeena Yasmine Fuleihan: It's always been in my head to write something on the themes in "Za'atar Croissants," such as diaspora, finding or returning to cultural heritage, etc. My family is Lebanese but I was born and raised in the United States, so the idea of someone in the diaspora rediscovering certain things about where they come from is important to me. I also did clean out my grandmother's apartment in Beirut with my mother during high school, so the premise for the story was based in my experience, although all the events of the story and the characters are fictional.
TMW: What made you interested in creative writing? ZYF: I can't remember when I started identifying as a writer, but I've always loved reading and storytelling so writing was just a natural pastime for me. In eighth grade, I completed National Novel Writing Month—a challenge to write 50,000 words of fiction in 30 days—through an afterschool club, and I completed it again during high school. I think those two experiences really solidified my identity as a writer, and made me much more confident in my ability to keep pursuing a writing career.
TMW: How has your writing changed over your four years at Macalester? ZYF: In an unexpected turn of events, I actually spent more of my time at Macalester dealing with poetry than fiction, even though my background before college was in fiction and novel writing. I interned for my first two summers of college at the Poetry Center of Chicago (very recently renamed Chicago Poetry Center) and my first official writing publication in the "real world" was three poems in Sukoon, an Arab themed online journal. I do think of myself as a poet, as well as a fiction writer, but I have to say that I owe a lot to the way I think about writing in general to the time I spent with poetry. It's impacted my fiction, my academic writing, everything.
TMW: What do you hope to do with creative writing after graduation? ZYF: I will definitely keep writing, and hopefully attend graduate school for an MFA in creative writing in a year or two. In the meantime, I want to work in publishing or other places in the literary realm and write on the side.
TMW: Has your involvement and leadership in Chanter shaped your writing? How? ZYF: Definitely. I joined Chanter the second I got on campus my first year, and I think I owe a lot of my perspective on writing to our weekly meetings in which we discuss the submitted pieces. That was a space for me to continually read and debate creative writing, and as a first-year, look up to role models in leadership positions at the time. It has impacted not only my analytical skills, but also shaped how I approach my own writing as I was in constant contact with other people's reactions to certain things in writing. Now, as the Editor-in-Chief, I really hope to cultivate that growth in some of the younger members, and make space for their voices in our meetings to encourage confidence.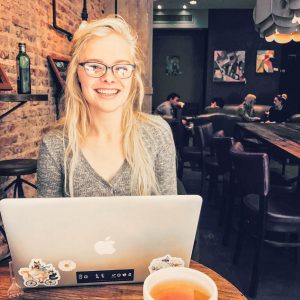 Catlin is a junior English (creative writing) and international studies double major and a music minor. Her piece "American Daughter" was a finalist. "American Daughter" is story about a family gathering. "A vivid, funny, and loving portrait of a family of strong-willed individuals, and one that doesn't turn away from the darkness of the past," guest judge Will Boast wrote.
The Mac Weekly: What drew you to write about family, specifically your family, in "American Daughter"? Bethany Catlin: Fiction seems to be mostly writing what you know, but with changed names, careful curation, and some artistic flourishes. My family made this piece easy for me because every word of it is true. If it weren't their unwieldy loveableness, I wouldn't have any stories to tell.
TMW: What made you interested in creative writing? BC: Simply put, reading did. I consume a ton of literature, particularly creative stuff like fiction and poetry. I have always admired great writing, and loved watching human themes interact with human imagination to face the bigness of the human experience. When I seriously tried my hand at it for the first time, I realized that it was the first and only thing I had ever done which pulled from every element of my experience, personality, interests, wonderings, idiosyncrasies, anxieties, and doubts. You can genuinely write about anything, and the best writing addresses nothing less than everything – if through the particularities and lens of its plot, structure, and content. As someone who has always struggled to pick and choose between passions, creative writing was the biggest thing I could think of to study.
TMW: How has your writing changed over your years at Macalester? BC: When I got here I didn't think I liked creative writing. It seemed like a sort of vulnerable and weird choice, and I was hoping to realize I was concretely good at a concrete subject. However, my intro to creative writing class showed me how much I liked to write creatively, and to think about the creative process. Even then, I was resistant to what I considered more experimental forms like poetry. Of course, over the trajectory of my Macalester experience I have discovered that poetry, arguably one of the most vulnerable and weird forms of creative writing, is probably what I like to write best. So it goes.
TMW: What do you hope to do with writing in the future? BC: In the long term I'm hoping to go to grad school and get an MFA in creative writing from Brown or the Iowa Writers' Workshop, try my hand at some version of the great American novel. We'll see if I get in! Regardless, I plan to keep writing stuff for myself and the people I like. I've been quite prolific about my dog lately. We'll see where that goes.
All the short story finalist pieces can be found on the ACM website: https://www.acm.edu/student_programs/Nick_Adams_Short_Story_Contest/2018_Contest.html.