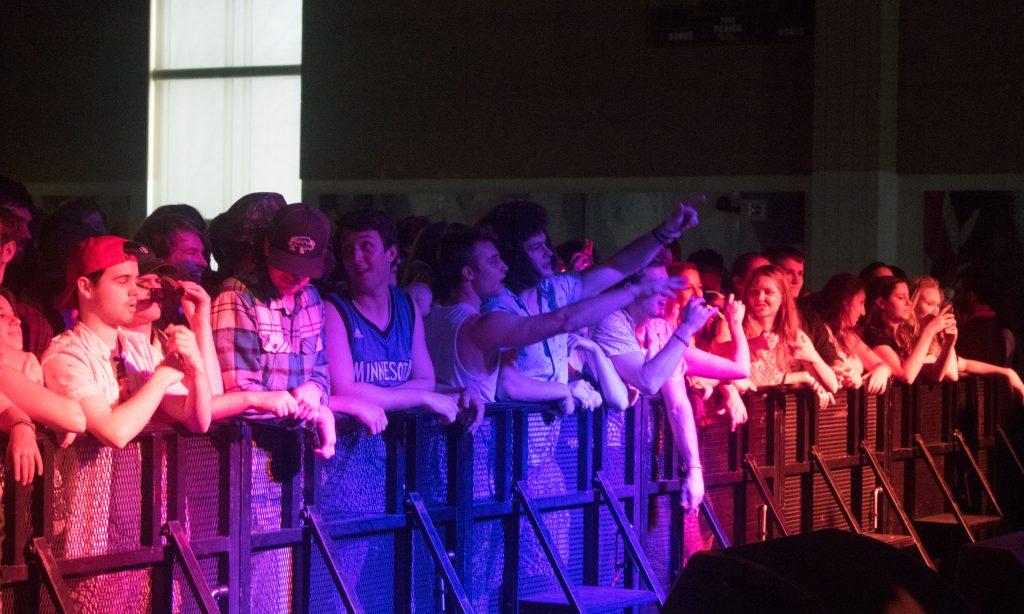 Saturday brought a record-breaking April snowfall to the Twin Cities, right on time to push Springfest, Macalester's annual outdoor event with food, music and end-of-semester stress relief, into the Leonard Center fieldhouse for the second year in a row. Students trailed in throughout the afternoon drenched in snow, pairing spring-themed outfits with thick snow boots and apprehensive attitudes about how seasonally-appropriate the festival could be in the dimly lit fieldhouse. Four musical acts came prepared to turn the vibe around.
Student rock band as if they were bears. — comprised of Austin Dischinger '18, Jack Lickerman '21, Kevin Omodt '20, Karl Schuetzle '20 and Rob Stokes '20 — began the event with a small crowd of early-arrivers. Many in the audience had seen the band's performance at Battle of the Bands in March, which won them their opening slot, and were excited to see them again. Others, though, were new to the band's mixed set of originals (such as "Flannel Jacket") and covers (including the well-received "Stacy's Mom," a classic by Fountains of Wayne). By the end of their set, the entire crowd was singing along to their arrangement of Rage Against the Machine's "Killing in the Name," jumping to the beat as the players headbanged and, for a moment, forgetting about the blizzard roaring on the other side of the walls.
Pop singer Abir followed as if they were bears. after a brief break. With only a few singles released thus far, Abir is best known for her feature on the Macklemore track "Zara." She took the stage solo, singing along to recorded backup instruments and vocals, but her presence filled the space. She took the already-lifted spirits the openers gave the crowd and elevated them, getting everyone below her to dance along to songs few had heard before.
"She was really energetic and her setlist was well-organized. I've never listened to her music before but I enjoyed her style and fun stage presence," said Courtney Popp '18. With originals "Girls," "Playground" and "Finest Hour," Abir's performance brought the sunshine Mac students needed, and they responded well. She left the stage praising her small crowd, saying "Y'all are awesome. Hope you had fun."
Part of Abir's success with her audience came from not mentioning the weather that the closed windows fought to help attendees forget. Hip-hop artist Mike Floss, meanwhile, barely spent any time on stage before marvelling over it. "We came from Nashville, where it's warm out. This — this is something else, y'all," he said. With that, he started his set by playing Lil Yachty's "Minnesota" as an effort to lighten the mood. Before his second song, Drake's "God's Plan," was over, half his crowd had walked away. Unlike the other acts, Floss could not get a good read on those that ended up staying. Instead of trying to hype them back up, he directed them to "wake up."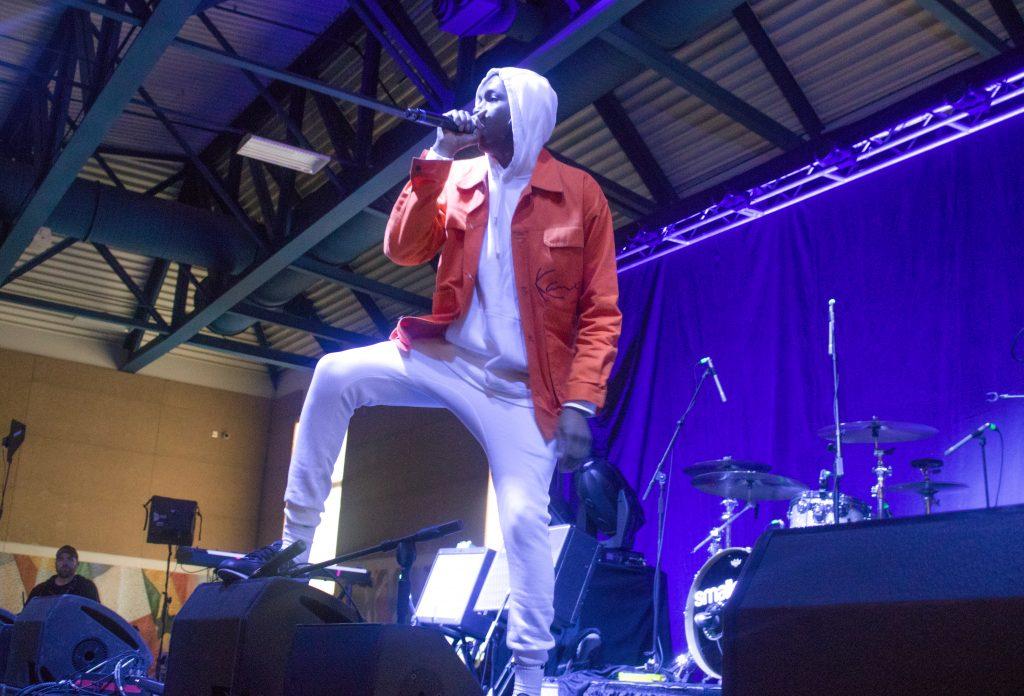 He moved through his performance, including popular originals "Movie" and "Sasha," with little interaction with those dancing below him. At one point, he called for everyone having fun to "make some noise," only to be met with a sad, small response from a group of students dispirited at the outcome of what Floss renamed "Blizzardfest." By the time he left, fewer people cheered than had for Abir, despite an increase in the number of students in the fieldhouse.
The lapse between Floss and the headliner, Smallpools, was even longer. In that time, quite a few new people replaced the many that left. By the time the band — consisting of Sean Scanlon on vocals, Mike Kamerman on guitar, Beau Kuther on drums and returning member Joe Intile on bass — took the stage, the crowd that formed was thus barely bigger than what Mike Floss started out with, and in a much more mellow mood.
That all changed when the lights went out and a Beethoven melody came on, quickly transforming into a surge of electric guitar, flashing lights and excited cheers from the audience. Contrary to the other acts, Smallpools began like an alternative concert might: without introduction, and straight into their hit "Over and Over." Before its final chord, people were already jumping and even crowd surfing with a vigor Springfest 2018 hadn't yet seen. Following with songs "No Story Time," "Driving from the Wrong Side of the Car" and "Street Fight," Smallpools set out to get the crowd going and to have a good time.
"I loved how they interacted with the crowd, who they knew probably didn't know most of the songs," Greta Eherenman '21, a fan of the group since shortly after the release of their first album, LOVETAP!, in 2015, said. "I thought it would be more awkward since no one really knew who they were, but they jammed out anyway."
Acknowledging this fact, the band used tactics throughout their concert to get everyone involved. Many of the songs, including "Mother" and "Karaoke," came with backstories to help Scanlon connect to his listeners. Other fast numbers, like "American Love" and "Mason Jar," prompted people to clap along. They even included a mash-up of Major Lazer and DJ Snake's "Lean On" with the classic "Lean on Me" by Bill Withers to get everyone singing along before their final three numbers.
"Killer Whales," which Scanlon said was inspired by the band googling themselves in their early days only to find articles about whales being kept in small pools, was met with a response expected from an audience twice the size of what it was. By that time, even those on the sidelines were listening. Mid-chorus, Intile threw a giant inflatable orca into the crowd to bounce around, replacing the few beach balls that were popped or lost over the course of the event. "Million Bucks" also came with a prop: a tambourine. Scanlon picked Cash McGregor '18 out of the front row to play the instrument until the second chorus, when he would throw it back to the stage. It went off without a hitch, which made both the crowd and band even happier.
Over the course of the set, a group in the center of the crowd chanted the same word over and over: "Dreaming," the name of Smallpools' debut single that reached #23 on Billboard's Alternative Songs chart shortly after its release and still remains popular. When Scanlon finally announced this as their final song, there was an eruption of cheers from everyone there. Feeding off of one another and those below them, the band soared through the number, announcing their May 10 concert at Minneapolis' Varsity Theater before thanking Mac and exiting to chants for "one more song!" echoing off the fieldhouse's curved walls.
Springfest 2018 was definitely, as Floss dubbed it, "Blizzardfest." Even though the snow fell on people's spirits, a majority of the music brought to the Leonard Center succeeded in bringing warmth to the Macalester campus. After the show, students were led back towards the north end of campus by the lucky student who kept the killer whale, reminding them that the spring season the event aimed to emulate will come to Minnesota soon.