Brunch 2.0: Exploring Tea House's Weekend Brunch Buffet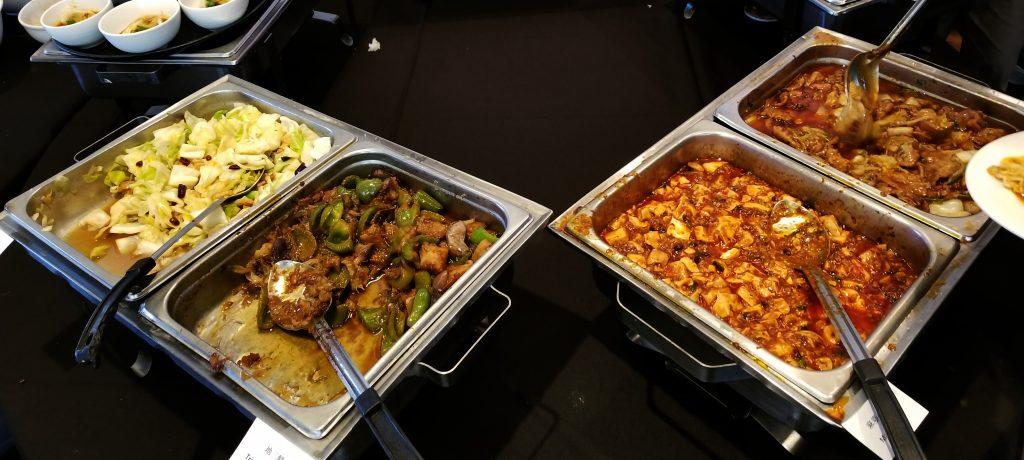 We live in an age of over-ritualized brunch and Tea House' weekend brunch buffet takes the ritual to another level. Located near Stadium Village, Tea House is the most authentic Chinese restaurant in town, serving traditional mainland-style dishes in a formal setting. I have exhausted their regular menu and discovered a high variance of quality. For example, I have had their braised tofu with baby bok choy seven times. Each time was worse than the previous, but its taste of scintillating pepper and thick chicken broth always tempts me to order again.
However, Tea House' brunch buffet never disappoints. Every weekend morning, diners pass through a heavy red door into a welcoming space with rosewood furniture centered around tables of food, ranging from breakfast favorites to loaded main dishes.
The buffet items can be roughly divided into three groups. Near the entrance there's a table of hearty wet foods including soymilk, tofu pudding and congee (rice soup). I don't usually have congee in the buffet because it fills me up too quickly, but Tea House's minced pork with preserved egg congee deserves recognition. Tofu pudding is served with sweet toppings like sugar and syrup, or salty toppings like soy sauce and pickled mustard. I always choose the savory options for their versatility: match them with some fried dough and egg pancake, and you can't ask for more on a drizzling April morning.
In the center is a large table of white rice, steamed buns and six main courses. I have discovered a general structure of the six main courses: two spicy meat dishes, two home-style or cafeteria-style comfort dishes, one semi-vegetable (usually tofu or eggplant cooked in heavy seasoning) and one lightly seasoned vegetable dish. Tea House changes their buffet menu every week and most dishes aren't on their regular menu, which adds an intriguing level of unpredictability to the buffet. The rule of thumb I have for the main courses is to look for the shorter names. For example, a dish named "spicy fish fillet braised with tofu and red pepper" may taste just alright, while a dish named "bok choy" is almost guaranteed to be extraordinary. In fact, Tea House's bok choy is indeed extraordinary. Fried with light garlic sauce until soft and mixed with crispy dried shrimp, a plate of bok choy is rich in texture and taste, reminding poetic diners of the mountain and the sea.
On the side there is a table with fried doughs, potstickers, egg pancakes, pan-fried pork buns and fried rice balls coated with sesame and stuffed with sweet bean paste. The pot stickers are usually honey-glazed on the outside, which really enriches their layers of taste. All these snacks are great, but they are no match to the red oil wonton, which alone can draw me to the buffet. The red oil is a mixture of red pepper oil and fried sugar; the wonton is stuffed with ground pork or chicken. Nothing extraordinary here. However, when the minced green onion and drips of soy sauce hit, when you single-handedly pick up two bowls and rush through the tables, when you take a split second to savor the enchanting dark red color before putting one entire wonton in your mouth, it becomes something special, certainly a high point of your weekend. I'm sure that somewhere else, in a misty village of Szechuan Province, an alley corner in Shanghai or a luxurious restaurant in Vancouver, there must be better red oil wontons. However, it is the red oil wonton of Tea House Minneapolis that sticks with me wherever I am, home or away. Just like the famous "Casablanca" quote, "Of all the gin joints in all the towns in all the world, she walks into mine." Unfortunately, Tea House has replaced wonton with leek and pork dumplings for the past two weeks, which may or may not indicate a future tendency. It's nothing to complain about, except that the sweetness in the red oil is a weird match to leek.
Bringing all these foods associated with different settings into a brunch buffet is a creative move that brings Chinese culinary tradition into the booming buffet scene. As the kitchen's mastery ensured the food to be as fine and authentic as possible, Tea House's brunch buffet stands out from Twin Cities' booming brunch scene, appealing to the nostalgic, the curious and the hungry alike.
Tea House is located at 2425 University Ave in Minneapolis.