Gang of Youths brings soaring indie rock to 7th Street Entry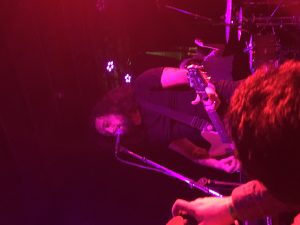 In my four years living in the Twin Cities, I have gone to a lot of concerts. And what I've learned is this: Minnesotans love to stand still. Multiple times, locals have complimented me on my energy, and lamented how damn difficult it is to get Minnesota crowds to break out of their shells. But this past weekend, I learned that it just takes the right band to get Minnesotans to express themselves.
That band is Gang of Youths.
The Sydney-via-London five-piece is in the midst of an international breakout after cementing themselves as the band of the moment in Australia. After releasing their knockout debut "The Positions" in 2015, they returned last August with "Go Farther In Lightness," a thundering record with the lyrical sophistication of a post-graduate thesis and a sonic cohesion that goes past exhilarating into downright transcendent. Frontman and songwriter David Le'aupepe is a lyrical polymath, weaving words like "acquiescing," "triteness" and "solipsism" over epic guitar and string arrangements to create a truly unique brand of rock and roll. On the night of March 31, the Twin Cities got treated to that brand at 7th Street entry, a disproprotionately intimate setting given their status Down Under.
The show was electric from start to finish. The first act to grace the stage was Common Holly, the moniker of Montreal-based indie folkster Brigitte Naggar. Playing dark, intense folk music in unconventional time signatures, Naggar, her cellist and her drummer treated us to some cuts off of Common Holly's 2016 LP "Playing House." The set was best at its most intense — moments where Naggar's powerful wailing combined with cello riffs so heavy that the bow started to fray. Her in-set banter was also a highlight: she encouraged the crowd to "keep doing that, except during the really sad parts" after we laughed at one of her jokes.
The second act up was Public Access T.V., a New York-based post-punk revival group that resembles Tom Verlaine's Television in sound as well as in name. That's not to say the John Eatherly-fronted outfit is just another Brooklyn group making "Marquee Moon" knockoffs. One listen to "In Love and Alone" or "End of an Era" reveals the singability and danceability that makes Public Access T.V.'s music stand out from the pack. A denim-clad Eatherly had the crowd bouncing — by Minnesota standards, of course.
But it was Gang of Youths — the "main event," as Eatherly called them — that stole the show. From the moment guitarist Joji Malani teased the intro to Shania Twain's "Man! I Feel Like a Woman" while setting up, Gangs had the crowd hooked. By the time Le'aupepe came on stage, it was eating out of the palm of their hand. When they opened with "Fear and Trembling," track one on "GFIL," it was clear to me that Gangs had found an audience here in Minnesota — all the more impressive considering there were "about twenty people here" last time they played the Entry, according to Le'aupepe. But with the Twin Cities being one of the most forward-thinking music communities in the nation, it was only a matter of time until we caught up.
They ripped through recent singles "Atlas Drowned" and "The Heart Is a Muscle" before surprising the crowd with my favorite deep cut off of "Positions," "Sjamboksa." The crowd sang along; they knew all the words, even the difficult ones. When Le'aupepe turned the mic over to us to sing the end chorus of "The Deepest Sighs, The Frankest Shadows," the crowd nailed the line "I will bear the unbearable terrible triteness of being," much to Le'aupepe's delight (and mine). While the crowd never reached mosh pit level — the two fellows who tried to start one were invited to leave by security — there was no shortage of jumping around. And that's thanks in large part to Le'aupepe's stage presence; almost nobody can connect with an audience like he can. During "Let Me Down Easy," he waltzed and gyrated onstage before leaping into the crowd, where he made it his mission to personally greet seemingly everyone he'd noticed moving or singing along.
Even the set's hiccups were highlights. During "Persevere," a moving and emotional tribute to a friend's child who died in utero, a girl who'd clearly had a bit too much to drink vomited all over the floor. Gracefully, Le'aupepe rolled with the punches, yet also made sure she was okay. After a brief delay, the show went on, and ten minutes later it was as if it had never even happened.
Every single song was a revelation. Aside from screaming along during my personal favorite, "Do Not Let Your Spirit Wane," the undoubted highlight of the set was the final encore: the sophomore album-ender "Say Yes to Life." The song, in which Le'aupepe admonishes the crowd to suck the marrow out of our all-too-short existence, was a downright euphoric ending to a near-perfect show.
And I wasn't the only one that noticed. Le'aupepe is a noted perfectionist. He'll be the first one to tell you if a Gang of Youths show wasn't up to snuff. But from the look on his face as he soaked in the minute-long ovation the crowd gave the band after the final note sounded, I can say with confidence that this show was special not only for us, but for them.
This won't be the last time Gang of Youths comes to Minneapolis, but you can bet it'll be the last time they play the Entry. Once the rest of the world takes notice, they'll be selling out the Mainroom — and that's a guarantee.