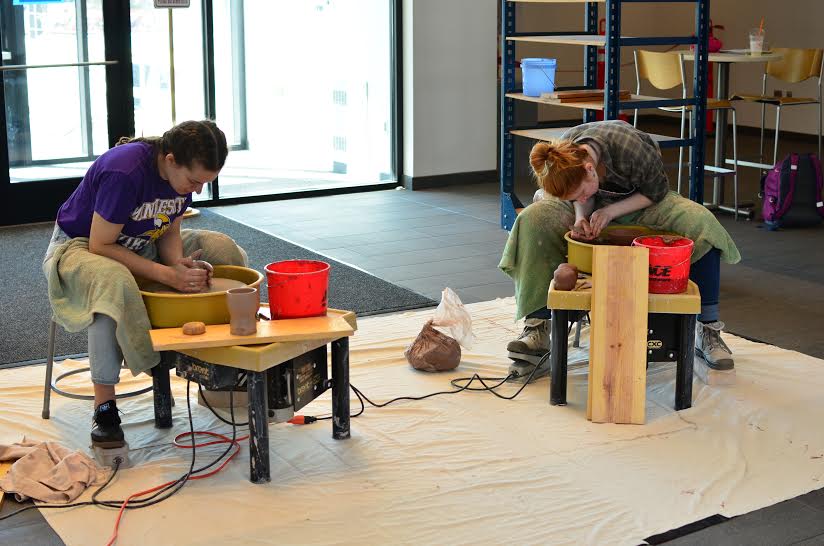 Macalester's ceramics studio doesn't usually open its doors to those not taking a ceramics class. The Gary Erickson Empty Bowls program is a rare exception. Multiple throwing and glazing workshops, open to anyone with ceramics experience, are hosted each semester. The bowls produced in these workshops are all eventually sold at an annual fundraiser, the proceeds of which are donated to an organization that works to fight hunger.
"[Empty Bowls] speaks a lot to Macalester's values of using our resources and liberal arts education, in this case arts education, to make a positive impact on the community and reach out to the community that we're in," Vincent Mougin '20, an Empty Bowls student leader, said.
Gary Erickson, a past ceramics professor at Macalester started a chapter of Empty Bowls – a program that takes place in ceramics studios across the country – in 2014. The chapter was renamed in Erickson's honor when he passed away in 2017. Today, it continues under the leadership of a committee of students, faculty and staff.
Many students are drawn to Empty Bowls workshops because of a desire to practice and build off of previous experience with ceramics. "I did a lot of ceramics in high school so my freshman year, I was kind of itching for a way to get into the studio and throw – I think that's the way a lot of people first get into contact with Empty Bowls," Mougin said.
Ceramics professor and faculty lead for Empty Bowls, Summer Hills-Bonczyk '05, looks forward to hosting the workshops each year. "It is wonderful to open up the doors to the studio and have people in who have never worked with clay before or who haven't been in our ceramics studio," she said.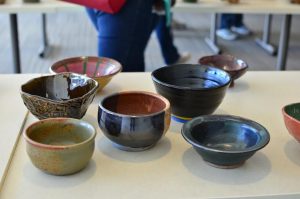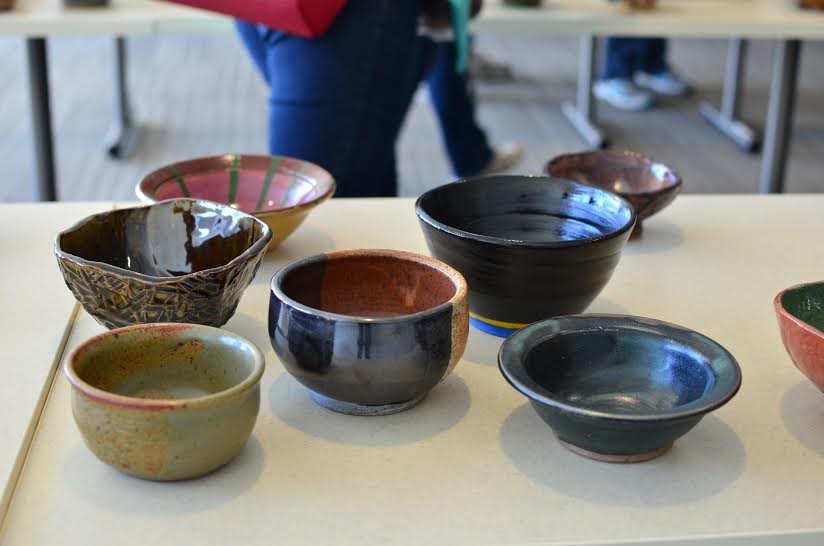 Empty Bowls workshops are open to ceramicists from Macalester's surrounding neighborhood in addition to members of the student body.
"For me, that's one of my favorite parts," Mougin said. "There's this exchange that happens where you're meeting people from the neighborhood and you're kind of sharing the awesome stuff we get to do at Macalester with them and also learning from them… I've met some professional ceramicists from nearby and learned a lot through Empty Bowls both from students and from people outside."
This year's fundraiser, which was held on March 25, included a silent auction, live musical performances, wheel throwing demonstrations and a soup supper. All proceeds generated from the event – nearly $2,800 – were donated to Neighborhood House, a St. Paul nonprofit that supports needy families. "Knowing that the fruit of our efforts is going to a worthy organization that will put it to good use supporting children and families to have access to healthy food is the most rewarding part of this project for me," Hills-Bonczyk said.
Hills-Bonczyk stressed that the program brings together "members of the Macalester community with a shared interest in art, service and fighting hunger." Going forward, committee leaders hope to give more students with different levels of experience opportunities to contribute to this effort.
"I think next year there will be more opportunities for people who don't have wheel-throwing experience to also glaze the bowls and maybe do other stuff," Mougin said.
"I really enjoy making bowls," Mougin said. "This gives me an opportunity to do ceramics with people who are also really passionate about ceramics in the context of helping the community and meeting people from the community who have that same interest."