Mac GOP chair, opposing party's direction, resigns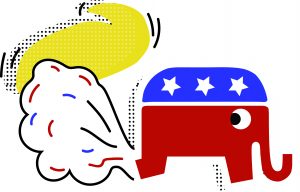 Amidst growing concerns about the direction of the Republican party and his place in it, Mac GOP chair Cody Olson '18 resigned earlier this week. Jed Buchholz '19, formerly the vice chair, has taken his place.
Olson's resignation comes just more than two years after he led the push to recharter the organization, which had been dormant at Macalester since the 2014 election.
Olson's split from the group was a long time in the making. The Minneapolis native has been an outspoken critic of President Donald Trump since the first Republican primary in 2016, and found his anti-Trumpism increasingly out of step with the majority of Mac GOP members.
"When I officially sent the email out to the Mac GOP the other night that I was leaving, a few of them were kind of shocked – to say the least – but it's the right move for me right now," Olson said.
For Olson, leading a group that he saw as effectively pro-Trump was ultimately not doing the group nor himself justice.
"I believe that only myself and one other of our active ten members didn't vote for him," Olson said. "It was becoming such an issue [with] me having to mention him and give him his credit, when everything that he has been doing lately has been so against what I believe in. "I don't feel like I can be an accurate representative of this organization or put name next to something," he continued, "that is in support of this person who I think is a problem."
As the chair of Macalester's GOP organization, Olson would frequently attend statewide gatherings of college Republicans. At one such event earlier this semester, he was perturbed by what he heard from his fellow students.
"We were sitting, waiting for a speaker to start – [this] was a few weeks before [Vice President Mike] Pence came [to Minneapolis] – and I was overhearing a lot of people actually making really homophobic comments," Olson said.
"When I was hearing things like that, it was so blatant, I was like 'this does not represent me anymore. I can't be a part of it.'"
Olson isn't just leaving Mac GOP. He's considering leaving the Republican party altogether. "The most important thing is just that I need to follow my gut and instinct," Olson said. "Honestly, I don't even know with the current Republican party if I would consider myself Republican anymore. I don't know if I can take that identity."
Olson was adamant that most members of Mac GOP have no love for Mr. Trump's vitriolic racism, sexism and ableism. He called his former colleagues in the group "great people," who are "a different breed of Republicans." But he drew the line at "turning a blind eye" to the president's racism.
"It's fine if you agree with some economic policies, but at the same time you have to grapple with the fact that he continues to demean Latino Americans, foreign citizens in many countries, Muslims, you name it," Olson said. "You need to acknowledge that this is happening."
Buchholz, the new chair and a member of the Macalester football team, feels that he and others can support parts of Mr. Trump's agenda without embracing that agenda entirely. "I think it's wrong to assume that just because we support one part of [Trump's agenda] that we support another, which I think is an easy jump to make," Buchholz said.
"For us, it's never seemed important to make it known that we don't ascribe to each individual point." "We would hope that people wouldn't assume that we're outspoken racists, or despise certain groups, because of course that's not true," he continued. "We can see where those links are made, but are we to put up a banner that says 'by the way Mac GOP isn't racist?'" Buchholz sees the group as existing primarily to support conservatism and not the Republican party, saying, "We're Macalester GOP, [but] if anything, we should be Mac Conservatives." Olson, whose father voted for President Trump and whose mother voted for Hillary Clinton, became a Republican while attending South High School in Minneapolis – primarily drawn to ideas of limited government, interventionism and free trade.
Over the last two years, however, he has seen the conservative movement and what it represents in a different light.
"I remember there was an SNL [Saturday Night Live] thing where the guy who played Mitt Romney was saying to Trump, 'we don't explicitly say this stuff, we implicitly put it in the background.' I get that that's a possibility," Olson said.
"Maybe I was being naive before," he continued. "Maybe I wasn't looking at this more in depth, and this kind of opened my eyes to a lot of issues that I wasn't really paying attention to."
Still, Olson remains proud of what he accomplished with Mac GOP – both in reviving the group and opening new avenues for dialogue at the college.
"Even people who are not Republicans are in it – and that's the most successful thing that I could have hoped for," Olson said. "When we first set up to do it, honestly this place seemed so toxic and hostile towards any belief that was not the mainstream Macalester thing… [this] opens up a dialogue that we had been lacking for a while." Buchholz had a similar point of view.
"Our biggest goal was to prove that there are people on this campus who are conservatives, who are Republicans, who are even right-leaning moderates, and [that] our opinions should be respected and heard," he said. "It's not okay to shut anyone out, just as it wouldn't be okay for us to shut anyone out."
Olson discussed holding a public event with a co-chair of Mac Dems, the college's Democratic party-affiliated group, in the fall, but it never materialized. Buchholz said that Mac GOP will continue to pursue a joint event or joint events with Mac Dems next year. Buchholz plans to run to be chair again when the organization holds elections for leadership positions next September with the goal of increasing dialogue within the group as well.
"I think we're excited, and I think we have a good sense of where we want to go," Buchholz said. "It's unfortunate that Cody is gone – he was the founder and he did a lot of the groundwork to get this moving – but at this point it's the rest of us trying to work towards what we think should happen."
Olson, as much as he might support that work, won't be in involved in it anymore. "I've been called the 'reasonable Republican,' but we're in a time when it's not reasonable," he said. "I just can't be the face behind that anymore."