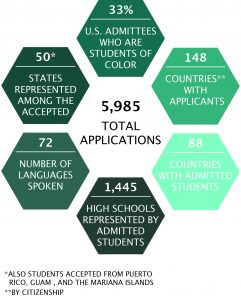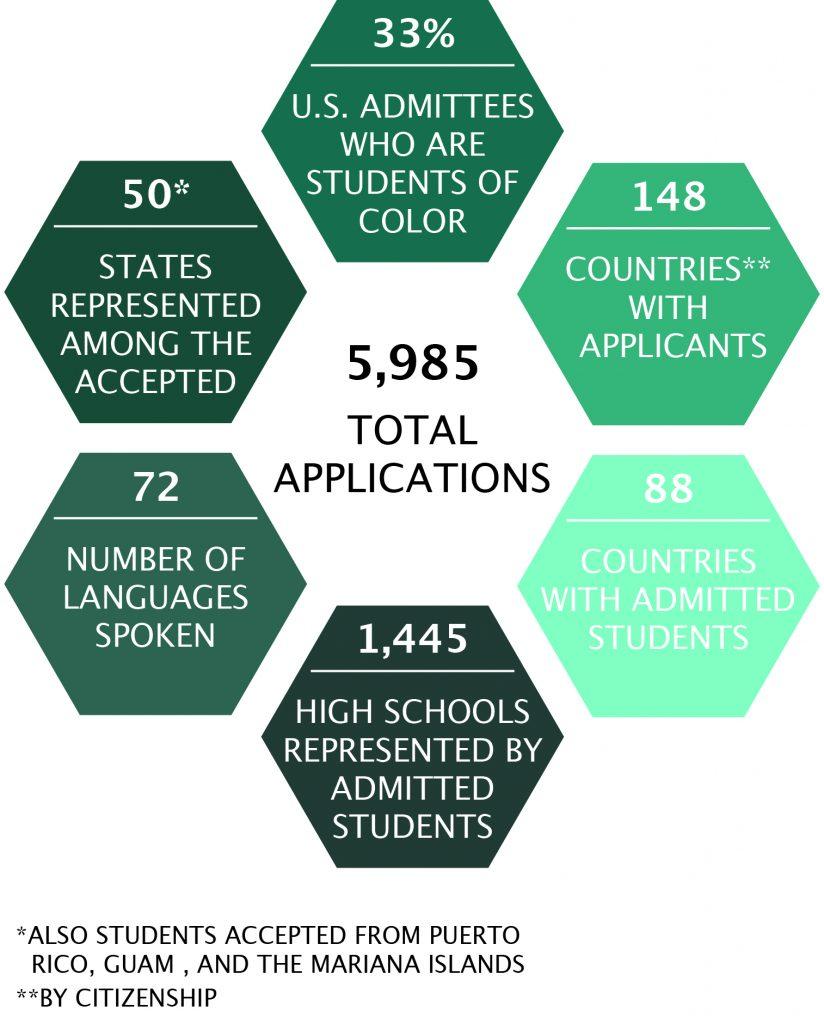 Last month, 2,453 students – representing 88 countries, 53 states and territories and 1,445 high schools worldwide – were admitted to Macalester's class of 2022.
A total of 5,985 applicants applied, meaning the college maintained its 41 percent acceptance rate from last year.
The geographic profile of Macalester's class of 2022 varies only slightly from the class of 2021. Minnesota has replaced California as the U.S. state with the highest student representation, while academically, the prospective incoming class has slightly higher SAT scores and slightly fewer admittees in the top 10 percent of their high school class.
According to Director of Recruitment and Admissions Anne Walsh, however, the Admissions office altered its application-reading process this year.
"We changed how we read applications," Walsh said. "In the past, it's been a pretty solitary activity, but this year, we moved to what's known in the business as committee-based evaluation."
The committee-based evaluation process allows admissions officers to work in teams of two to evaluate applications and arrive at a judgement. The application is then given to executive readers, who either make a final admission decision or send the file to a committee for further discussion.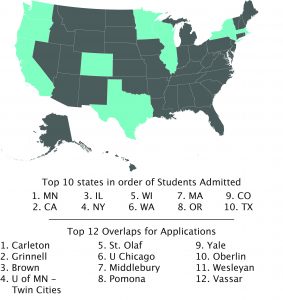 According to Walsh, the decision to change the reading process was inspired by a drive to process applications more efficiently. Walsh and her colleagues believed that time could be used more productively towards initiatives to engage with prospective students.
"The way that we had been reading applications, one by one by one, was incredibly time-consuming," she said. "It's not that we didn't want to put in the hours, but we weren't sure we were making the best use of that time. This year we were able to have a lot more contact with our applicants, and personal interaction."
That contact took the form of personalized emails and handwritten notes to prospective students, as well as increased availability in the office. Walsh was pleasantly surprised by the results, and the office intends to continue to use the committee-based evaluation approach.
Committee-based evaluations of student applications gained popularity when the University of Pennsylvania initiated the process in 2013. The evaluation system has gained ppularity among colleges and universities nationwide, with over a dozen schools using the new method in 2017 according to the Chronicle of Higher Education.
"That was very new for us, but [the change] was surprisingly smooth," Walsh said. "As an office that really is committed to a holistic review of every application, I really feel that when you add the element of collaboration, and have a conversation about the application, you get a much richer and more nuanced sense of that student."
Last year, Macalester began a partnership with QuestBridge – a program that connects qualified low-income students with prestigious colleges and universities. The college has continued that partnership this year and has increased the number of admitted QuestBridge students from eight to ten.
Additionally, the college offered admission to two undocumented students compared to last year's one.
"Those changes seem miniscule, but in terms of how those students are supported with financial aid, it's substantial," Walsh said. "We want to continue to build that pool."
In terms of Macalester's admissions model, Walsh believes there is plenty of room for improvement. Looking to the future, the office of admissions is focused on increasing the diversity of the applicant pool, and, in turn, the student body.
"We're working really hard to build partnerships with community-based organizations and scholarship programs all over the country and the world to try and reach those students who wouldn't necessarily find us on their own," she said. "That's really been a focus for us."
While there is significant room for growth in that respect, Walsh is satisfied with this year's outcome.
"There's always something we can improve on, and do better," she said. "But we are doing the best we can."