Panel honors MLK's legacy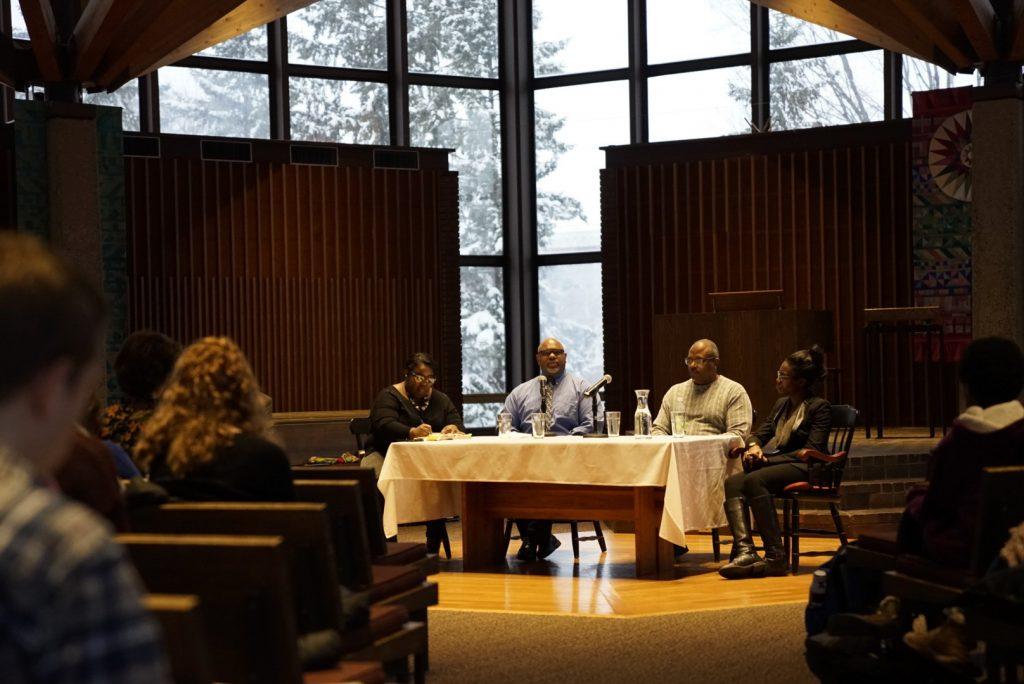 50 years ago last Wednesday, Rev. Dr. Martin Luther King Jr. was shot dead while standing on the balcony of the Lorraine Motel in Memphis, Tennessee. He was 39 years old.
King was in Memphis to support black city sanitation workers striking over unequal pay and unsafe working conditions. The night before, King gave one of his most famous speeches – foreseeing his coming death, and promising that "we, as a people, will get to the promised land."
On Tuesday April 3, Macalester's departments of political science and religious studies, along with the legal studies program and the Center for Religious and Spiritual Life, hosted a panel to commemorate that speech and King's life, while reflecting on his legacy and vision.
The panel, moderated by history professor Crystal Moten, included Dr. Dennis Edwards, the senior pastor at The Sanctuary church in Minneapolis, religious studies professor Bill Hart, and Vivian Ihekoronye '13 – now a community organizer for the faith-based St. Paul political action group ISAIAH.
The evening was largely about venerating King the man, while decrying the construction and exploitation of his mythos by a country that has loved him far more dead than it ever did alive.
"King is an inconvenient hero," Hart said. "By this society's definition, he was a criminal. [He] disturbed our peace. He disrupted our reality. Racism is violence, and King was a provocateur… he made [racism] reveal itself."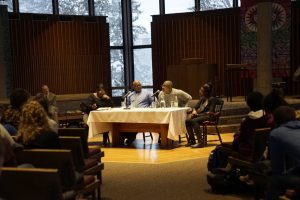 Hart called King a "radical" and a "prophet" – comparing him favorably to another black American icon, President Barack Obama, whom he called a "pale, anodyne liberal… in the tradition of Bill Clinton."
King, certainly, was not anodyne. He called the United States the "greatest purveyor of violence in the world" during the Vietnam War, and supported a universal basic income and guaranteed employment.
For Ihekoronye, the oldest of six children born to Nigerian immigrant parents in St. Paul, the experience of poverty – which King spent the last years of his life trying to eradicate – was nearly overwhelming.
"Growing up, I experienced deep poverty," Ihekoronye said. "My dad was working 16-hour shifts, and every day, the experience and violence of poverty was something that I had to grapple with. It was kind of like a cage.
"I came to the conclusion that, with the experience of poverty and the experience of racism, I felt like the only options I had in this life were to be saved by white people or to serve them," she continued.
After Macalester, Ihekoronye turned to organizing, calling it a "different way of being in community"
"That's something that MLK strived for – that he demanded," she said. "That there had to be a different reality."
The fight for that reality is, clearly, ongoing. The irony is that King has increasingly been deployed by the very forces that are trying to prevent his vision for America from coming to fruition.
"We saw it in the Super Bowl commercial that co-opted King's image to sell Dodge Ram trucks," Edwards, a Cornell graduate who arrived in Minnesota via Brooklyn and Washington D.C., said. "There's this sense of really squelching the powerfully transformative voice that King brought."
Indeed, on Wednesday morning, Vice President Mike Pence tweeted that the King's death "did not stop his immortal words, his courageous example and his faith from inspiring generations of Americans. Today we honor the man and the Dream."
Pence, of course, walked out of an Indianapolis Colts game last fall after several players kneeled for the national anthem in protest of police violence against black Americans.
"The King holiday seduces us into thinking that King was this iconic figure who white people loved in the 1960s," Hart said. "It's not true."
Hart is right. 61 percent of Americans opposed the Freedom Rides in 1961, and 60 percent opposed the March on Washington in 1963. In 1966, two years before King was murdered, 64 percent of Americans viewed him unfavorably. Now, just four percent do.
That dramatic change in King's approval rating has come with a price.
"We lose this sense [with King] of agitation and shifting the status quo and knocking the comfortable people off of their pedestal," Edwards said. "I see a lot of church folk who will take a sound bite here and there and have pinned [him] such a way that people who have the very opposite views of Dr. King start to claim him."
The reductionism practiced in the crafting King's current image has extended, in many ways, to the legacy of the entire Civil Rights Movement.
"When I first encountered King, I encountered a mythic King – created by society that had me believe that the Civil Rights movement was started, led, and finished by one man," Moten said. "It wasn't until I was a senior undergraduate in college that I learned a different story."
Moten and Ihekoronye both spoke about the role of women in the civil rights struggle, while Hart touched on the width and breadth of the movement that King helped lead.
"History is complicated, and Americans hate history," Hart said. "We like to tell these simple-minded stories… There's no doubt that in the black freedom movement, King was the tallest tree. But he was just a tree. The black freedom movement was a forest.
"From [Supreme Court justice] Thurgood Marshall's point of view, he did all the heavy lifting and King got all the credit," Hart continued. "Then the younger activists in the Civil Rights movement wanted more direct action – and they resented King, because they were in the backcountry of Alabama and Mississippi risking their lives in a way that King never did."
In his latter years especially, working in the urban north, King grappled with the validity of violence – defending urban riots – and turned increasingly towards international affairs. Ihekoronye, in her remarks, spoke about taking heart in King's own internal conflicts.
"One thing that was very affirming was how much he struggled," she said. "I think sometimes that can be washed away from the story of MLK – not just the attacks [on him], but with how much he wrestled with how he would live out his call."
Edwards echoed that point.
"I'm always willing to work with folks who see themselves on a journey," he said. "It's the folks who feel like they've already arrived that make me uncomfortable."
King, much in that way, was able to keep faith in the promise of his country and his countrymen.
"We can hear, in King's words, hope," political science professor Patrick Schmidt said, introducing the panel. "Though [King] went to Memphis profoundly depressed about the state of America, and though he was coming to believe that the country was not ready to confront its worst demons, he was also optimistic."
Strange as it might seem, in King's mind, those sentiments were not antithetical.
"Only when it is dark enough," he said on his final night, "can you see the stars."