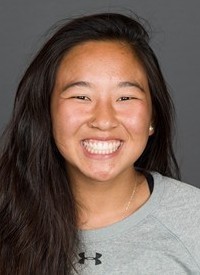 Every Thursday at 7 and 8 p.m. Jaime Hasama '18 meets her classes in the Leonard Center. The group, consisting of only women, heads straight for the south end of the Deno Fitness center: the space occupied by dumbbells, barbells and squat racks. The class, which began at the start of second semester, is dedicated to making the Leonard Center a more inclusive environment for women of color at Macalester.
"Not only is there a quite obvious gender divide of who uses the weight room, but the physical divide between the weight area and the cardio machines creates another boundary for women to cross," Hasama said. "Women should have the tools and the knowledge base to feel comfortable in the weight room and create a community of strong and powerful women weight lifters."
With Hasama at the helm, the group meets weekly in the Leonard Center to learn a progression of lessons on lifting fundamentals, technique and options. With the help of Macalester sports performance coaches Scott Hintz and Jamie Ochsenwald, Hasama creates lesson plans that emphasize a safe and effective workout program.
"The class is structured around progressive growth. I start by teaching them how to use the many machines, then how to use dumbbells and finally how to perform Olympic lifts," Hasama said.
Throughout her four years at Macalester, Hasama's membership on the Women's Soccer team landed her in the Leonard Center almost every other day. Although she expressed the importance of lifting on her athletic career and maintaining a healthy lifestyle, she acknowledges that the space has not always been a welcoming place for women.
"Women in the gym – specifically the weight room – are typically left out because of two problems: first, not enough have learned how to weight lift. Second, they do not see other women around them in the weight room," Hasama said.
Hasama decided to take on the challenge of breaking down these barriers, particularly for women of color.
"It seems like we have been pretty successful in this area," Hasama said. "The majority of our group consists of women of color, and so far we have been making a lot of progress towards getting more involved."
The positive response from administration, college organizations and students indicated that this idea was feasible and necessary.
"I have been amazed with the whole school support from the board of trustees, MCSG, [President] Brian Rosenberg, student orgs, Jaine Strauss in the psych department, Donna [Lee] (the VP of student affairs), Health and Wellness, athletics administration and the strength and conditioning staff," Hasama said. "It has been a community effort and I could not have had the knowledge and resources to start these classes without their support."
Hasama has prepared for her graduation from Macalester by tapping Yukeria Haywood '21 to take on leadership of the group come next semester. Haywood has also spent significant time in the Leonard Center as another member of the Women's Soccer program. While she said she was surprised by Hasama's request for her to take over, she has since embraced the idea.
"At first I was surprised that Jaime asked me to take over for her, being that I will only be a sophomore next year. But the whole aspect of weight lifting and training I think is getting out of your initial comfort zone," Haywood said. "It helps that this group of girls is really open to learning, and we have a good time lifting and laughing together."
While the group has two independent meeting times at either 7 or 8 p.m. every Thursday, Hasama said she emphasizes the flexibility of her schedule to teach women who may have troubles attending group sessions.
"I'm not getting paid to teach these classes. I'm doing this because I want women to learn this amazing way to stay healthy so I will work around anyone's schedule to find time to make these work, even if it's outside of the normal Thursday time slot," Hasama said.
Hasama's Macalester career may be slowly drawing to an end; however, she said that has not stopped her from trying to leave a lasting impact on the place she has called home for the last four years.
"Instead of acknowledging this divide in the Leonard Center as a problem and let it continue, I decided I wanted to act," Hasama said. "I am absolutely inspired by the women who come to participate, especially when I see them outside of classes doing the workout that they just learned! It's just a really rewarding experience." Students who are interested in joining the group or working with Hasama can reach out to her via email at [email protected].