Macalester students and faculty join March for Our Lives at capitol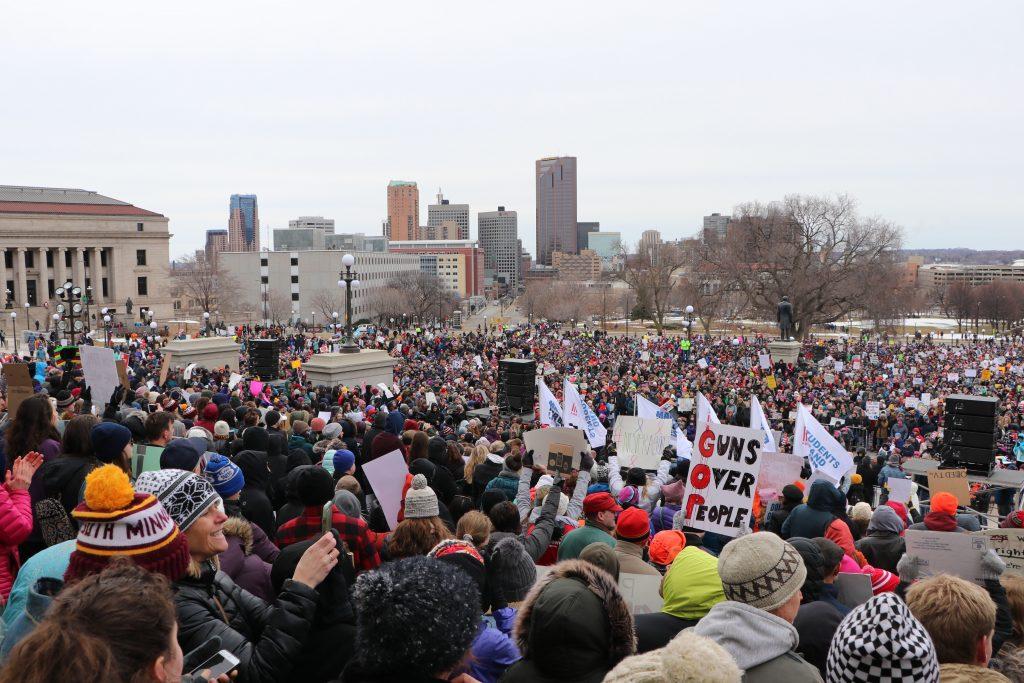 On the morning of March 24, Macalester students, faculty and staff joined a group of some 20,000 people to march on and rally at the state capitol building in St. Paul as part of a nationwide protest against gun violence sparked by the mass shooting in Parkland, Fla.
Marchers gathered at around 9 a.m. at Harriet Island and progressed down Wabasha Street to the capitol grounds. One of the students leading the charge was a Macalester sophomore.
"After the Parkland shooting, I was pretty upset at the lack of campus response to the issue," Alex Young-Williams '20 said. "You would think some place like Macalester, known for being very liberal, would immediately start planning some sort of action. But I didn't see that. I wanted to combat th[e] inaction by doing something by myself."
Young-Williams decided to contact the Minnesota chapter of anti-gun violence group Moms Demand Action, and became involved in planning an event to coincide with the March for Our Lives orchestrated by survivors of the shooting at Marjory Stoneman Douglas high school in Washington D.C.
On Saturday morning, thanks to that decision and the work following it, he found himself on the capitol steps addressing a crowd of thousands.
"It's really powerful for one individual person to have an opinion on an issue and have the ability to project that and pass it on to others," Young-Williams said.
As one of two main MCs, Young-Williams – whose day started with setup at the capitol at 6:15 a.m. – introduced a number of politicians and student activists once the program at the capitol began before 10:30.
One speaker, State Sen. Matt Little (DFL-Lakeville) excoriated the state's Republican congressional leadership, saying, "They've done nothing, they're doing nothing and they're planning on doing nothing. But that's about to change."
The high point of the event, however, came later.
Courtesy of their Florida state championship, won just eleven days after the shooting at their school, the Marjory Stoneman Douglas boys' hockey team was in Plymouth to play for the USA Hockey National Championship – and at the capitol on Saturday.
"We realized that they would be in town for their tournament, so we reached out to them a couple weeks ago and they got back to us pretty quickly and said they'd be interested in speaking," Young-Williams said. "They [were] in the program from the very beginning."
Multiple hockey players spoke, as did several of their siblings. Young-Williams called those speeches "intensely emotional."
"Even though we had many legislators there who said they would push for changes, the students themselves were the most powerful voice[s]," Young-Williams said. "We were really appreciative of their support and their willingness to be there and speak."
That testament to the Parkland students – who have led an unprecedented gun control movement in the immediate aftermath of the shooting at their school – was echoed by Macalester geography professor Eric Carter, who attended the march with his wife and two young daughters.
"[I'm] sad to say that the shooting itself didn't make that large of an impression on me at the time, because we've gotten so used to these mass killings," Carter said. "What really got my attention was what came out afterwards, how students really rallied and organized."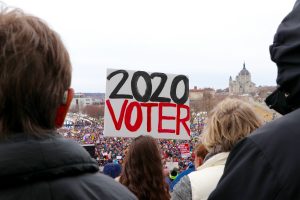 For Carter, it was back-to-back speeches given by Marjory Stoneman Douglas freshmen – who have brothers on the hockey team – that stood apart from all that came before them.
"They couldn't have been more than fifteen years old, and they spoke from the heart, they talked a little bit about the details of what happened that day, how emotionally drained they are [and] how upset they are," he said. "That was the most memorable part of it for me. Absolutely."
Those speeches made an impression on Carter's five-year-old daughter as well.
"We thought she was just kind of oblivious, but those last few speeches from the girls from the high school really got to her and she was scared for her own friends," he said. "We didn't want to scare her, [but] we also just assumed that within a few years she's going to have to start dealing with these realities."
Program Board (PB) helped to facilitate Macalester's presence at the March. It provided two buses to transport students downtown, the first bus leaving for Harriet Island at 9 a.m., the second bus going straight to the capitol at 10 a.m.
One student who utilized PB's transportation was Colleen Minnihan '21, who was attending her first protest.
"I'm really glad I went," Minnihan said. "I want to know what next steps I should take… [and] I want to go to more things in the future."
"A lot of what we do is generally just fun events, but it was really nice to be able to provide students with an opportunity to get involved with activism," PB coordinator Soniya Coutinho '19 said.
Though it paled in comparison to the 100,000 that participated in the Women's March in St. Paul last year, turnout still exceeded initial estimates. St. Paul police were originally expecting 10,000; Young-Williams said that the event's organizers were counting on a "base number" of 15,000.
"It was very cold," Young-Williams said with a laugh. "But I was very satisfied with the number of people who turned out."
Sensing that there could be a surge in turnout, one of the organizers of last year's Women's March advised March for Our Lives organizers to boost their estimate of the number of marshals they needed from 50 or 60 – to 700.
Attendees included Minneapolis mayor Jacob Frey and DFL gubernatorial candidates Tim Walz and Erin Murphy. Sen. Amy Klobuchar (D-MN) marched in Washington.
"This particular shooting, as unfortunate as it was, gave high school students and students my age this platform and this voice," Young-Williams said. "That's very powerful."
Carter, a longtime gun control advocate who said he became "very cynical" after gun control efforts failed in the wake of the Sandy Hook shooting in 2012, agreed.
"That's why this one feels really different," he said. "It doesn't feel like we're returning to business as usual."
What comes next? Young-Williams pointed to the State of Our City Summit with newly-elected St. Paul mayor Melvin Carter set for April 14, and to the midterm elections fast approaching in November.
One sign at the march spoke clearly to the latter point. In black marker on white paper, its carrier had written simply "11.6.18." For elected officials standing in the way of efforts to reduce gun violence in America, the message was clear.
"This rally, this march, is the only thing that has ever moved politicians to forgo impasse," State Rep. Dave Pinto (DFL-St. Paul) said, "and implement change."