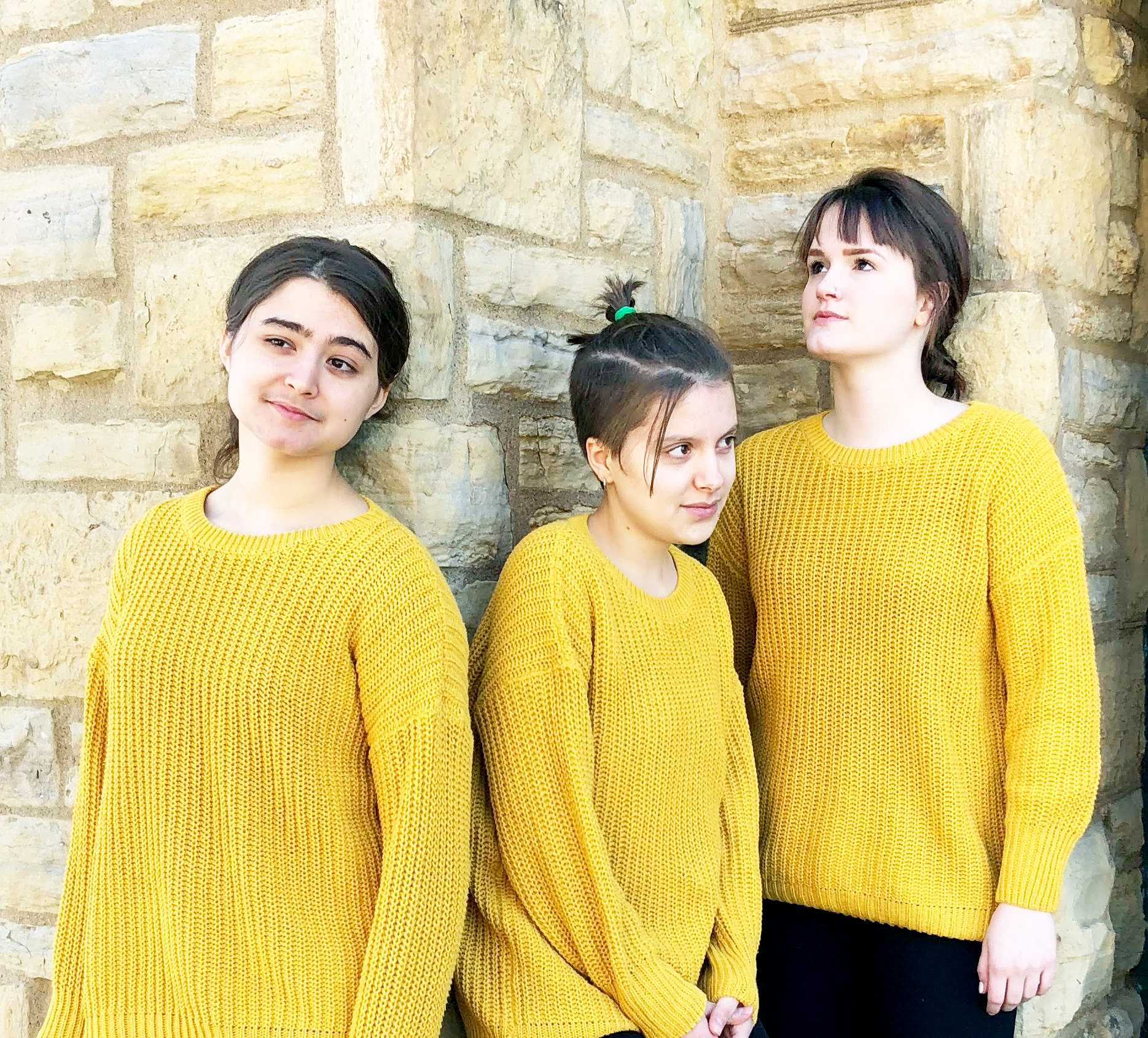 Last year, as senior theatre major Anna Brujin '18 was thinking about potential subjects for her capstone, the theme of family kept coming back to her. She knew she would be curating a play for the stage, so she considered the relationships and connections within families and storytelling. The resulting piece, "Dirk and Others Still with Us," is the culmination of her passion for theater and the ways the stories we tell connect us.
The core of the play is inspired by Brujin's relationship to her grandfather, Dirk. He passed away when she was only 11 months old; as such, she only knows a handful of facts about him and doesn't have any personal memories of him. Yet, she has always felt a particular connection with him.
"I have a feeling I remember my grandfather because of how my dad talks about him," Brujin said. "My dad is a really good storyteller. He kept my grandfather alive."
It's a discovery and exploration of human connection.
"How do I connect to him?" she asks herself."How do I connect others to him?"
Brujin attempts to bridge a connection to him through the way other characters in the play talk about him, much like the way her father's storytelling has forged her sense of connection to her grandfather. "You never actually see him on stage; he isn't a character. He is explored through other characters," she said.
Brujin's initial idea was to have her cast bring in their personal stories and experiences to dictate the content of the story. In this method, known as devised theater, the cast has an active role in writing their characters. However, to stay true to the life of her grandfather, she turned to the stories her own father had sent her months before, when she was still doing research. These were the stories that had inspired her fascination for her grandfather in the first place. She translated them from the original Dutch and used them along with monologues crafted in collaboration with the actors.
In "Dirk and Others Still with Us," personal connection is also explored through personal objects, material representations of Brujin's connection to her grandfather. For example, there will be a stuffed bear that he gifted her at birth. She brought it over from her home in the Netherlands, as well as a container and a tie. They'll be displayed on stage as part of the minimalist set. The objects are just as important as the story told through the actors, according to Brujin. These objects make up the majority of the set. The objects will be placed on boxes in an "almost museum-like" manner.
Through the process of creating a full theater production, Brujin learned that sometimes initial objectives may have to be changed as the process goes on. As the year-long preparation comes to a close, I asked Brujin to reflect on the bumps along the way, the challenges she encountered while writing and directing a full theater production.
"Challenge? Well, the biggest challenge is that we don't have a theater building!" she said, chuckling. More seriously, Brujin started this project believing in the notion of "process over final product." She knew, due to the grand scope of the project, not everything would go perfectly. Having to steer away from perfection and admitting that she was wrong was sometimes challenging. But it was a productive challenge, a big learning experience; that is what the capstone should be, according to Brujin.
She's also had time throughout the year-long process to think about life after graduation.
"This might only be performed twice, but it's kind of a starting point for me to start working on my own work," she mused. "I could even see this as just a draft of something I will do in the future. So that's really cool too."
While a capstone is usually considered a symbolic culminating experience for seniors, this capstone represents more of a beginning — a professional-level beginning — for Brujin and her aspirations for future theater work.
Brujin hopes the audience can leave the theater feeling that they got to know her grandfather. She also hopes to leave the audience with a piece of her story.
Storytelling, she believes, is about our ability to empathize and understand those who have come and gone, and those who are still with us.
"Dirk and Others Still With Us" will be playing at Dreamland Arts LLC on Friday, March 23 and Saturday, March 24, both at 7:30 p.m. An additional matinée showing on Saturday at 3 p.m. has been added. You can reserve tickets at the Macalester Theatre and Dance website, or email [email protected]. Admission is free.