CDC trips take students to Seattle, LA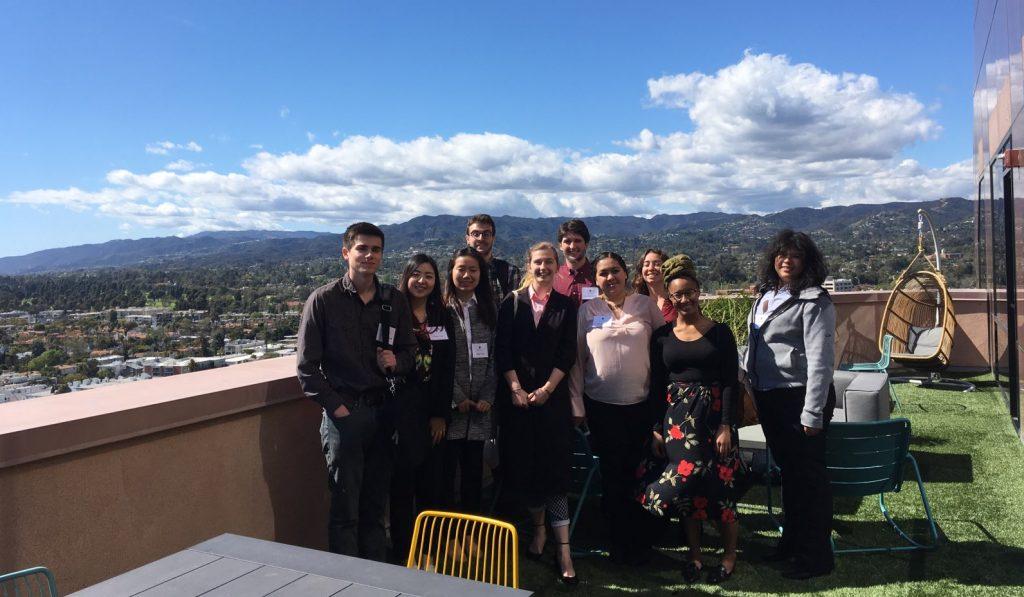 Over spring break, the Career Development Center (CDC) sent 20 upperclassmen on two MacConnect networking trips: one to Los Angeles to network with professionals from the media, film and arts industries, and the other to Seattle to explore careers in technology, data and engineering.
The programs are designed to connect students to Macalester alumni and professionals in industries that interest them. Each day, students attend four to five networking events.
"Each [trip] has a different focus area," CDC Director John Mountain said. "If it's going to be DC, it might have more policy… Seattle has a little more on the technology side. Each city has its own flavor."
Students who pursue MacConnect trips don't necessarily have to be committed to a career in a particular field, but are encouraged to choose a program that aligns with their interests.
Evan Meerscheidt '19 went on last week's trip to Los Angeles because the city offered a window into some of the creative industries that the Twin Cities doesn't have.
"In the Twin Cities, in Minnesota, I don't think we get a lot of the inner-workings of Hollywood or of screenwriting and script writing," Meerscheidt said.
The CDC collaborates with the Alumni office and Advancement to connect students to professionals from a more diverse array of industries than is necessarily accessible in St. Paul, leveraging connections with Mac alumni from cities across the country.
"I am constantly energized by the kinds of conversations and unique perspectives that students get from being with alumni [in real time]," Assistant Director of the CDC Kate Larson said. "I'm humbled by how willing alumni are to be connected and to be of support and that is a really special thing about this place."
For students on the trips, the connections with alumni proved invaluable. "It's really nice to network with Mac alums as opposed to just people in general," Meerscheidt said. "They understand what Macalester is like or what Macalester students bring to the table."
MacConnect is designed to strengthen the ties between students and potential employers or career resources. The programs create other bonds too, whether it be the connection between students and alumni, between students and their peers on the trip, or between the CDC and attending faculty.
While the trips are mainly opportunities to learn more about particular fields of interest, they also present a unique opportunity for the CDC to forge institutional connections and relationships with alumni who might consider recruiting or hiring Mac grads.
Since its inception, MacConnect has expanded from one annual trip to eight individual trips on a two year cycle.
The staff at the CDC have seen the program evolve and begin to come full circle.
"What's really cool is alumni – students who participated in MacConnect trips those first couple years – are hosting us in the cities we're returning to," Larson said. "Or they're coming out, posting internships, posting jobs. It's really cool to see that community of alumni growing, especially those who participated in [MacConnect]."
The programs each last several days. Participating students have to cover the travel expenses to the city; after that, however, the CDC covers meals and pays for lodging and transportation between events.
For students who aren't ready to commit to a MacConnect trip, the CDC also hosts MacExplore: one to two hour programs in the Twin Cities during which students can consider different careers and practice networking in a more informal setting.
"[MacExplore] is generally over the lunch hour, we'll pay for lunch either here or on site at the alum's office, and there's an hour presentation with the alum," Mountain said.
To fill MacConnect trips, the CDC looks for students who are able to articulate their motivations for applying and to explain why their desired program is a good fit for their interests and career aspirations. MacConnect will host programs in New York City, San Francisco and Washington DC next year.
Meerscheidt considers his trip to Los Angeles a success, and recommends the program to all rising juniors and seniors who might be considering applying.
"Even after college you don't exactly need to know what you want to do," Meerscheidt said. "You can go try and find yourself, find what you're passionate about in many different places. I think the best thing I got was life advice from the people I met."