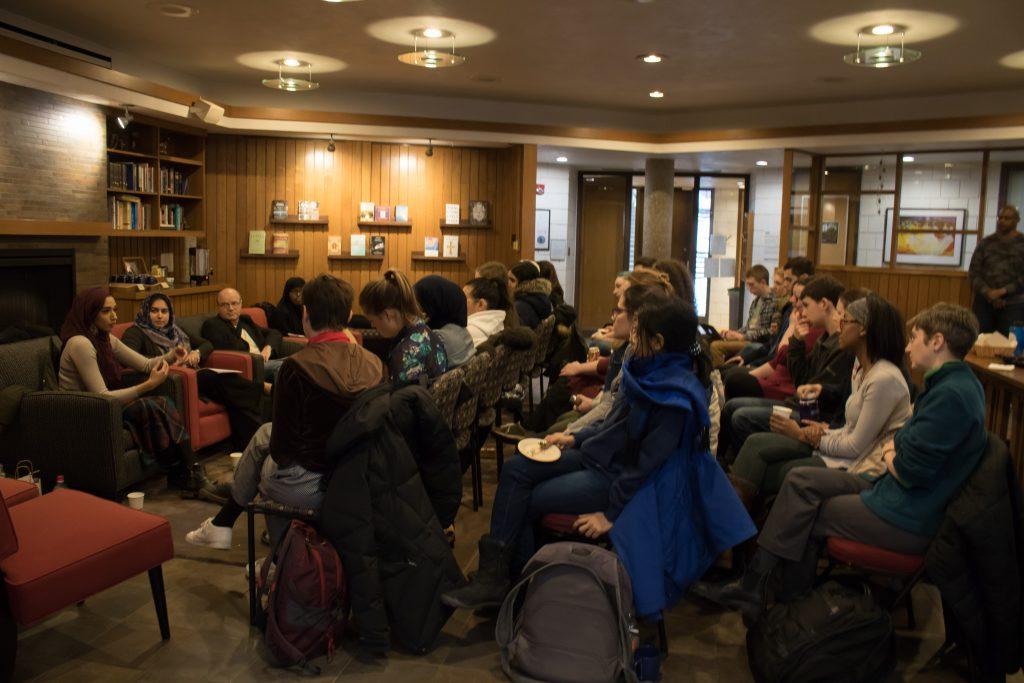 On the evening of March 20, a group of Macalester students, staff and faculty gathered in the Center for Religious and Spiritual Life (CRSL) for a panel on Islamophobia – its history, its manifestations in liberal culture, and its presence at Macalester.
The panel was formed as part of a month-long effort by the Muslim Student Association (MSA) to encourage Macalester to engage with the culture of and issues pertaining to Islam. Panelists included Tasneem Issa '18, Asma Nizami '14, sociology Professor Khaldoun Samman and Muslim Chaplain Ailya Vajid.
Nizami, who graduated from Macalester with a degree in political science, now works as a program manager for Reviving the Islamic Sisterhood for Empowerment – an organization that works with Muslim women in Minnesota. Her remarks focused in large part on the presence of the Countering Violent Extremism program (CVE) in the Twin Cities.
CVE was established in 2013 by the Obama administration with the aim of further involving communities in counter-terrorism efforts by giving grants to nonprofits, local governmental organizations and schools.
In 2014, Minneapolis was selected as one of three pilot cities for CVE alongside Boston and Los Angeles specifically to combat Somali-American radicalization.
From the outset, the program has been controversial. While working as a counselor in a Minneapolis public school, Nizami came to see it as "Islamophobic and racist" – unfairly targeting Somali and other students of color, sowing distrust and breeding division.
"These students, instead of getting services that they deserve, are getting surveilled by the FBI and put on watchlists," she said. "Students who exhibited any behavior that was odd… were criminalized."
Last year, the arts-focused nonprofit Ka Joog rejected a $500,000 CVE grant – accusing Donald Trump of perpetrating an "unofficial war on Muslim-Americans and Immigration."
Nizami applauded the principle of the decision.
"If money is going into [the] surveillance of young black students, young Muslim students, that's obviously not good money to be receiving," Nizami said. "Surveillance isn't going to help anyone. It's only going to alienate people more."
Over the last fourteen months, the Trump administration has threatened to rename CVE "Countering Radical Islamic Extremism," and cut its funding.
Additionally, in August 2017, the administration rescinded a $400,000 CVE grant to Life After Hate, an organization led by former white supremacist Christian Picciolini that helps neo-Nazis transition away from their white nationalist ideologies and out of white nationalist groups.
"If they were instead surveilling really quiet white boys in school, they might get to the bottom of something," Nizami said. "But it really comes down to thinking communities of color are [at fault] in every situation." For Nizami, a high profile 2016 case – in which three young Somali men were sentenced to decades in prison for their roles in a plan to leave Minneapolis to fight for the Islamic State – stood out.
She feels that the three men were entrapped, led towards their final plan to leave the US and fight for ISIS by a friend and fellow community member who, unbeknownst to them, was working as an informant for the Federal Bureau of Investigation (FBI).
"[The FBI] kept pushing them to go and fight abroad with ISIS or another terrorist organization," Nizami said. "They're all locked up now. They probably will be locked up for the rest of their lives. And these are children."
According to Issa, a Minneapolis native, the Somali community is exceedingly aware that informants might be in its midst.
"In the last few years, the surveillance has been really subtle," Issa said. "A lot of the community members didn't know about the CVE, children didn't really know about it. But now, it's everywhere. People know that there are informants in our communities. That's what we're facing.
"One day, I remember, I went to my local mosque, and my mom was there with my little brothers," she continued. "There was this lady who came in, and my mom said 'don't talk to her. We heard that, maybe, she's an informant.' It's crazy to think that these things happen in our communities, but they do."
Samman, in his remarks, focused on Islamophobia's presence in liberal discourse and thought – an issue particularly relevant at a college like Macalester.
"There are human rights issues that are being particularized towards the Middle East and Muslim individuals," Samman said, referencing the fight for women's rights. "So [Islamophobia] starts to attract liberal sentiments, to some degree. If you look at Jihad Watch, and some of these organizations, they put on mainstream feminists and feature issues like honor killings and female genital cutting.
"This is what scares me. It's not just the far right burning Qurans. We know they're racist. But when [Islamophobia] starts to creep in, and bring in liberal sentiments, that's when you get fascism. That's when a very far-right project becomes… just part of our politics."
Samman's fear is well-founded. Hate crimes against Muslims have doubled in the past two years, while a Pew Research study from July found 48 percent of Muslims reporting that they had been discriminated against in the last year.
"I'm not going to convince the far right," Samman said. "I want to work on liberal Islamophobia."
Nizami and Issa both spoke about feeling pressure to hide or minimize their Muslim identities in the schools they grew up in, and Samman – who was born in Jordan to a Palestinian mother and a Syrian father – felt that same pressure when his family immigrated to the United States.
"I wanted to assimilate," Samman said. "Badly. And I did everything in my power to assimilate. So it was a warped experience. I was embarrassed by my family. If my friends were calling, I'd run to the phone before my father could say, 'hello?' in an accent." Vijad chalked much of that burden up to the media's representation of Islam. "Imagine hearing Muslims who are not violent described as 'moderate Muslims' over and over," she continued. "This characterization subtly implies that Islam and Muslims are inherently extreme, and then there are some who are 'moderate,' but that this is not the norm."
Those characterizations, coupled with the current political climate, have taken their toll – and, as Vajid pointed out, racism is not new to America nor is Islamophobia new to the West.
Despite that, there is good work being done. Issa pointed to civic engagement work happening in mosques across the city ahead of November's midterm election, and, on Sunday, Issa herself will serve as a delegate to her District Convention.
"We have a shameful past and an ugly present," Vajid said. "Still, I continue to hold hope… that we can join together [and] begin to dismantle these oppressive systems. I don't know if it will happen in my lifetime, but we have to keep doing that work."