Students protest Ben Shapiro appearance at UMN St. Paul campus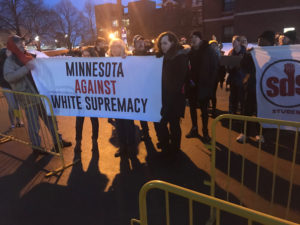 On the evening of Monday, Feb. 26, a small group of University of Minnesota (UMN) students gathered outside the St. Paul Student Center to protest the presence of right-wing media personality Ben Shapiro, who was delivering a presentation inside.
The protest, coined Ban Ben Shapiro, was organized by Students for a Democratic Society at UMN (SDS). They argued that Shapiro's invitation to speak constituted a misuse of Student Union activity funds.
Shapiro, formally editor-at-large of Breitbart News, founded and currently serves as editor-in-chief of conservative news and commentary website The Daily Wire.
Anointed "the voice of the conservative millennial movement" by The New York Times in November, the provocative speaker is a hugely divisive figure on college campuses.
Shapiro has repeatedly said that transgender people suffer from "mental illness," affirmative action "racism" and claimed that African Americans no longer face systemic oppression. His events on college campuses often draw protesters.
Shapiro has been critical of those protests in the past – especially protests that attempt to prevent him from speaking. In a 2017 article published in The Daily Wire, he called such responses "full scale fascism" and "the end of the first amendment."
According to SDS member and student organizer Jackson Bianchi, however, the first amendment has nothing to do with it.
"[His speech] is 100 percent protected by the first amendment, it's true. However, this has nothing to do with the first amendment, whatsoever," Bianchi said. "It has to do with the doling out of [activity funds] in an undemocratic and absolutely absurd manner."
SDS has taken issue with the university's use of its student-supported public activities grant project to fund a speaker they feel doesn't represent the views of the UMN campus.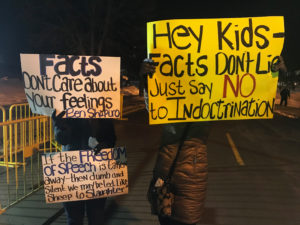 While some student grants are entirely funded by the private Coca-Cola organization, Shapiro's speech was at least partially funded by public student activities grants.
"Our issue here is that the money being used is not from the Coca-Cola organization, which is a private organization," Bianchi said, "but student service funds from student service fees."
Bianchi said that SDS would have been more comfortable with a more moderate conservative personality speaking on campus.
"Conservative speakers can come if they're speaking about fiscal responsibility, if they're talking about cutting programs. But this is a person who thinks the majority of Muslims are radical. This [is] a person who has voiced support for conversion therapy," he said. "This person is unique."
According to Bianchi, the demonstration addressed two main issues.
"The first being, 'hey, money shouldn't go to this dipshit'," Bianchi said. "The other component being that we have to support the community that feels threatened by Ben Shapiro, and show that there are members of the University of Minnesota student community that will stand up and say no to this."
"These [conservative] groups are really lulled into a sense of safety because Ben Shapiro was against Donald Trump, and he calls himself mainstream," Bianchi continued. "But he is just as radical as Lauren Southern, as Milo Yiannopoulos, and he's gonna be stopped."
But the conservative Young America's Foundation (YAF) – a national organization that helps conservative student groups invite speakers to campus, Ben Shapiro included – feels aggrieved as well.
It has threatened to sue the University for allegedly confining the event to a small venue on the St. Paul campus, which is nicknamed the 'cow campus' in reference to its remoteness from the main campus in Minneapolis.
In a letter to the University's General Counsel, YAF argues that "The University of Minnesota employed a heckler's veto by denying conservative students equal access to university facilities on the basis of the students' viewpoint." They believe this behavior is in violation of the first amendment.
UMN responded that "the assertion that the University of Minnesota has "downgraded" or "relegated" the upcoming event featuring Ben Shapiro based on ideological or any other reasons is patently false," and that the school's "focus is to ensure the event can actually take place while also ensuring public safety."
In his presentation, Shapiro – unhappy with his accommodations in Minnesota's capital city – was quick to address this response.
"The statement from the University president as to why we are all out here instead of on the main campus is just absurd," Shapiro said in his address. "The statement says 'The University hosts a wide variety of events, welcoming tens of thousands of people to the Twin Cities campus every day,' yet magically they couldn't fit a thousand of us on the main campus. They had to shove us all the way out here."
Three student groups helped to facilitate Shapiro's appearance – Collegians for a Constructive Tomorrow (CFACT), Minnesota Republic and Minnesota Students for Liberty. Of those three, CFACT and Minnesota Republic crafted a response to UMN's defense.
"Clearly, hosting the event in St. Paul is a logistical hassle for most students attending the event," they said. The groups assert that they "did not intend for the event to be held in a venue of 400," and "that is clearly expressed in dozens of emails."
None of the three organizations responded to requests for comment.
Despite the controversy, the protest remained peaceful. As the crowd grew, demonstrators chanted "Racist, sexist, anti-gay! Ben Shapiro, go away!" A small number of counter-protesters gathered in response to the demonstration, bearing on signs Ben Shapiro's oft-repeated jab, "facts don't care about your feelings."
Bianchi hoped the protest's message was clear.
"The students at the U will not put up with this bullshit," he said. "The people inviting Ben Shapiro are in the minority. There is more opposition than there is support."
Associate News Editor Hannah Catlin contributed to the reporting of this story.