Hatakeyama photographs tsunami aftermath in "Tracing the Future"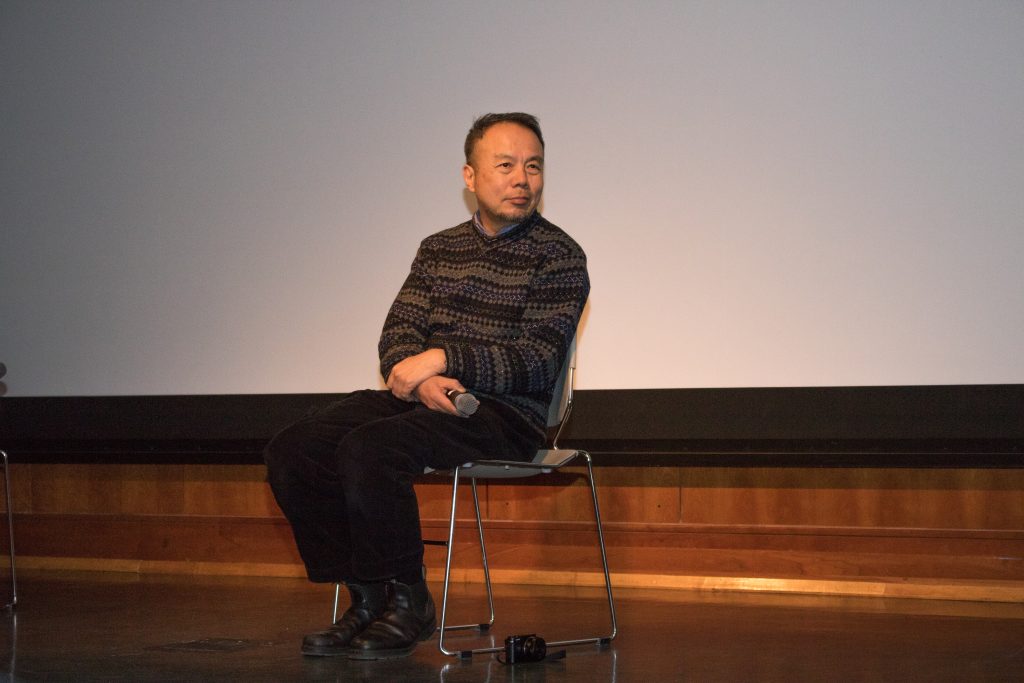 Felipe Fernandez
March 9, 2018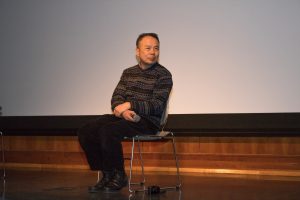 "Tracing the Future," shown in John B. Davis Lecture Hall on Sunday, March 4, chronicles the works of acclaimed Japanese photographer and artist Naoya Hatakeyama. Following the 2011 Tohoku tsunami, which caused the death of Hatakeyama's mother and destroyed his hometown of Rikuzentakata, he returned and took seven years of photographs — eight thousand frames.
Hatakeyama's body of work deals with landscapes. His previous photograph series work to understand the way in which nature shapes humans, and the way in which humans, briefly, shape nature. His "Lime Works" series shows us what construction, its process and its product — buildings — are: A shifting of limestone from a mine to a place above ground. He makes the world that we know appear different. He shifts the angle of the camera, and adjusts the light so that a sewer tunnel in Tokyo becomes an unexplored region.
The work displayed in "Tracing the Future" follows a similar conceptual vein, but feels less emotionally detached from the subject. Hatakeyama says of his work in the film, reacting to the tsunami: "The bind of aesthetics crumbled away. Died." While his previous work succeeded in part thanks to the lack of a clear, identifiable location (which allowed for a more immersive experience), his current work is dependent on our understanding of the time and place of the subject matter. It is more drastic, more wistful and at times nostalgic. They are pieces that require the horror to be contextualized. Hatakeyama talks about the unintended beauty of some of the photos in the documentary. He makes it clear that the focus of his work is not perceived beauty. Regardless, he doesn't want to shame viewers who might have this reaction to photos of his destroyed town.
Hatakeyama's work is neither monotonal nor horror-themed. It deals with reality. He is grappling with the realization of what little effect an individual has on the eons of time that came before or will come after them. In the Q&A, he treats us to his thought process: "I lost my sense of time from that experience," he said. "Perception of time and action usually co-exist. But, when somebody you know disappears in front of you, that changes the harmonious coexistence."
He does not show us pictures of displaced people, or of human suffering. Portraiture is not his pursuit. What is more, there were no people left after the tsunami; everybody who survived had been evacuated. It would have been disingenuous to fabricate that. What he displays, instead, are the inundated houses, the eroded mountainsides, the roads and the debris.
He had taken private photographs of the same region for years before the event. They were mostly things he found amusing. Personal photographs. Nothing that he imagined he would display at a gallery, or turn into a book. "I don't consider [the private photos] art," Hatakeyama said. "However, I recognize the hypocrisy of saying this while having them displayed in galleries and museums." He conceives of the project in longer terms, and plans to continue photographing the region.
In a touching scene during the film, we are treated to the remaining photographs of his mother. Most memories have been washed away. Hatakeyama speaks of his mother in a way that leaves me with the memories of losing my own home (immigration from Venezuela, physical and mental illnesses in the family: the things that happen in life). Hatakeyama gave her a camera before she died, which she used to explore the world in her old age. "She was open, affirmative, with no preconceptions," he said. "She was a wonderful mom."
If you had turned at the moment these images were being displayed on screen, you would have seen Hakateyama at his seat in the far right corner of the auditorium — a serious, private gentleman in a dark sweater, black corduroys and Chelsea boots — tear up momentarily. This would have helped you understand. Eons pass, and for a fraction of a second, so do we.
The film, which is intended to tie in to his Minneapolis Institute of Art (MIA) exhibit "Excavating the Future City," concludes with a rescued newt. The filmmaker moves from recording Hatakeyama to panning in on the small creature in the dirt, with one leg moving out of control, the rest of the body paralyzed. "It's a newt," says Hakateyama. "The ones that can't survive without water." He picks the newt up with a stick and gently moves it to a puddle of water. It is still for a couple of moments, and then starts to move about the puddle, its life force regained. Saved by water.