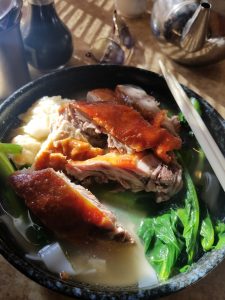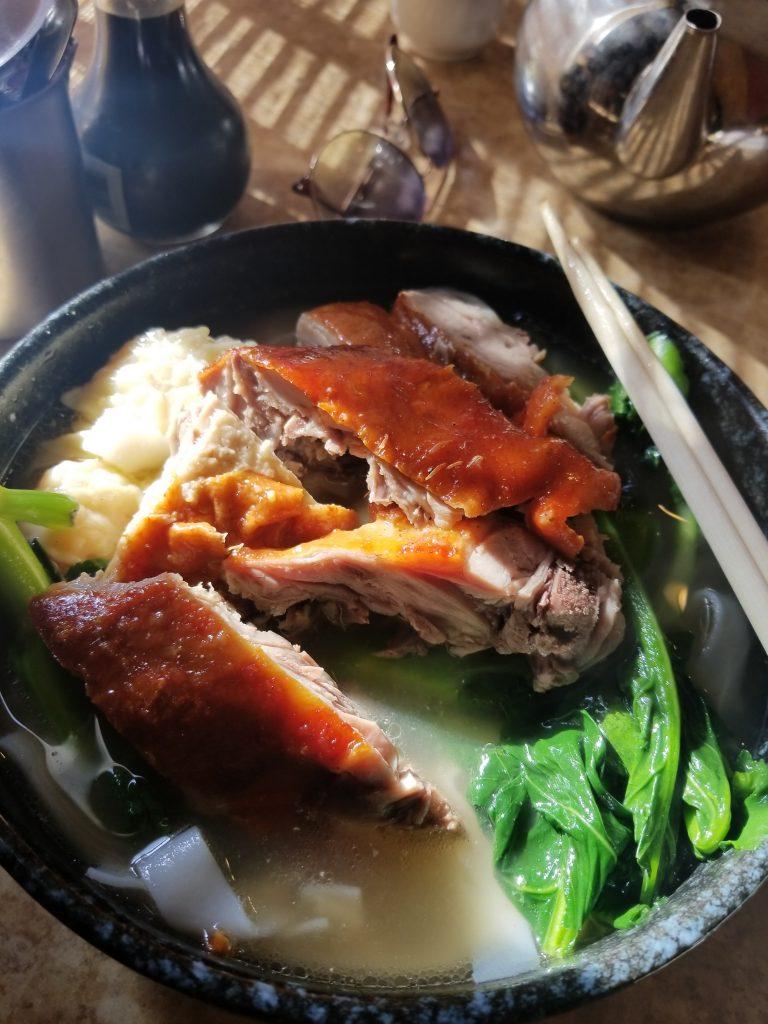 Hong Kong is a city of its own kind. There are skyscrapers with one million windows overlooking neon-lit streets and markets, and moss covered mountains cloaked with fog. On the island, there are two approaches to food that categorize its millions of recipes.
One approach is all about flavors, diversity, spices and temperature, with influences from Indian curry, Japanese deep-fry and Mainland Chinese spicy dishes. The second style is simple, with coordinated traditional tastes. These approaches are vital components of Hong Kong urban tradition, and both are well executed at Hong Kong Noodle, a small restaurant near TCF Bank Stadium in Minneapolis. What sets Hong Kong Noodles apart from the sea of Asian restaurants at U of M East Bank is their soup noodles.
The soup noodles come with an abundance of toppings, including roast duck, roast pork, steamed chicken and braised beef. You can choose between egg noodles or fun noodles (wide rice noodles), with the option of adding six shrimp wontons as well. A year ago, I always added wontons, but recently I have grown to realize that although they are a delicious supplement to the noodles, being eighty percent full is just as good as being entirely full. When it comes to noodles, egg noodles are a great match with roast duck and roast pork. Personally I don't like their brackish taste and firmer texture. Rather, I always choose fun noodles, which pair well with the oily roast duck, cooked Chinese broccolis, and most importantly, the beef and pork bone broth that the restaurant lets stew overnight. Together, these components make up the perfect bowl of noodles that are so irresistible that the intuitive sequence of "meat first, then noodles, finally broth" is often thrown out of the window: you never know which part you will finish first.
Another menu item to note is the smoked eel fried rice, which has been recommended to me countless times in the past two years. However, I never tried it out of fear that I would squander 16 dollars for my friends' questionable taste. It also felt wrong to fry smoked eel with rice, instead of laying eel over white rice like the Japanese do. Two weeks ago, I finally had a taste when a friend boldly ordered it. I immediately understood why so many people had sung its praises. There are a substantial number of smoked eel pieces, mixed in soy sauce fried rice to offer that teriyaki-style sweet flavor. The egg is fried to perfection and covers the rice like a thin and tender pancake. America has treated me with high quality fried rice, but this dish may be the best I have had in my life.
Some interior design choices at Hong Kong Noodle are questionable, making it less than the ideal conversation environment. However, for a business established 20 years ago, every piece of furniture has its own story. Students walking in flocks, the Green Line passing by, or occasionally a peek of TCF Bank Stadium's scoreboard are all sights at Hong Kong Noodles' window that showcase serenity of city life. Hong Kong Noodle sometimes make me think of the classic song about Hong Kong,
Pearl of the Orient doesn't sleep all night // Keeping the promise behind vicissitudes of life.
It is food like roast duck noodles that always stands still behind vicissitudes, and I am glad Hong Kong Noodles has brought them here.
Hong Kong Noodle is located at 901 SE Washington Ave in Minneapolis.