Faculty respond to plan to remove more library books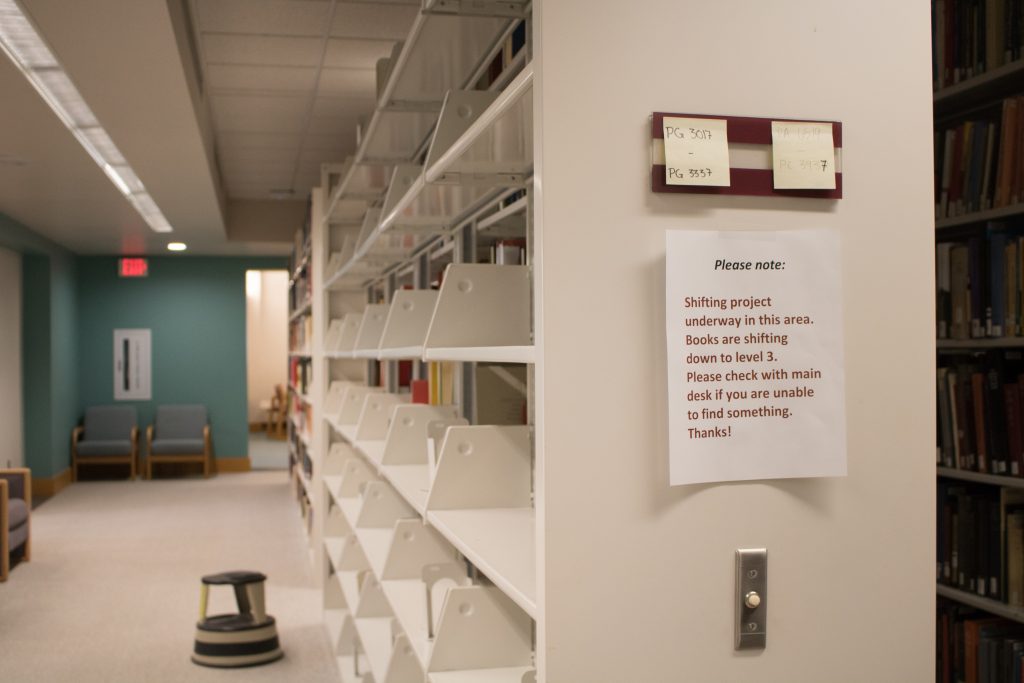 The DeWitt Wallace Library is reviewing several thousand books for potential removal from college's collection in the coming months, reigniting conversations over the library's future and its role in the college's broader mission.
The books targeted for withdrawal were published between 1993 and 1998, have not been checked out in the last fifteen years, are held by at least 100 other libraries in the US, at least three other libraries in Minnesota and are neither in special nor non-circulating collections.
In total, that's 6,537 books – largely concentrated in the humanities and social science fields. Those books were divided into 36 lists, which have staggered review deadlines starting on April 2 and ending on June 1.
This review is a continuation of a complete review of the library's print inventory that began in 2012. In 2013, the library released a document called "Vision 2020", outlining the library's plan to begin transitioning to "more digital and less print," while providing more "content creation labs" and "collaborative working spaces," among other endeavors.
The renovation of level two of the library last summer was perhaps the most visible realization of that vision, which has seen the library cut its print collection from roughly 440,000 titles in 2013 to just more than 325,000 today.
That drop correlates with a significant decrease in book circulation. In 2002, students checked out around 45,000 books. Last year, that number was just more than 23,000. Faculty checked out some 10,000 books in 2002 and just over 4,000 last year.
According to Library Director Terri Fishel, the plan is to keep the print collection at roughly 325,000 titles for the foreseeable future. With around 5,000 new titles coming in each year, there is pressure on the library to make room.
"[This review] is not a case of trying to clear out an entire floor, like we did when we had the opportunity to remodel level two," Fishel said. "It's just to keep our collection steady, relevant, and focused on the current needs."
But the changes in the library – especially the removal of printed materials – have drawn significant backlash.
Faculty, for instance, are allowed to review the withdrawal lists and request that the library keep certain books. So far, they haven't been shy.
Various faculty – including Althea Sircar, David Moore, Paul Dosh, Patrick Schmidt, and Ruthann Godollei – have, for example, requested that the library retain 70 of the 77 titles in the political science-focused List 19.
There is a similar ratio for many of the other lists. Another with an April 2 deadline, religion-focused List 5, has 109 titles. Faculty have already requested that 83 be saved. List 8 has 151 titles, 121 have save requests.
Those requests, which Fishel expects to fully grant, highlight a division between certain segments of the faculty and the library's administrative staff over the library's core purpose.
"The big question is: what do we think the goal of the library is?" English professor and one of two faculty representatives to the library advisory committee Andrea Kaston Tange asked. "Do we think that it is meant to be a repository of knowledge and a place for rigorous research to happen in a traditional textual kind of way?
"Or do we think about it as a learning space that means going in lots of potentially new directions besides just a book collection?"
"The faculty point of view is that we think that a print collection is really important for the academic work of the college," German studies professor David Martyn, the other faculty representative to the library advisory committee, said, "and we hope that the library hears us."
In the philosophical disagreements regarding the library's role on campus, the second floor remodel remains a point of contention – both because the space changed so drastically, and because the decision to remodel was made largely without faculty input.
"What we were told when the second floor got cleared out was that this was not the library's idea," Martyn said. "That it came to them, over the summer or something. I'm not even sure if it was even brought up at one of these library advisory [meetings].
"Why is the library then responding to a request coming from elsewhere instead of making its own decisions about its significance and what it wants to be on the campus?"
Kaston Tange was similarly perplexed.
"It is not really clear to me what things the library has control of as opposed to other decision-makers on campus," she said. "Would I have chosen to remove all the shelves from the second floor? No, I wouldn't have. But I don't know who made those decisions."
The second floor now hosts entrepreneurship – a new priority of the college as outlined in the 2015 strategic plan – and the connected Idea Lab.
But while opposition to entrepreneurship as a Macalester value has been robust in recent years, Martyn's main question is why it has been moored in the library.
"I'm not going to say anything against entrepreneurship. Maybe it's a good thing. But why does it have to come out of the stack space?" Martyn asked.
Fishel's vision, on the other hand, is more expansive – and includes providing library space to other offices in furtherance of the college's mission.
"I see the spaces in the library as community space and meeting many different needs for groups and individuals," Fishel said. "If someone is opposed to the idea that entrepreneurship is one of the strategic priorities, I can't control that particular response."
At the end of the day, people vote with their feet – and the second floor remodel has, from the library's perspective, been good for business.
"We're keeping track," Fishel said, "and we know that use of library is up about 20 percent in terms of the number of people coming through the door."
Feedback on the second floor remodel from student surveys conducted in the fall was, in line with that increase, overwhelmingly positive. Fishel said that she is "thrilled" with the new second level and how it is being used.
"We still have a collection of over 300,000 books – that is not a small collection – and at the same time, we've improved spaces for students," Fishel said. "I see that as a win-win."
Others are not so sure.
"For me at least, having a substantial print-based collection in the library is comparable to the value of having a home or auto insurance policy," philosophy professor and former provost Diane Michelfelder wrote in an email to The Mac Weekly.
"I might not ever use [those] policies, but they are good safeguards just in case something unexpected comes up," she continued. "You could say a good print-based collection acts as an insurance policy for a hungry mind."
Martyn agreed.
"One of the things I think is really important is the need for a print collection not as something that will serve your needs that you know about, but as a place for discovery," he said. "A place to find things that you didn't know you needed.
"I personally think a library is a place of mystery, of wonder and of sediment," he continued. "And I think that the library doesn't have as much as it could have [or] should have."
On Feb. 27, a group of faculty and staff met in the Harmon Room with library staff to discuss the current book review process and the library's future. A follow-up meeting is scheduled for March 22 at 11:30 a.m. on the library's second floor.
"I would like a partnership with the library in which their expertise and our expertise can work together symbiotically," Martyn said. "That would entail the faculty concerns be given greater weight than they have been to date."
Ideologically, however, there seems to be a standoff – one that the books up for review this spring have been swept up in.
"I feel that everyone is reacting to this as though the ultimate goal is to make the collection as small as possible," Kaston Tange said. "I don't know if that is the ultimate goal – that is not how it has been represented to me – but that's how people are emotionally responding to this. And that worries me a lot."
"There are faculty who have a perception that the library should be one thing," Fishel said. "But I've literally been working in libraries for 42 years. The changes have been constant, and some changes are a challenge, but at the same time… if we're not making [the library] a good resource for students, we're not doing our jobs."