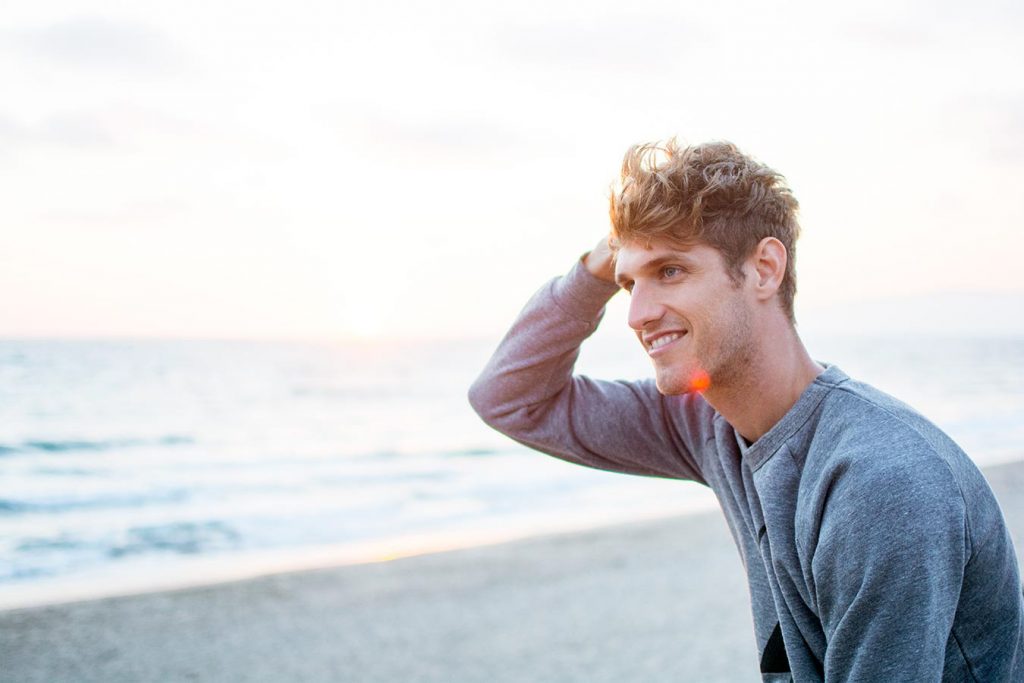 Bower is the moniker of Trent Bower: singer, songwriter and multi-instrumentalist. After playing in bands in New Orleans and Los Angeles and touring the country as a drummer and bassist for artists like Amy Shark, Vance Joy and Taylor Swift, Bower is embarking on a career as a solo artist. He released his first solo EP, "Rookie Card," last month. I caught up with Bower during a break from a celebratory ski trip in a sleepy Colorado mountain town. Here's what he had to say about his new EP and the process of going solo:
The Mac Weekly: Why did you name your EP "Rookie Card?"
Bower: I've always played sports — I'm a huge basketball fan, and I wanted to incorporate those passions into my music. A rookie card is something that really valuable because you don't know at the time what this person is gonna end up being… if they end up being a legend, their rookie card is their most valuable card. So I thought it would be cool as if to say, "who knows what this will turn into?"
TMW: The EP has a very California feel to it. How do you find the relationship between music and place coming out in your songwriting?
Bower: Every place I've lived has always offered me something new and always something amazing. When I was in New Orleans, I really ate it up, and I became obsessed with jazz and stuff like that… New Orleans still felt like home, even after a couple years in L.A., but I knew L.A. was a place I wanted to be. I hadn't set my roots yet. I started touring with Vance Joy and Taylor Swift within the first three months of moving to L.A., so I was always on the road for the first year and a half that I lived there, and that was a world in itself. After a while, though, I realized: I want to do my own music. And if I don't stop touring and dig in now, then it'll never happen. It was really hard for me to give up the touring life, but in order to reach the place where I wanted to be, I had to. So in 2016, I said "this year, I'm staying in town, building my own network, and just writing to figure out what I wanted my project to sound like." This is how I dug my roots into L.A. I've always loved California — I'm a surfer, I like hot weather and being outdoors, so I always kind of wanted to end up there… it felt like an inevitable landing place. Culturally, I feel so at home here, and that was just so on my mind in the process of writing this EP, so it snuck its way into the music pretty hard.
TMW: Speaking of Los Angeles, one of the catchiest songs on the record is "Rain in LA" Can you tell me a little bit about where that song came from?
Bower: "Rain in LA" is about a girl that I met when I was touring with Vance Joy. During our show in Norfolk, Virginia, I was making eye contact with her in the crowd, and I could tell we sort of had a vibe. After the show, I actually ran into her at one the local bars, and we really hit it off and had this amazing connection — it turns out she was from Akron [Ohio], and had come out all the way to Virginia just to catch Vance Joy. Well, we exchanged contact info and started texting a lot. We would hang out in Ohio when I was passing through there on tour, and we started getting really close. We both had strong feelings for each other, but because I lived in L.A., and she lived in Ohio, it just wasn't a practical relationship… I had to cut it off and kind of say, "let's slow things down and keep it as friends," and she agreed.
When I got back to L.A. in Jan. 2016, we had all this rain, which L.A. never gets. Having grown up in Miami where it rains all the time, I miss the rain when I'm in L.A., and that cozy feeling of waking up in the morning and it's raining outside, so you just sleep in… now having all this rain made me think of how much I'm usually missing the rain, which made me think about how much I was missing this girl.
TMW: You refer in your press release to the importance of musicianship, and the value of playing an instrument. Could you talk about how that thought process went into the EP?
Bower: I had a trio for a while called "The Rusty Boys." We were a local LA band who would do old-school funk and rock 'n' roll covers — three-hour-long gigs, four times a month. After a while, we became such a tight unit… I really wanted to capture that on the EP. I love electronic music, but I felt that for this EP, I wanted to play to my strengths. I started out as a drummer, and I played drums in this band with other really good musicians. I thought "this already sounds good, so why not?" You're hearing less and less of that these days, so I thought it would be good to go away from the grain for a bit. With "Rookie Card," there are modern elements, but I wanted it to have a timeless feel. In the future, I definitely see myself going more in the electronic direction, maybe going more minimal, playing around with that ethereal production… but for this one, I wanted to go to my roots and set a precedent for myself as a solo artist. Also, I didn't have a producer, so I had to do it on my own… I wanted to make something that sounded like me.
TMW: What instruments do you play and when did you start playing them?
Bower: I started off on drums when I was 10 or 11. My dad played, so he put me on them once I could reach the pedals. I did concert band at school [and] I added the guitar in ninth grade. I didn't dive too heavily into it because I was focusing on drums, but I knew I wanted to write music on guitar. When I graduated high school, I realized I wanted to sing and play guitar, so I formed a reggae band with a few friends. Once I was in college and I was getting into jazz, funk and jamming, I wanted to get back to the drums, so I dispersed that band, moved to New Orleans for grad school and dived into the drums there.
I also had to learn piano for part of my grad school curriculum. I knew how it worked, but hadn't put the time in to master it before. Then when I got the gig playing bass with Vance Joy, I hadn't actually played bass in a band before, so I had to learn… I had three months to master it before heading out on tour, so that was pretty intense. That tour took me away from the drums, and I was nervous that when I got back to the drums I'd have forgotten them. But really, it made me so well-rounded. I'm not "Trent Bower: drummer," I'm "Trent Bower: artist/musician."
TMW: Is there any artist you listened to growing up and thought, "I've gotta become a musician?"
Bower: Oh yeah, totally. For me, music has been this whole lifelong journey. I've always been so obsessed with it. Every four or five years I hit a new phase where I'm inspired by different artists. The Beach Boys and The Beatles were the first things I gravitated to because they were CDs from my dad's collection… I think everyone gets into their parents' music before they find stuff on their own. In high school, I discovered Sublime, and that took over. I learned to play guitar and sing because of Bradley Nowell. I would go home every day and play Sublime songs. He and I have a similar range, so I felt comfortable singing his songs — I felt like my voice identified with his melodies.
For this EP, I felt like I was drawing on every influence from my whole life. This was the first time I took a really holistic approach… I started out just making something that I wanted to hear. I was really digging the new Haim record when it came out, and I definitely finagled a bit of their style into the record… I connect to everything now, in a weird way. Sometimes I wish I was a little more specific, but now I find myself liking at least something about everything I listen to — which isn't a bad problem to have, I guess.
"Rookie Card" is available to stream and download on all the usual sites.