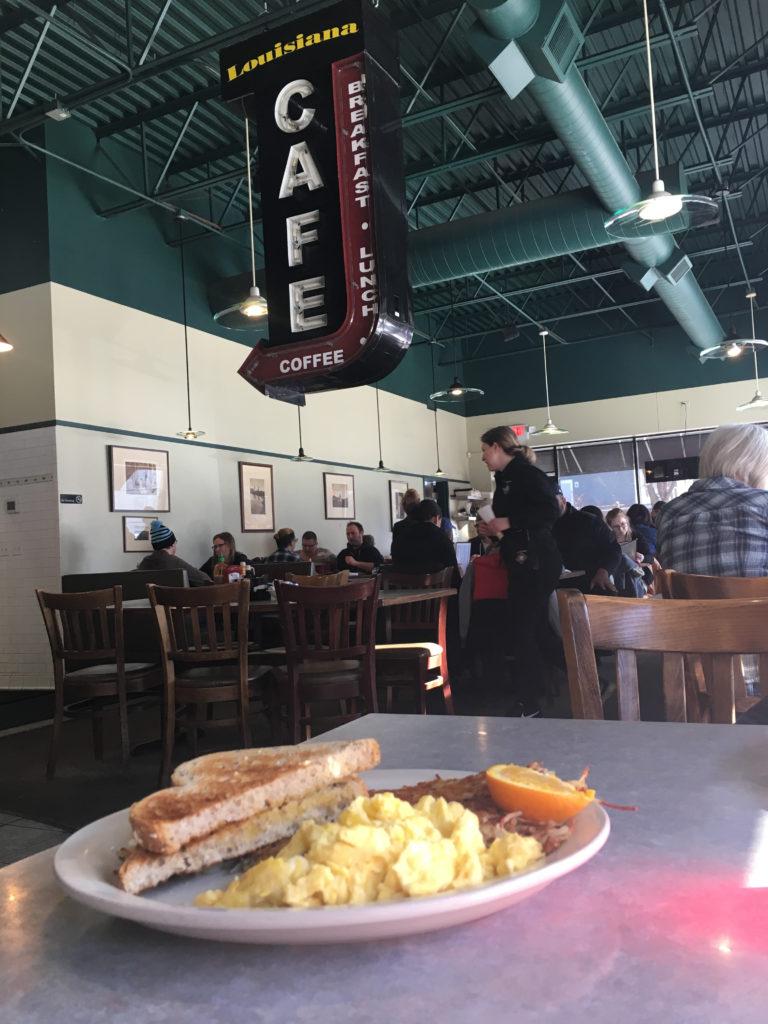 The Louisiana Cafe is a classic take on breakfast foods, perfect for Sunday morning brunch and good company. The restaurant itself has a timeless quality with the familiar sounds acquainted with diners – customers' lively chatter, tings of plates and forks and the sizzle of grills in the kitchen. The restaurant is one large room with plenty of natural light, and an old sign declaring it the Louisiana Cafe hangs from the ceiling in the middle. An old-timey element is also incorporated through the classic counter with bar stools in the center of the restaurant. As soon as I walked in, I was swept back in time to diner scenes from old movies.
Aside from the interior of the building, the location is also very convenient. Just off of Summit Ave. on Selby Ave., downtown St. Paul and the Cathedral of St. Paul loom just over the horizon. A drive from Macalester or a ride on the 63 bus will get you to where you need to be quickly.
The cafe serves classic diner fare, from hash browns and eggs to biscuits and gravy and is rounded out with chocolate chip cookie dough pancakes. The menu also has lunch options that cater toward the classic American experience with burgers and club sandwiches. I opted for a combo meal of eggs, hash browns and toast – as the restaurant advertises the common conception of breakfast, I thought it was fitting to try a traditional breakfast. And it did not disappoint! The hash browns were shredded and crispy with just enough butter and paired well with the scrambled eggs.
The commitment to replicating America's classic diner experience creates a simple and familiar atmosphere. But by offering specialty pancakes and waffles such as the mesmerizing caramel apple crisp waffle, they make sure to put a spin on the classic breakfast. I highly recommend visiting the Louisiana Cafe – if only because you want to get out of this Minnesota winter!
Louisiana Cafe is located at 613 Selby Ave, St. Paul, MN, 55102.