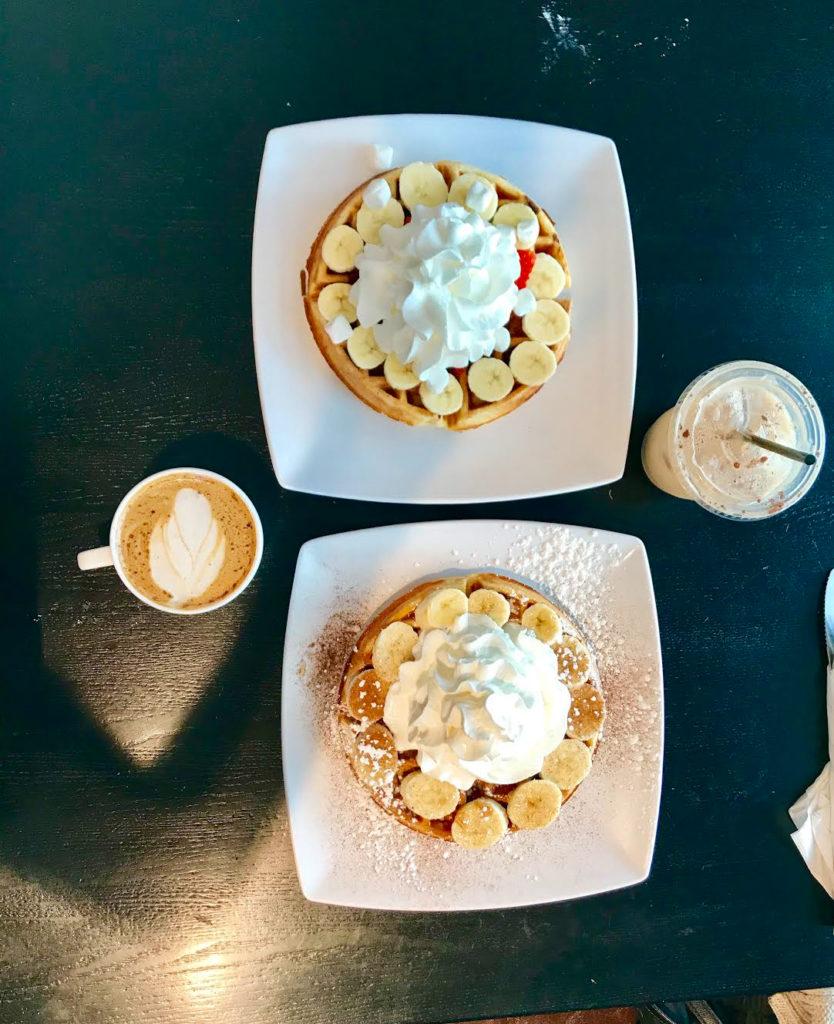 This week I chose to review Black Coffee and Waffle Bar, a cute brunch spot with locations in both Minneapolis and St. Paul. Black Coffee and Waffle Bar's original store opened in 2014 and has since opened a second location on Marshall Ave., which is the location I chose to visit. The location, while small in size, has a very pleasing aesthetic. The place is well-lit and as open as can be with the limited space offered, with a range of tables and booths that can accommodate parties of different sizes, seating anywhere from two to six people comfortably. However, this place does seem to be tailored to parties on the smaller size, as most tables seat between two and four people comfortably.
The menu itself is quite simple: coffee, tea and waffles. There are a variety of pre-designed waffle options as well as the option to create your own from a list of ingredients. All but one of the waffles are sweet, with various fruits, nut butters and sugar, so it might not cater to those who don't have a sweet tooth. I sampled two waffles; the Fat Albert, with peanut butter, banana, cinnamon, powdered sugar and whipped cream; and a "create your own" with strawberry, banana, mini marshmallows and whipped cream. Additionally, I ordered an iced chai and a Miel, which is espresso, steamed milk, honey and cinnamon. The Fat Albert was delicious.
In the Fat Albert, the most ample ingredient was the banana, with only a small amount of peanut butter drizzled on top. The sweetness of the banana provided a nice contrast to the basic flavor of the waffle, which was a healthy ratio of crispy on the outside and soft in the middle. The cinnamon and powdered sugar both added a nice visual to the plate, as well as a little sweet and spice to the main flavors of banana, peanut butter and the waffle itself. The waffle I designed was also quite good. Having two different fruits as the main toppings and no sauce or nut butter added on top really allowed for the waffle's flavor to come through. The batter was light and not too sweet, leaving you satisfied without sitting too heavily in your stomach. The whipped cream added a lovely bit of sweetness but was not overpowering and tasted clean and homemade.
As for the drinks, both receive my strong praise as well. The chai was on the spicier end and had a sprinkle of cinnamon on top, which added a nice twist to the flavor. There was a good ratio of chai to milk, leaving it creamy but maintaining the main flavor of the tea rather than milk. The Miel was delicious, and had a sprinkle of cinnamon on top as well. The espresso was rich and strong but, combined with the honey and steamed milk, created a more gentle and well rounded flavor.
One important factor to take into consideration before heading over to Black is time. I waited about 15 minutes for a table, and a few minutes after I was seated the food arrived. As the place was very popular on a Sunday morning, it was challenging to find a table for two, and if you are with a larger party it might take even longer, as there are only a couple tables that can seat large parties. Additionally for people who aren't interested in a sweet breakfast, they do have one savory option with ham and cheese. However that is the only savory option, and as a vegetarian that does factor into my impression of a restaurant. Personally I would have loved to see a savory vegetarian option on the menu as well. Overall I would give Black Coffee and Waffle Bar a strong positive review and highly recommend it to hungry customers with time to wait.
Black Coffee and Waffle Bar is located at 2180 Marshall Ave, St. Paul, MN, 55104.