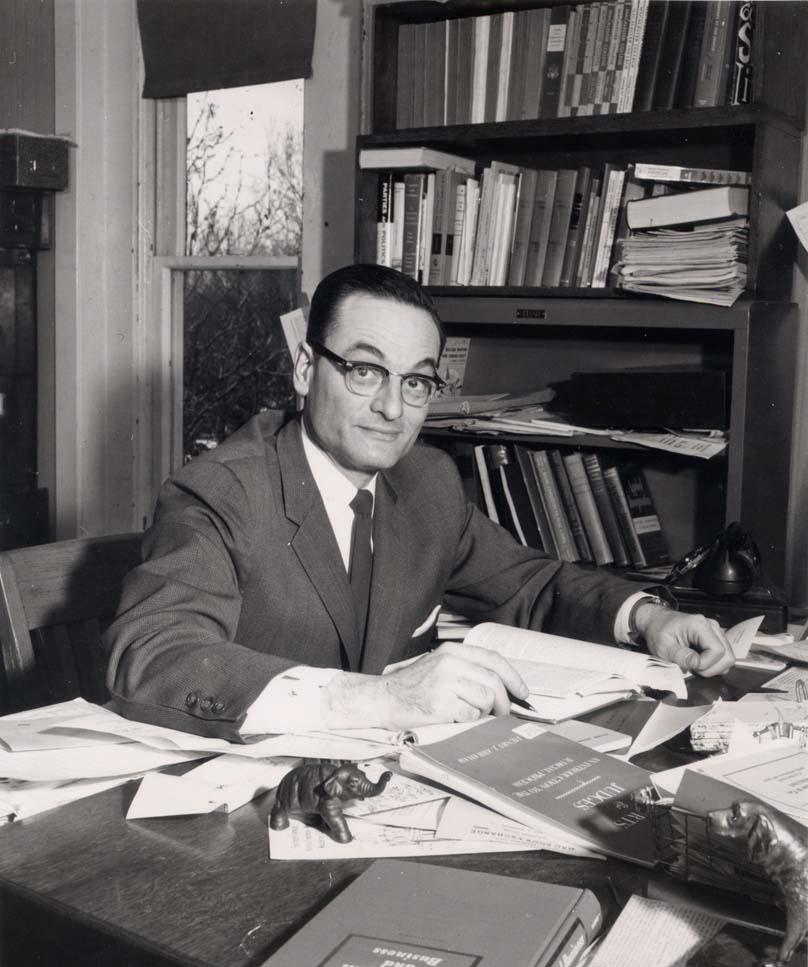 This post contains two inaccuracies, which The Mac Weekly would like to correct. The first is that Ted Mitau was "barely five feet tall". In fact, he was five feet, six inches. The second was that Mitau was unaware of the place of his mother's death during his lifetime. In fact, during a trip to Israel, Mitau visited Yad Vashem and discovered that his mother had died in Theresienstadt with her second husband. The knowledge that his mother had not gone to Theresienstadt alone provided him some comfort at the end of his life. The Mac Weekly sincerely regrets these errors.
Today is Founders Day and one founder who shaped the political identity and civic engagement at Macalester is G. Theodore "Ted" Mitau '40. Mitau shaped the political science department and inspired a generation of Macalester students to pursue law and civic service. He was a professor and chair of the political science department at Macalester from 1940-1968 and an adjunct professor until his death in 1979.
Mitau was barely five feet tall, spoke with a slight German accent and exuded energy. He was renowned for his passion for teaching, public service and the Socratic classroom style. "He tried to engage everybody [in class]. It was always a mystery as to how he'd get the quiet students to answer," Charlton Dietz '53 said.
Many students joked that the "G" at the beginning of his name stood for "God". It actually stood for Günter.
Mitau was born in 1920 in Berlin, Germany to a well-off Jewish family. When Hitler came to power in 1933, Mitau was 13 years old. He had already experienced the death of his father and brother and lived with his mother, Rosel. In the 1930s Mitau attended school for engineering in Eastern Europe but never finished his degree. Due to amplifying anti-Semitism in Germany, he obtained a student visa and traveled to the United States in 1937.
His mother did not emigrate with Mitau. It was only after World War II that he learned that his mother had died. The location of Rosel's death, at the Czech concentration camp Theresienstadt, remained unknown until after Mitau's death in 1979.
Mitau arrived in New York City in 1937 and connected with relatives. He worked in a kitchen while he attended New York University. Later he transferred to Macalester where he graduated in 1940.
He worked at a summer camp on White Bear Lake, where he met Charlotte Cutts. They married in 1941 and had two children, Andrea and Lee in the 1940s. Both Andrea and Lee grew up to be lawyers.
Mitau went on to get his masters and doctorate degrees in political science from the University of Minnesota. To support himself he worked as a German tutor at Macalester. After receiving his doctorate, Mitau returned to Macalester to teach in the political science department. Mitau thought that politics was about finding, "proximate solutions to insoluble problems" and that "all politics are local."
Mitau went on to chair the political science department in addition to becoming the pre-law advisor. He emphasized the personal responsibility of the constituent to make the world better. "I don't belong to this cynicism school of politics. If we get good politicians, we will have good leadership and we will have a good society," Mitau said in an interview with the Star Tribune.
Under his leadership the political science department flourished and gained national attention. Mitau left Macalester in 1968 and became the first chancellor of Minnesota's State University System. He founded Metropolitan State University, a public four year university in the Twin Cities designed to accommodate working adults and have manageable tuition.
In 1978 Mitau was diagnosed with late stage pancreatic cancer. He died in July 1979.
"Looking at the tapestry of Ted's accomplishments, it's hard to believe that one single person could have a career so diverse and with so profound an impact," former Vice President Walter Mondale '51, said in a speech at Macalester shortly before Mitau's death. Mondale was a former student of Mitau's. When Mitau became ill a colleague in the political science department suggested that Macalester institute the Mitau Lecture which invites a political scholar to speak at Macalester. Mondale was the first speaker, and he spoke while he was serving as the Vice President. The speaker this year was Professor Jill Locke who teaches at Gustavus Adolphus College. Her speech was titled "The Trump Presidency and the Death of Shame."
While we cannot attribute Macalester's culture of political activism and hope in democracy solely to Mitau, his mark on Macalester cannot be understated. He inspired a generation of Macalester students to go into public service and his passion for political activism still echoes in Macalester's students and graduates.