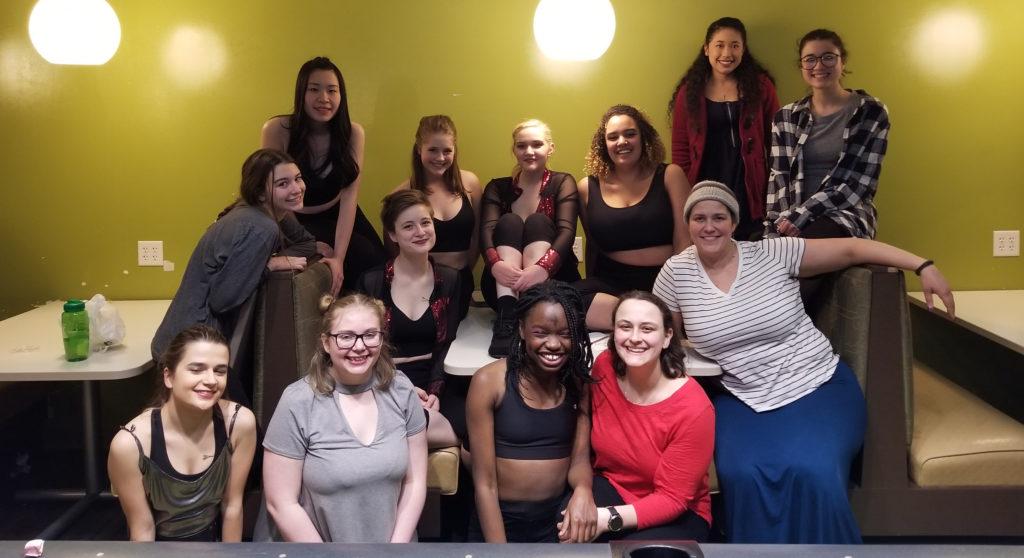 "SLUT: The Play", opening on Friday, Feb. 16, is the latest production by the Macalester theatre and dance department. The play explores rape culture through the lens of a high school thrown into chaos following a violent sexual assault. Given the cultural context of the #MeToo movement, the play is immensely relevant to a college campus community. Recently, The Mac Weekly sat down with Rachel Ault '18, a history and theater double major and the dramaturg for "SLUT", and Signe Harriday, the guest director. "SLUT" is Ault's capstone project, and she has previously worked as stage manager on several Macalester productions, including "The Clean House", and "Fahrenheit 451". Harriday's most recent project is "Cardboard Piano", currently running at Park Square Theatre.
TMW: Why is "SLUT" important?
RA: It's important because it's about sexual assault, which has been going on for many years, but is especially relevant in the age of technology and in the context of the Me Too movement.
SH: Theatre has the unique property that creates an environment that allows one's mind and heart to simultaneously be opened. I don't think there are many other mediums that can do that. We as a society have pushed sexual violence to the shadows and created a culture of shame, around both victims and perpetrators, such that there's no room to talk about it, to expose it, to have a conversation that I would like to believe moves us towards healing. Discourse is often around taglines and headlines, and there's this conflict between "I believe" and "I don't believe," an attempt at justice which I believe ultimately doesn't serve any member of our community.
TMW: So why see a play about a really difficult topic? Who signs up for 90 minutes of something uncomfortable?
SH: We have a unique opportunity in an environment like the Macalester community to have a communal experience that allows us to have a more meaningful conversation. So really, "SLUT: The Play" is meant to be a vibration, an opportunity to crack the window open, to open the heart and the mind such that productive conversation and healing can emerge. On top of that, it will be wildly entertaining because we're telling a story, as opposed to writing a peer-reviewed journal article. This is something that allows us to have a collective experience, which is also why it's in the Loch.
TMW: What is the story about?
RA: The story revolves around a high school and an incident that occurs with a character named Joey, who is assaulted. It follows the events immediately afterwards, including her testimony to the district attorney. It concerns her friend group and family, how people view her, how she's talked about online. It shows how difficult coming forward as a survivor is, and how it impacts every part of your life afterwards.
SH: It's a diverse set of stories that allow us to feel, from a narrative perspective, the ripples that an incident like this creates, even for people who may not have a close connection to the actual victim. This is why it's great for Macalester, because students who come and see it have an opportunity to realize that they do in fact have a role to play, as a community member, in terms of rape culture globally.
TMW: What do you expect the audience to feel coming out of the play?
SH: That's a good question. I get asked this a lot about theatre, but I have no expectations about what specifically the audience will feel. If we do our job well — and I believe we will — you will feel something. But it's not my job to predetermine what that is. People are going to connect with different aspects of the story based on their own unique experiences.
TMW: What qualities did you look for when casting the play?
SH: Two major qualities were authenticity and courage. Authenticity because the characters in this place are very raw, vulnerable and exposed. We needed people willing and able to tap into that. We needed courage because sitting inside these stories for an extended period of time is not something to be taken lightly. And artists, as they walk that journey with these particular characters, required an immense amount of courage. Furthermore, as an artist of color, I wanted a cast that included individuals who could bring different perspectives to the process. The cast crosses lines of gender, lines of culture, lines of sexual orientation, age, and many more. For me, that was a very important part of the storytelling that may not be evident on the page, but that I wanted to bring to the stage.
"SLUT: The Play" opens tonight, Feb. 16 at 7:30 p.m. in the Loch. There will be two additional performances: Saturday, Feb 17 at 7:30 p.m., and Sunday, Feb 18 at 2:00 p.m. For ticket information, go to macalester.edu/boxoffice or call 651-696-6359.
There will be a post-show discussion and dialogue on Saturday, Feb 17. All are encouraged to join the discussion, regardless of whether or not they attend that particular performance.
Content Warning: Scenes in the play explicitly illuminate sexual assault. The production team is aware of the difficult nature of the material and encourages audience members to take any space they need.