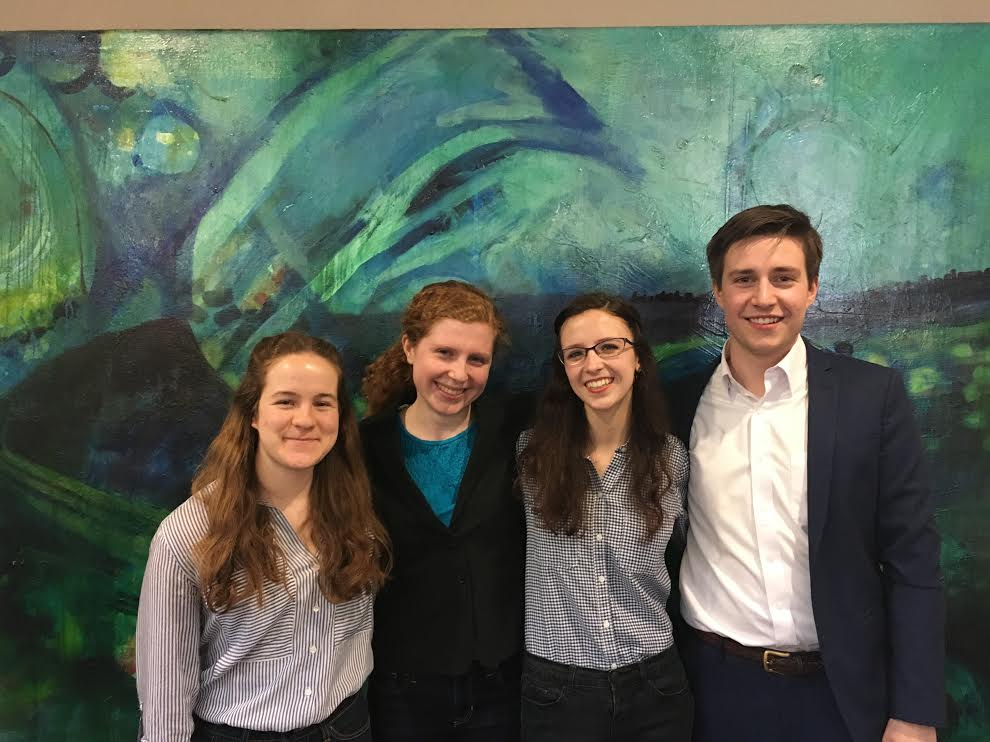 On Wednesday Jan. 31, Fossil Free Mac (FFM) presented their latest fossil fuel divestment proposal to to the Social Responsibility Committee (SRC).
The SRC was supposed to hear FFM's presentation last fall, but due to scheduling conflicts, was unable to convene before winter break.
The proposal presented on Wednesday calls on Macalester to divest the $40 million it has directly invested in the Fossil Fuel industry for ethical, financial, and institutional reasons.
First and foremost, the proposal argues that the college has moral imperative to divest, arguing that, "through a moratorium on private oil and gas partnerships, Macalester can make a meaningful commitment to combating climate change and its effects on vulnerable populations around the world."
The group argues that the Donald Trump administration's unwillingness to recognize climate change, along with its decision to pull the United States out of the Paris climate accord imposes an additional ethical obligation for the college to invest responsibly.
"Over the past several months, the nation has often looked to the private sector and local levels of government to pick up the slack for our climate-denying federal government".
Another factor motivating the divestment campaign is pragmatic. FFM believes that the popularization of socially responsible investing policy and the rapid growth of renewable energy technologies threaten the Fossil Fuel industry.
Finally, FFM's proposal calls on Macalester to be a leader in what Oxford University has called the fastest growing divestment movement in history.
Several colleges and universities have already divested – partially or completely – from the fossil fuel industry.
Of Macalester's peer colleges, Colby College has divested from direct securities partnerships and Barnard College has divested from fossil fuel companies that deny climate change. Pitzer College is the only college in the top 40 liberal arts colleges to have fully divested, leaving room for Macalester to claim a place as a leader of the divestment movement in the liberal arts.
"It's really about using our social capital as an institution of higher education to make the statement that we want to stigmatize the fossil fuel industry," Hannah Shumway '19, a FFM core member said. "We don't think that these infrastructure projects our conscionable anymore given our institutional values."
Shumway was one of four members who spoke before the SRC on Wednesday. The other presenters were Malia Becker '20, Jack McCarthy '18, and Liv Scott '20.
This is not the first time FFM has proposed divestment to the SRC. In 2015, their proposal was ultimately rejected by the Committee and never made it before the Board of Trustees.
"The proposal in 2015 was for what we traditionally call 'full divestment', which is divestment from the Carbon Underground 200, which is the top 100 coal and top 100 oil and gas companies with the most reserves left in the ground," Shumway said. "It's kind of tangible and that's where the divestment movement at large has set the bar for full divestment."
However, in the eyes of the SRC, the economic risk ultimately outweighed the potential benefits of a full divestment from fossil fuel.
"We bought baskets of stocks, those are the securities," McCarthy explained. "If we want to have them divested, we can't just pick out those bad eggs. We would have to change and find a new basket, which explicitly removes fossil fuels."
That process would be laborious and potentially risky financially for the college.
"I think [investing in the Fossil Fuel industry] brings a lot of attractive things to the portfolio, both in terms of enhancement and portfolio diversification," Chief Investment Officer Gary Martin said. Martin is a member of the current SRC, and also sat on the SRC that considered FFM's proposal in 2015.
Diversification is a major sticking-point in divestment debates. Essentially, it's the idea that investing in a variety of profitable industries acting independently of each other reduces the likelihood of lasting damage caused by the poor performance of any one industry.
"Portfolio construction at the overall endowment level is important, so we look at things like what does each investment bring to the overall portfolio," Martin said. "When some things zig, other things zag, things go up and then down. So bringing something that moves differently from the rest of the portfolio adds to the diversification and lowers the risk for the endowment."
FFM's full divestment proposal in 2015, would have upended a number of Macalester's investments and potentially damaged the diversity of its portfolio.
FFM believes that in terms of portfolio diversification, their new ask is comparatively low-risk.
"In this case, because we're not asking about their mutual funds, they would still be exposed to the energy sector… meaning almost exclusively the fossil fuel industry," Shumway said. "And so they wouldn't lose diversity in their mutual funds whatsoever. This is one small chunk of the endowment, but we're interested in it because it's so direct."
However, Martin said that research indicates that – historically – fossil fuel partnerships bring about two million dollars of annual income to the endowment.
"Mechanically, it's easier to do," Martin said. "But financially, you know, again, it's really the potential impact of not making those investments in the future and it's difficult to predict the future."
In an email to The Mac Weekly, SRC Chair and physics professor Jim Doyle wrote that committee members "have agreed as a group to keep the deliberations private until we have reached a consensus".
The SRC has not set a date for their next meeting, but they have until May, when the Board of Trustees is set to meet for the final time this year, to formulate an official recommendation to Macalester President Brian Rosenberg.
"There's like three decision matrices. We have to still get a yes from the SRC, we have to get a yes from President Rosenberg, and then we have to get a yes from the Board of Trustees," McCarthy said.
The divestment movement at Macalester is not limited to FFM and its members. Earlier this semester, Macalester Investment Group (MIG) committed to divesting from the fossil fuel industry.
MIG was created as a way for students to practice investment without having to commit their own money. When the group began, they were given $21,000 by the school to invest. Today, MIG manages approximately $65,000.
MIG President Tejas Singh '18 said that they have been considering divestment intermittently for several months.
"If you ask me what stemmed the idea, it was, I think, when there was the initial conversation that was started between Fossil Free Mac and the Board of Trustees," Singh said. "They started petitioning and they started going and getting flyers and having conversations with kids and we felt like, because we are a financial org using the school's money, [we] should not be a part of something we don't believe in."
"When your college is a very liberal institution… the least a student org can do is at least make a decision and do their part," Singh continued. "If convincing [the] Board of Trustees is difficult, convincing a group of students that are like minded is not.
MIG has not fully divested yet, but while they still hold 14 shares of Exxon Mobil, the money from that investment represents less than 1 percent of their total portfolio. Singh added that the group will object to any future investments in companies known to harm the environment. "We have spoken about selling Exxon Mobil, it's just that someone has to make the pitch and just press the button and sell," Singh said.
FFM, meanwhile, will wait for the SRC's decision – continuing to work on their proposal, educate new members of their group, and spread their message.
"We're not going away," Scott said.