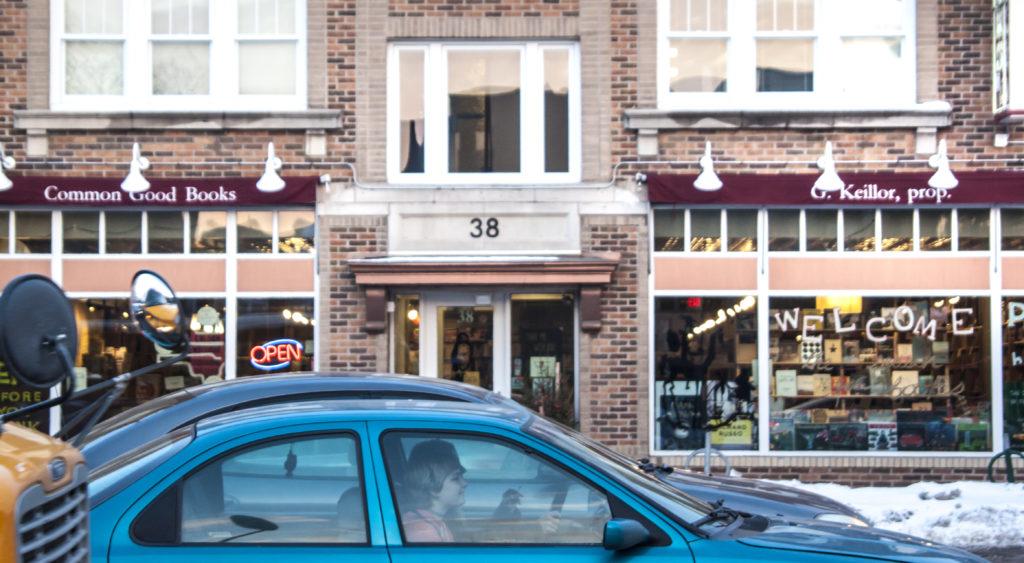 Former "A Prairie Home Companion" host Garrison Keillor wrote a sexually charged limerick about a Macalester student on the whiteboard behind the counter at his bookstore, Common Good Books, in 2012, Minnesota Public Radio (MPR) News reported last Tuesday.
Despite this, Macalester has no plans to end its business relationship with the 75-year-old Minnesota-native.
Keillor's Common Good Books currently operates out of the Macalester-owned Lampert Building at 38 S. Snelling Ave., just north of where Snelling intersects with Grand Ave.
Keillor, who has spoken and performed at Macalester intermittently for decades dating back to the launch of "A Prairie Home Companion" in the 1970s, was fired by MPR for "inappropriate behavior" in November.
At that time, MPR did not provide any further details about the allegations against Keillor. But the more recent MPR News report found that Keillor engaged in a "years-long pattern of behavior that left several women who worked for [him] feeling mistreated, sexualized or belittled."
One of the incidents that the report highlighted took place on Macalester property and directly involved a Macalester student who was working at the bookstore.
Keillor has frequently written poems or messages on the wall behind the counter. Five-and-a-half years ago, he wrote this:
A beauty who goes to Macalester —
O, her face, her limbs, her ballast, her
Tiny blue kilt
And the way she is built
Could make a petrified phallus stir.
Keillor signed his initials beneath the final line. He eventually apologized for the limerick, which store staff tried to cover up with book posters and a portrait of F. Scott Fitzgerald, but the then-Macalester student told MPR News that the apology "wasn't an apology at all."
When allegations of harassment against Keillor first surfaced in November, Macalester's Vice President of Administration and Finance David Wheaton wrote to The Mac Weekly that the college "[hadn't] had a conversation" about reevaluating its relationship with the store.
Reached again on Tuesday, Wheaton wrote, "Nothing new to report. The store is still under a lease with the college. We continue to monitor news reports about this story as they appear."
No Macalester students currently work at Common Good Books; however, an alum, Ava Bindas '17, was employed there as of last year. Bindas wrote to The Mac Weekly that she is not "at liberty to comment on the situation" involving Keillor.
Keillor himself is not involved in the day-to-day operation of the bookstore, which has moved from a location in the Cathedral Hill neighborhood of St. Paul to the Lampert Building in 2012 – the year the poem in question was written.
Now, the college has a decision to make. Can it separate Keillor from the store he owns enough to justify the store's ongoing existence in a Macalester building?
One creative writing major, Noah Mondschein '18, thinks not. "Everyone knows that's the bookstore Garrison Keillor owns," he said. "That's what people know about that bookstore. It's got his name out front. 'Garrison Keillor, proprietor.'"
The bookstore, with Keillor's name attached to it, has certainly brought prestige. When its move to the Lampert Building was announced in 2011, Macalester President Brian Rosenberg welcomed the store to campus as "part of the Macalester community."
The store also filled a void created by the demise of Ruminator Books – formerly the Hungry Mind, where Keillor shopped as a child and where Macalester students used to buy textbooks – in 2006.
Now, though, Keillor's name is irretrievably associated with the national awakening surrounding issues of sexual assault and harassment.
"This situation feels very close to home," political science professor Lisa Mueller said. "It's down the street from my home, and it makes me feel very uncomfortable – and also eager to acknowledge the broader societal problem that contributed to this specific instance."
In the meantime, Macalester must decide whether it is time to end its business relationship with Keillor.
"I think that it's something that the administration should look at and consider strongly," Academic Information Associate for Humanities Brooke Bergantzel said. "Most of my opinions are more about whether or not Garrison Keillor continues to associate himself with public institutions, especially given the kinds of accusations that have come out.
"I really like the bookstore, I like the people I've interacted with at the store – other patrons and employees – and it really is one of those situations where it is difficult to figure out where a good line is," Bergantzel continued. "There aren't any easy answers in this kind of situation."
Mondschein agreed. "If [Keillor] could become uninvolved, that would be ideal. But that's probably not going to happen."
Considering that, Mondschein would like to see the college bring its relationship with Keillor to a close.
"I love having a bookstore there, but he's gross," Mondschein said. "Considering that the limerick was about a Macalester student… they should probably cut ties."
Wheaton could not disclose any details of the bookstore's lease with the college – including when it expires, or whether it contains any clause prohibiting workplace misconduct by its signatory.
On its own merits, the store remains as popular and valuable as it always has been. But Muller said she feels that Keillor's ownership of it is "something important to address."
Bergantzel had a blunter take.
"I would love it if Garrison Keillor sold his bookstore to others," she said, "and maybe just [left] the state of Minnesota."