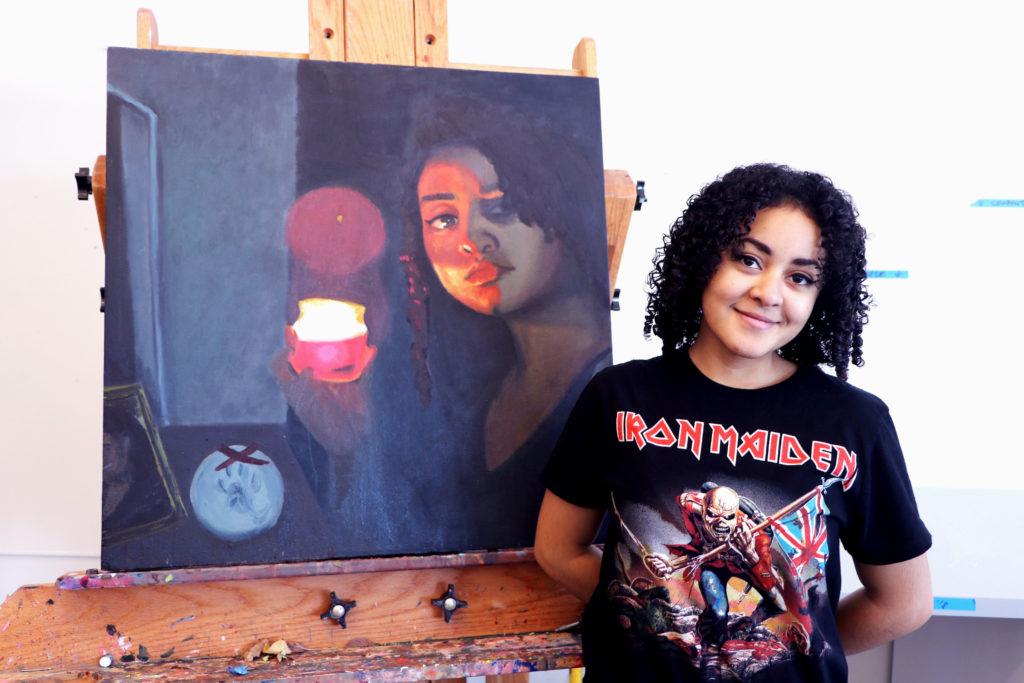 Every so often, The Mac Weekly sits down with a senior arts major. This week we caught up with studio art major Aroura Bruins. She hails from Hesperia, CA.
Aroura Bruins '18 has been drawing as long as she can remember— her family even tells her she could draw before she could walk. Despite her early artistic inclinations, she did not begin taking art classes until high school. Until then, art was a solitary endeavor.
"It was just me, a notebook and a No. 2 pencil," she said.
Pencil and notebook was her favored medium because it was inexpensive, versatile and low-pressure; the lined pages in a notebook were less likely to cause "the fear of the blank page" than the intimidating, vacant sheets found in a sketchbook. Her notebooks also had the advantage of always being available, even in class, and allowed her to hone her artistic talents through constant doodling. For Bruins, art was, and still is, a natural part of life. "It's something that makes me happy, so I have to do it, like I have to breathe or eat," she said.
Bruins compared her initial artistic efforts to a copy machine, as she developed her skills through reproducing characters from her favorite video games, picture books and movies. Her fascination with drawing people, especially bodies in motion, continues to this day, although through a more diverse selection of mediums.
Given her lifelong passion for art, Bruins never had any doubt about her major in college. But at Macalester, she branched out from her earlier work by experimenting with everything from ceramics to animation to Photoshop. Although she remained focused on portraying the human body, she challenged herself by attempting to depict her own body, a task she had previously resisted.
For a painting class, Bruins created a large canvas self-portrait in the style of Caravaggio, a 17th century Italian painter. Like Caravaggio, she used dark colors in the portrait, a departure from her usual bright hues. When asked why she had previously avoided self-portraits, she replied, "Maybe I didn't want hubris to get to me; or maybe I was afraid of portraying myself in a way that was more realistic; or maybe I didn't think I could do myself justice."
Despite her prior hesitation to depict herself, Bruins hopes to represent her body in her senior show. The show will incorporate many of the mediums she's learned at Macalester, including painting, ceramics and animation. It will also include her favorite medium, pencil, bringing her artistic journey full circle. After years of experimentation with different mediums, she still likes to sit at home with a lined notebook and pencil, a familiar activity that she finds calming.
After graduation, Bruins may continue her study of animation, with a specific focus on fight choreography animation. She considers both fighting and dancing to be when the body is at "its most heightened state of aliveness." She dances for fun, and, as far as fighting goes, she's been influenced by Kill Bill as well as the video game Mortal Kombat. The challenging nature of "capturing purposeful movement" is what draws Bruins to represent the body during these activities. And although she likes animation, she also likes to explore the body in motion through still mediums like ceramics. "Something that's literally still can still be in motion," she said.
Bruins advised potential arts majors to overcome their inhibitions about making art, just as she overcame her reluctance to portray herself in her work. "If you want to do art but think you can't, then you're already failing yourself by telling yourself you can't do something, when the ability is in all of us," she said. "Your art doesn't even have to be 'good' — or what society dictates as 'good.' Because if it comes from you, the value of it is undefinable."