Students push Macalester to rename Atrium after Gerald Booker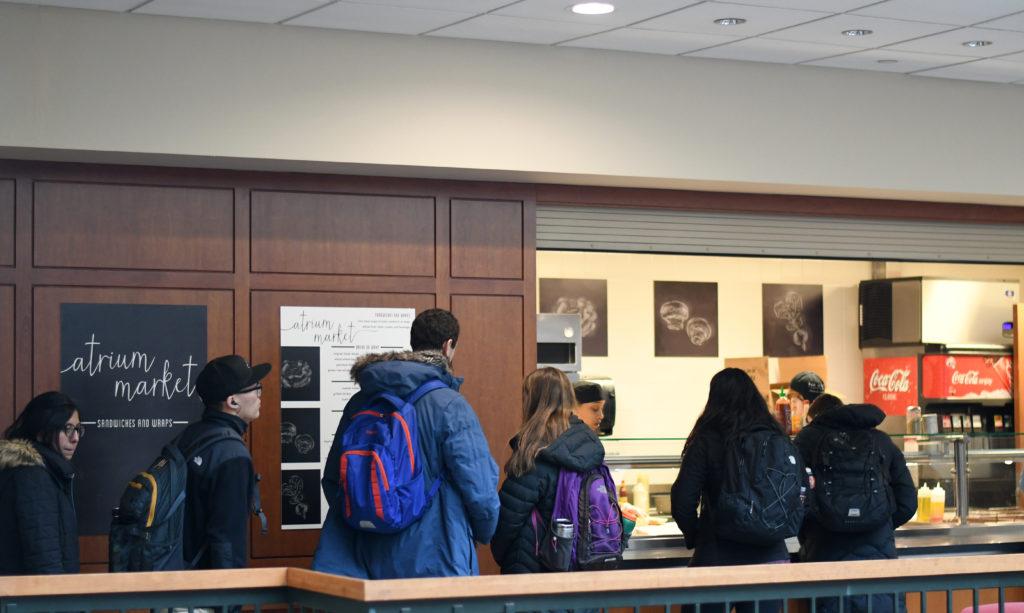 On Dec. 12 of last year, Gerald Eugene Booker, three days shy of his 55th birthday, passed away. Now, more than 900 people have signed a petition asking Macalester to rename the Atrium Market on the second floor of the Campus Center in his honor.
Born in Oklahoma City, Booker grew up on the West Side of St. Paul where he was a standout football player at Humboldt High School in the late 70s. For most of the last decade of his life, Booker worked at the college as a member of Bon Appétit's food services staff.
"He was definitely [a] contagious [person]," Bon Appetit chef Shaun Holtgerve said. "A bright light."
When Booker passed away a month and a half ago, however, there was seemingly little reaction from the Macalester community.
"My friend texted me one morning during finals that Booker had passed away, and I couldn't find anything about it," Jacob Hill '19 said. "Nobody was talking about it. It turned out that someone had posted an update on the GoFundMe for Booker's medical bills, which we hadn't heard from in a few weeks.
"And then finals passed, and we were driving home [with] the same friend that told me about what happened, and we were like, 'wow, this is a big person in our lives who we lost. Somebody who made a difference. He's gone, and no one is talking about it.'"
Hill and his friends wanted to change that.
"We talked about what could be done, and then at some point it came out – hey, maybe they could name the Atrium or the Grille after him, kind of generically named things. Someone is probably not going to donate a large sum of money to get their name on the Atrium. So feasibly it made sense."
"There were four of us in the car when we were talking about that," Hill continued, "and I remember someone mentioning just how incredible it would be to go upstairs and say, 'I'm going to get a sandwich from Booker's.'
"Because that's what it was," he continued. "Most of the time I wasn't going to the Atrium because I loved the sandwich; it was a lot of fun to see Booker."
"I talked to a couple of my friends and they said they'd support [a petition], so I got like three people onboard and I thought, okay, I've got three people onboard, what's the worst that can happen?"
"It got a huge response. I was shocked. It's difficult to do something that people will see, in general but it immediately [got] a huge, huge response – people texting me, thanking me for it, people leaving the most unbelievable comments, and I think like 50 people talked about their experiences with Booker – just the most heart-wrenching, amazing comments that I've ever read."
"Nearly 1,000 people have signed it, and that was the end of my involvement," Hill said. "Everyone else shared it, and shared it on their Facebook pages, and shared it in the other class pages, and people's parents and aunts and uncles and dogs were signing it. I was amazed."
"I'm not sure I completely understand who he was at all," Hill said. "I definitely don't understand why he was so kind to so many people for no reason, but I think he was just an incredible soul, and a good man."
It wasn't just at Macalester where Booker made his mark. The high school running back was a prominent member of the Westside Booster club, which aims to provide athletic opportunities for young people from the neighborhood where Booker grew up.
"I know he was a Vikings fan," Bon Appetit retail supervisor Tyler Noling said. "I heard that for his service, they buried him in his Vikings jersey. Which is so awesome. I hope I get a send-off like that."
Booker coached local youth football through Boosters. The organization's Facebook after his death recalled that "you could always see him on the grill… making sure everyone had something to eat!"
"He loved taking care of people, and food, and that sort of community around eating was important to him," Holtgerve said. "It was evident in the stories at his funeral – about that, and [about] him bringing people up, identifying people that needed that extra 'hey, how's it going': kids in the family, kids that went to the high school he did – he'd go back and help the football team, and take them under his wing… and that's what we saw here, too."
"He really loved being here, and I think the connection with young people – through sports, through [Macalester] – really was so important to him," Bon Appétit's Kent Buell said. "He'd just light up working."
The Atrium, where Booker was stationed for his last three years at the school, was a favorite post.
"Those deli spots like that at the Atrium really offer a great interaction with the students one-on-one, and I know he liked that," Buell said. "I know he knew almost everyone's regular sandwich order. I think he could start [making them] before people came up in line, actually."
"That was his spot," Holtgerve said.
Noling agreed. "Mainly because he got to talk with the students a lot," he said. "Booker loved to talk, man. He loved to joke, he loved talking with you guys. And that's why he loved it up there so much.
"In fact," Noling continued, "the only time when I would ever get just a little bit aggravated with Booker is when he was upstairs and he was talking and I'd be like, 'we've got to move the line along!'"
Booker was known as a caring co-worker as well. "One of my colleagues got hurt – that's how I first started helping out here – and Booker was like 'Where's he staying, what hospital?' He asked about him every day," Buell said.
"Booker was an exceptionally kind person," Noling said. "Just for example: I have epilepsy, so I can't drive, and when Booker started, it was starting to get very cold. And within a week of knowing me, he refused to let me walk home. He gave me a ride home every night.
"That's just the kind of person he was," Noling continued. "He was always putting other people ahead of himself. Always. That's just the kind of guy he was. We really miss him. A lot."
Booker was diagnosed with diabetes in October, at which point doctors discovered a bone infection and had to amputate two of his toes.
The GoFundMe account dedicated to funding Booker's medical bills, started by his longtime colleague Chuck Parsons, raised almost $2,500 between the end of November and the second week of December when he passed away.
"I went and saw him in the hospital when part of his foot was amputated," Holtgerve said, "and the first thing he said was 'Who's going to take care of my kids? Who's going to take care of them when I'm not there?'"
"That was his concern. Wasn't about him, or his foot, or his family, or how he was going to pay his bills. That's what he just kept asking. Everybody in the room was like, 'Yeah, he's really concerned about that,' so they'd obviously heard it a lot too."
"I was pretty shocked when I heard about what had happened, and very sad," Noling said. "As I know everybody here was. Because everybody who knew Booker loved him so much." Buell said Bon Appétit would "totally support" renaming the Atrium in Booker's honor. "I think that would be amazing," Noling said. "It would be great."
Hill said that he would like to involve Booker's family – including his three children – in the design of the Atrium should it be renamed and any renaming ceremony that would take place. He's been told that the Office of Student Affairs is reviewing the name change request.
"The college's leadership has been made aware of the petition and has begun to talk about it," Macalester's Vice President of Administration and Finance David Wheaton wrote in an email to The Mac Weekly on Tuesday. "This is an unusual situation so it may take a little time for us to determine a path forward."
"Since there's no protocol for a circumstance like this, we're going to discuss the general idea of naming conventions as well as the specifics of this particular request," he continued. "There's no timeline but I expect that we will discuss this subject in the coming weeks."
The second floor of the Campus Center is currently named the McPherson Atrium after Michael McPherson, who served as Macalester President from 1996 to 2003. But the Atrium Market, where Booker worked, is not currently named after anyone.
"I have no idea of the feasibility [of getting the Atrium renamed]," Hill said. "I have no indication at all. But I know that a lot of people cared about it. And that's most of the battle."
The petition, which is just over four weeks old, has 914 signatures as of Wednesday.
"I think it's already an incredible success," Hill said. "And I'm calling it Booker's when I come up here."