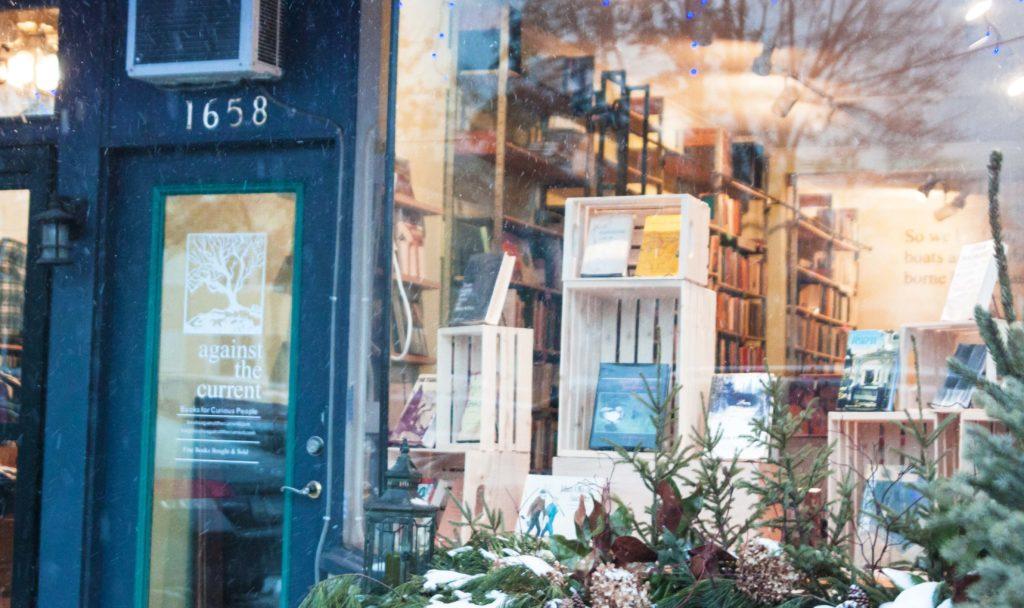 Against the Current is easy to miss: this used bookstore on Grand Avenue, tucked between French Meadow and Zimmerman's Dry Goods, is deeper than it is wide. Inside, its walls are lined with floor-to-ceiling bookshelves. Most books lack price tags – if a customer is interested in purchasing one, they must make an offer. But all are organized into categories denoted by handwritten index cards: labels ranging everywhere from Books about Food to Religion: East India to Building/Carpentry to Minnesota Nature.
The back wall features a freshly painted quote from F. Scott Fitzgerald's The Great Gatsby, the inspiration behind the store's unique name.
The owner of Against the Current, Hal Johnson '90, greeted a visitor after helping a few customers. "It gets a little chilly in here, but I like to keep the door open anyway," he explained, donning a flannel button-down shirt. "It keeps the place more inviting, I think." At the time of our late-November interview, the doors of Against the Current had barely been open a week.
Johnson, however, has been envisioning the shop for much longer. A Macalester alumnus, he remembers wandering into a used bookstore for the first time on Snelling Avenue and St. Clair Avenue toward the end of his college career. "When I went in there one day, I was kind of baffled at the whole situation, but interested, too, because there were all sorts of books that I didn't even know a person could ever be able to dig into," he said.
Johnson began his first bookstore job in 1992. "I liked it, and at that point I thought, well, maybe I would like to have a store of my own someday," he recalled.
"For nearly 20 years I've been buying books… not just books that I was interested in reading, but ones that I thought I could sell for a profit," he said. "I've mostly just gotten them a handful at a time." Today, about half of this collection – gathered primarily from estate sales, rummage sales and library book sales – fills Against the Current's shelves.
The store contains "a lot of out-of-print things and odd, unusual, kind of weird books. I'm just trying to find books that people are not so likely to come across at other stores, and give them reason to come here," Johnson said.
Johnson has found the Grand Avenue location, which is barely two blocks from Macalester campus, an ideal spot for those books to land. "It's just a good place for a store. There's a lot of book culture and bookish people around here," he said. "I gave an awful lot of thought for a long time to where in the Twin Cities would be a good space, and I kept thinking that this block is pretty much perfect for the sort of store I had had in mind."
Johnson is eager to settle in further. He still has yet to price most books, list them online and finish organizing the shelves. "It's really not at all, in my mind, ready to go," he conceded.
Nonetheless, he's encouraged by the response Against the Current has received so far. "I have the general impression that people are happy that the store is here, and are finding books that they're surprised to find," he said. "Sometimes I'll hear people talking about a book, or showing it to a friend, and are just really intrigued by the book. Even if they don't end up buying the book, they're still finding something interesting… I've really been enjoying people's reactions to what's in here."
"So far," he said with a laugh, tossing a fond glance around the room, "I'm just glad people are tolerating the weirdness of walking into a little bookstore that doesn't have prices on its books."
Against the Current can be visited at 1658 Grand Ave on Wednesdays through Mondays from 10:00 a.m. to 9:00 p.m. and on Tuesdays "by chance" – usually from 10 a.m. to 1:30 p.m.