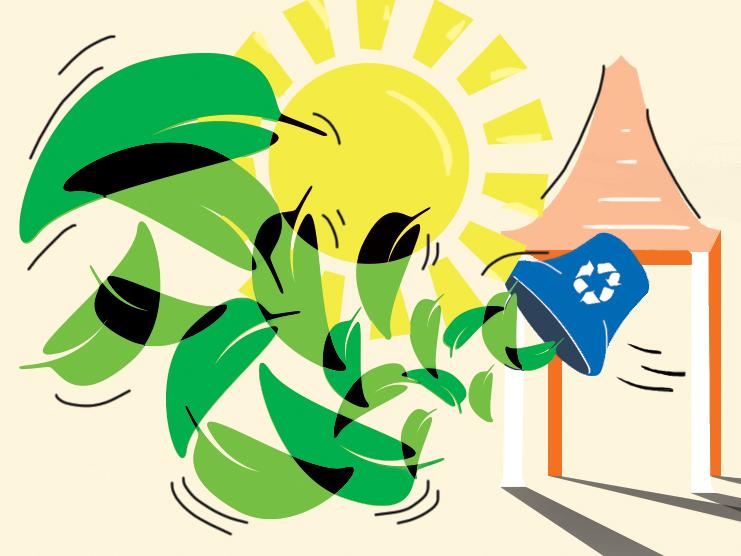 By Hannah Catlin and Rebecca Edwards [email protected] [email protected]
For nearly a decade, Macalester has been actively working towards achieving six concrete sustainabilty goals: Zero Waste by 2020, 30% Real Food by 2020, Carbon Neutrality by 2025, Wellness, Education for Sustainability, and Urban Sustainability – but opinion remains divided on the college's approach to environmental issues.
"The main thing to know about Zero Waste is that it isn't actually zero-zero waste," Sustainability Student Network Coordinator, Lydia Sulik '18 said. The school uses the Zero Waste International Alliance's definition, which is a 90 percent diversion rate.
"90 percent of the waste that we produce is diverted from landfills and incinerators," Sulik continued, "and 90 percent does allow us that 10 percent margin to throw things away, which is far more feasible than an absolute zero."
According to Sustainability Manager Suzanne Savanick Hansen, Macalester is at about a 78 percent diversion rate – only 12 percent away from its ultimate goal. "It gets us within striking distance," Hansen said.
The college continues to make progress on its Carbon Neutrality goal, which stems from President Brian Rosenberg's signing the American College and University Presidents' Climate Commitment (ACUPCC) in 2007.
"There were several things we had to do when we signed that," Hansen said. "One was to come up with a plan to become climate neutral and we could pick the date."
Macalester students selected that date in 2009, when Hansen taught two classes about sustainability. Students in those classes developed plans for Carbon Neutrality by 2020 and 2030 and presented them to Rosenberg, who decided to set an intermediate deadline: 2025.
According to Hansen, the college has to offset the emissions it puts out to meet the Carbon Neutrality goal. The two largest areas of emission are electricity use and airline travel.
"Our goal is to reduce 52 percent of our emissions," Hansen said. "That's a pretty ambitious goal and some of the projects that our students originally thought we could do don't look like they're going to be viable. The big one is biogas, which does not look like it's going to be viable by 2025."
The third aspiration is for the college to serve at least 30 percent "real food" by 2020.
"Real food basically means food that has to meet four qualifiers," Sulik said. "Organic, humane, local or fair trade."
In addition, real food cannot meet any disqualifiers. For example, it cannot contain GMOs.
According to Sulik, Anya Ptacek '20 of the Sustainability Office and Rae Hushion '20, a sustainability worker at Bon Appetit, are coordinating this effort.
The next three goals – Wellness, Education for Sustainability, and Urban Sustainability – are less quantifiable and don't have set deadlines.
"These are more overall what we want to make sure we include in everything that we do regarding sustainability," Sulik said.
Initiatives tied to the unquantified goals include subsidized bus passes, the free bike share at the library, and Macalester's status as a tobacco-free campus.
Additionally, Macalester has invested in sustainable architecture for its newer buildings, the development of the environmental science department and funding for Macalester's EcoHouse.
Today, the college says that it remains on track to complete its goals. But among students, there seems to be some uncertainty about whether Macalester's sustainability goal are achievable – especially Zero Waste.
"Honestly, I don't know if it's realistic or not but I think ambition isn't bad, so I'm not opposed to it," Johannes Davies '18 said.
"I feel like setting goals in the long term is unrealistic because we don't know what might happen in the next 10 years, especially when it comes to a small institution," Diana Paz '21 said.
However, Macalester's Zero Waste Coordinator Abbey Feola '17 is more confident.
"I think we have pretty good chances, yeah," Feola said. "75 percent of the things over the past couple waste sorts, about three quarters of the things in the trash – given the things that we already have going on campus – could have been somewhere else. They didn't need to go to the trash. So as far as meeting that goal, honestly [it's] just encouraging people to use the systems."
But some believe the school isn't doing enough to support environmental efforts on and off campus. The student organization Fossil Free Mac has been asking Macalester to divest its assets from fossil fuel companies since 2012.
"We found, through asking, that Macalester has over 50 million dollars [invested] in oil and gas, direct to private partnerships," Jack McCarthy '18, a leader of Fossil Free Mac said.
According to McCarthy, divesting from fossil fuels is about setting new standards for the financial industry as a whole.
"We care about taking away the moral license from fossil fuel companies," McCarthy said.
"They don't invest in payday lending. They don't invest in gun com panies, they don't invest in tobacco because those are just norms in the financial industry… so it's just about pushing this conversation. It's about being a symbol, it's about standing up for things that are important."
However, there are competing priorities when it comes to Macalester's investment strategies.
"While the environment's important, so is providing access for students to Macalester," environmental studies department chair Dan Hornbach said. "Some colleges have certainly gone the route of taking all their money out… some have figured a way around it, or don't rely as heavily on their endowment for financial aid."
"I do see this as a – not quite direct – but pretty big relationship with how much money the college does spend on access for students," Hornbach continued, "because we give more than almost any college in terms of what we do."
"I understand the conundrum," McCarthy said. "Yes, it seems like a great deal, and I'm sure the endowment's doing marginally better because of it. At the same time, how hard did they try to find better options? The oil-gas industry isn't some special golden goose of a thing. I benefit from the endowment, we all benefit from the endowment – we're not saying it doesn't matter. We're just saying, 'show us and the world that [sustainability] matters in decision making'."
Fossil Free Mac doesn't stand alone in its endeavor to see Macalester divest from these relationships. Many students have joined the movement, writing Macalester's Board of Trustees to explain why they believe Macalester should withdraw its investments.
Their memos were saved and presented to the board and investment committee by Fossil Free Mac, bearing such messages as "follow Macalester's values", "oil and gas are not sustainable", and "Macalester should follow what they say when they preach about Waste Free by 2020".
To further highlight student opinion, McCarthy discussed the anti-Dakota Access Pipeline activism on campus in 2016.
"Students organized really hard – [as did] faculty and staff – to stand in solidarity with the protesters at the Dakota Access Pipeline," McCarthy said. "The Department of Multicultural Life was hugely involved… there were vans of Macalester College students driving out to the camp on a weekly basis and spending weekends out there."
"It would be really frustrating to know that Macalester had funded that pipeline," McCarthy continued. "We don't know that they did. It's probably likely they didn't. But they very easily could have."
Fossil Free Mac has drawn parallels between Macalester's investment in fossil fuels and its investments in companies doing business in South Africa during apartheid in the 1970s and '80s. In 1978, the Macalester Anti-Apartheid Coalition formed to encourage the college to divest from those relationships.
"Macalester divested from apartheid. And from what I've heard they divested pretty reluctantly," McCarthy said. "They were on the tail end of it. I don't want the council to do that again."
"I care about people whose lives are being negatively impacted by decisions that people like the Board of Trustees of Macalester are making," McCarthy continued. "This isn't some abstract thing about someone's grandchildren, this is happening now. And this is affecting current Macalester students."
According to Hornbach, issues of divestment are always complicated by economic feasibility.
"It was probably a little inopportune when [Fossil Free Mac] started this stuff because the college lost a lot of endowment money in the financial turndown in '07/'08," Hornbach said. "It's just hard."
Another complicating factor for sustainability efforts is the rate of student turnover.
"If you think about it, a quarter of your students leave every year and new ones come in, so a quarter of your population turns over," Hansen said. "There'll be one group that will have had some conversations, and the trustees and the president basically will have given them some response," Hornbach said. "Then, the next group of students say we haven't heard anything and it's because the students who got the response are no longer here."
Sustainability groups realize that the rate of student replacement affects their work, and are working to rectify gaps in communication.
"Something we've been doing over the past couple years is making really extensive documentation in the facilities office," Feola said. "What we've already tried and why it worked or didn't work, trying to make sure that the people who are coming in after have access to those documents."
Regardless of complications, Hornbach hopes that Fossil Free Mac will continue to advocate for its goals.
"The Fossil Free Mac group – they haven't really gotten what they'd like to see, and that's disappointing for sure," Hornbach said. "I think there's going to continue to be progress, but it still needs more work. No doubt. It needs continuing pressure to keep things moving forward, to keep it in everybody's mind, to keep it in students minds, and keep it in faculty and administration minds."
Similarly, Feola is working to make Zero Waste a campus-wide effort.
"People are more likely to recycle when they're not given information about how many resources they're saving but [when they are] given the impression that their neighbors are recycling," Feola said. "Community norms make a really big difference in creating a cultural and community-wide push for sustainable initiatives."
Students have already noticed the effects of campaigns like Zero Waste on the community.
"Macalester students overall, when they go off campus, are always looking for a way to compost their trash and you will see them carrying trash until they get to campus," Paz said.
While students might not be completely familiar with all of Macalester's sustainability efforts, Sulik says that interest is always welcome.
"We welcome people to come to the sustainability office and ask questions," Sulik said. "Whenever someone is here, we're all very happy to talk about sustainability. We're all very passionate about it."