Campus cat gains fame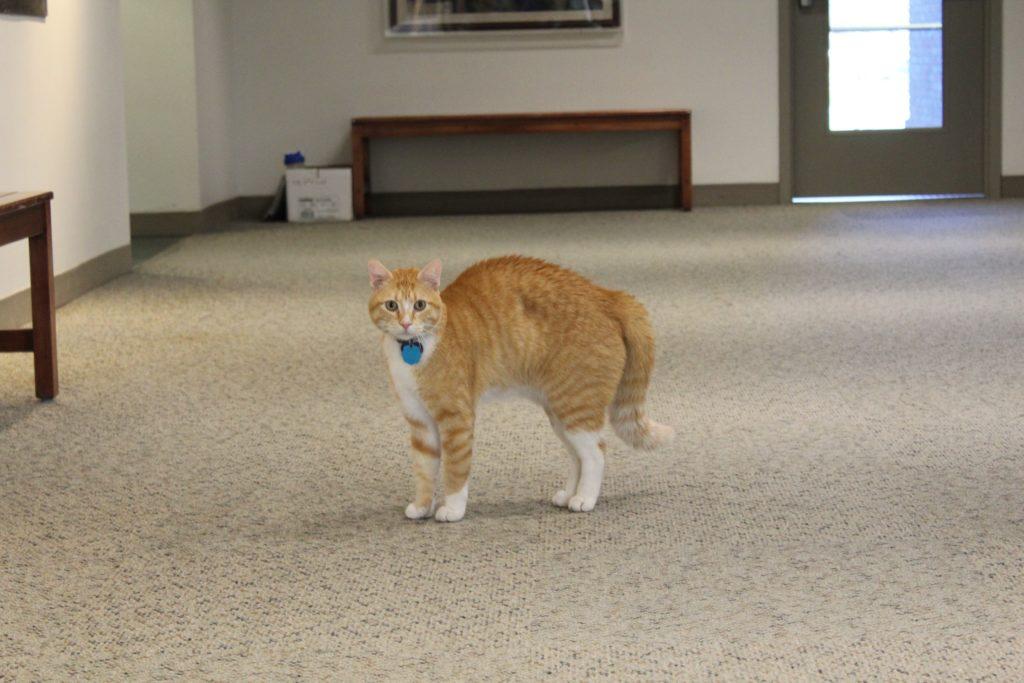 By Isabella Molano
[email protected]
In the past week, Macalester's favorite cat has gained international stardom. Max, a cat who lives near campus with religious studies professor Gregory Lipton and his wife Connie Lipton, has long roamed around campus and interacted with students and faculty.
"He has been in our dorm, he came into our rooms and hung out for a bit," Turck 2 resident Grace Dunleavy '21 said. "Sometimes when I'm going to the library he'd be out there chilling and I would pet him and it'd be really cute."
It was Max's habit of trying to get into the library that captured thousands of hearts and boosted him to internet fame. It all started with a lighthearted sign that went up in October, asking students not to let Max into the library.
Chris Schommer, a Senior Library Associate and Digital Scholar at Macalester decided he wanted to make the sign amusing.
"I wanted to tell it in a way that people feel they're involved with Max's story," Schommer said. "I wrote it in a way that was kind of supposed to be humorous, like I was telling it to my three-and-a-half-year-old." It worked. A picture of Schommer's sign, taken by Rebecca Wingo, a Mellon Postdoctoral Fellow in Digital Liberal Arts, went viral. It first gained traction on Tumblr and then was posted to Reddit, where it gained more than 100,000 upvotes. Max's story was soon covered by several national news outlets including The Washington Post, Yahoo!, and Buzzfeed.
"It was probably when The Washington Post [story] came out that I was like 'Oh God, this is really real'," Research and Instruction Librarian Alexis Logsdon said.
"It has just been a whirlwind," Schommer said of the attention his poster has received. Schommer has plans in store following the "viral hurricane" that took his life by storm.
"We're not sure how, but we want to finish the story and make it into a book," Schommer said. "Finish the story, fill it out, and publish it somehow, because people seem to want it."
If social media is any indication, Schommer is right. Max has amassed over 15,000 followers on the Instagram account that he shares with his feline sister Gracie, which owner Connie Lipton runs.
"I think he's enjoying the spotlight," Wingo wrote in an email.
According to Lipton, that makes sense.
"He is a very social guy, very gregarious," Lipton said. Max has been socializing with Macalester students for quite a while now, even crashing Macalester's reunion event over the summer.
"He just loves to socialize and be around people, and he loves the students," Lipton continued. "He goes to the Russian House and the German House and the French House and hangs out with students over there, and I think they miss him."
However, Max's Macalester friends might have to wait a while before seeing him on campus again.
It had become impossible to keep track of Max and which buildings he gets into on campus, so for now Max is staying inside. "I think as long as we live next door to Mac, his roaming days are over," Lipton said.
But not all hope is lost. According to Lipton, the campus has not seen the last of Max just yet.
"We're training him to walk on the leash, so he can go visit his fans," she said. "I might start a YouTube channel for him… I'm [also] thinking of maybe making him a therapy cat."
While Max may not be able to hang around on campus anymore, the local celebrity cat made thousands of people around the word smile.
"That's important to me," Lipton said. "If Max is going to be out there in the world, that he can make people happy."
Max was unavailable for comment.