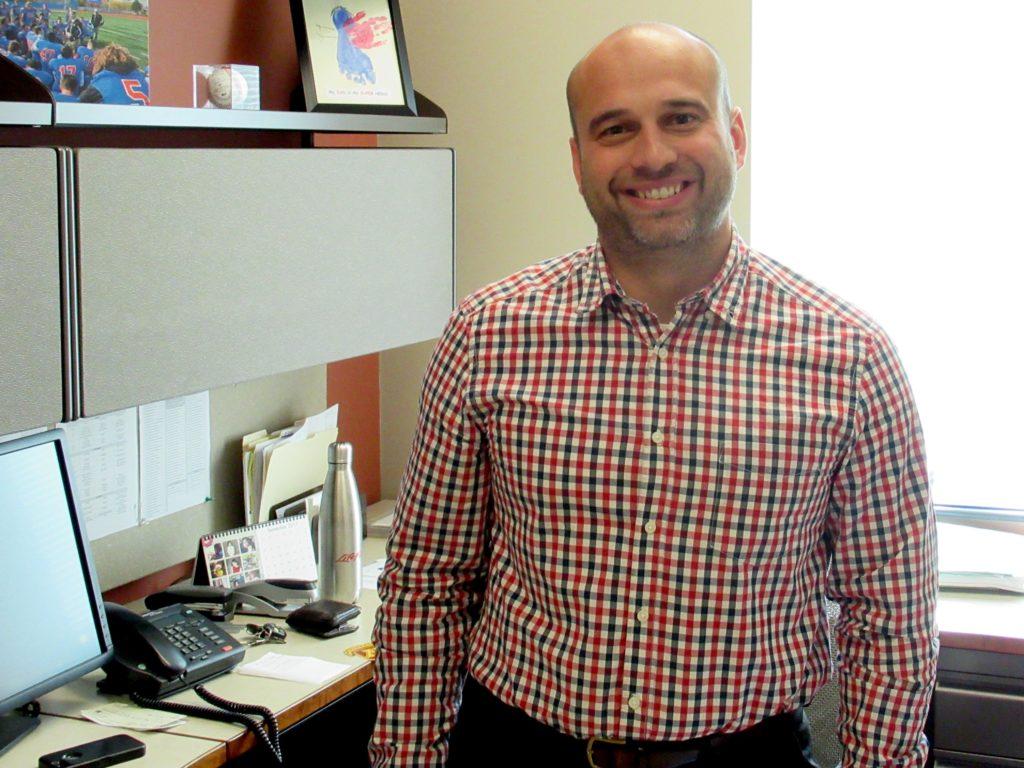 Steve Murray's office isn't crammed with souvenirs and trophies the way many of his colleagues' offices are. His desk is mostly empty, and his walls are bare save for a collection of drawings from his young children. It's certainly a change from his old office, a glass-enclosed cubicle in the Leonard Center's Deno Fitness Center which was filled with foam rollers, t-shirts and cardboard boxes.
Murray's official title was Head Strength and Conditioning Coach and Director of the Fitness Center, but most people just called him Steve (except for members of the Football team, who knew him exclusively as Coach Murray). Now Murray serves as Assistant Athletic Director. He replaced Vanessa Seljeskog, who retired last spring. Most people still call him Steve.
"The full title is Assistant Athletic Director of Compliance, Physical Education and Internal Operations," Murray said. This means that he handles questions that any of Mac's many varsity coaches may have about the National Collegiate Athletic Association (NCAA) and its arcane laws and bylines, as well as communicating with the NCAA and the Minnesota Intercollegiate Athletic Conference (MIAC) about the activities of Macalester's Athletic Department and reporting any violations that may occur. However, Murray stressed that at a little school like Macalester he's less worried about major recruiting scandals like the ones that have rocked Division I men's basketball, and more worried about making sure that practices start on the date they're supposed to. "With this position, it's not so much things that we're having to report, it's more getting clarity," he said.
His day is determined less by a set schedule and more by the needs of the network of people at Macalester that he interacts with. "Depending on what requests are being made, maybe [that] mean[s] certain conversations with coaches or with people across campus," Murray said. "And then I'm part of our operations group which has our administrative group and two other people and so we have those meetings once a week. There's various meetings like that that come up, whether that's meeting with Paula [Natvig, Head Athletic Trainer] or with Scott [Hintz, the new Head Strength and Conditioning Coach]."
Murray can still be seen in the weight room, though he's no longer wearing his old uniform of a sweatshirt and basketball shorts; he now wears a collared shirt and slacks. These clothing choices reflect a change in Murray's workday. "A lot more meetings," he said when I asked him to compare his new position with the old.
When asked whether he thought this change was positive or negative. "I don't know if positive or negative would be right," Murray said. "It's just different. It's kind of having to reframe what you view as accomplishing things in a day."
In response to the question of whether the change has been difficult at all, Murray answered as directly as possible. "Yeah. It's what I've done for the last 17 years," he said. "I knew that coming into this role I would definitely miss that piece and it would be tough." Nonetheless, he tries to remain a visible presence in the Athletic Department. "What's nice," he said, "is I've been able to find ways to still stay connected with student athletes."
One of the things that athletes on campus dread the most are the infamous early morning workouts. Surely Murray is happy to be done with those?
"With four kids, I'm up at that time anyway," he said with a laugh.
However, this joke actually brings him to one of his favorite things about taking the Assistant AD role. "It has been nice with my new position to be able to be home in the morning to be there with my kids and help them get ready for school and actually be able to take them to school or to the bus," he said. "Being able to have more of that work-life balance, being able to get home before they're going to sleep. Those are huge benefits.
While Murray talked about his children, it was hard to ignore the drawings hanging on the walls of his office. When he was a strength coach, it was hard to imagine him as anything else. Now, it's clear that he's happy with his new job, and that despite the state of his decorations, he plans to stay here a long time.