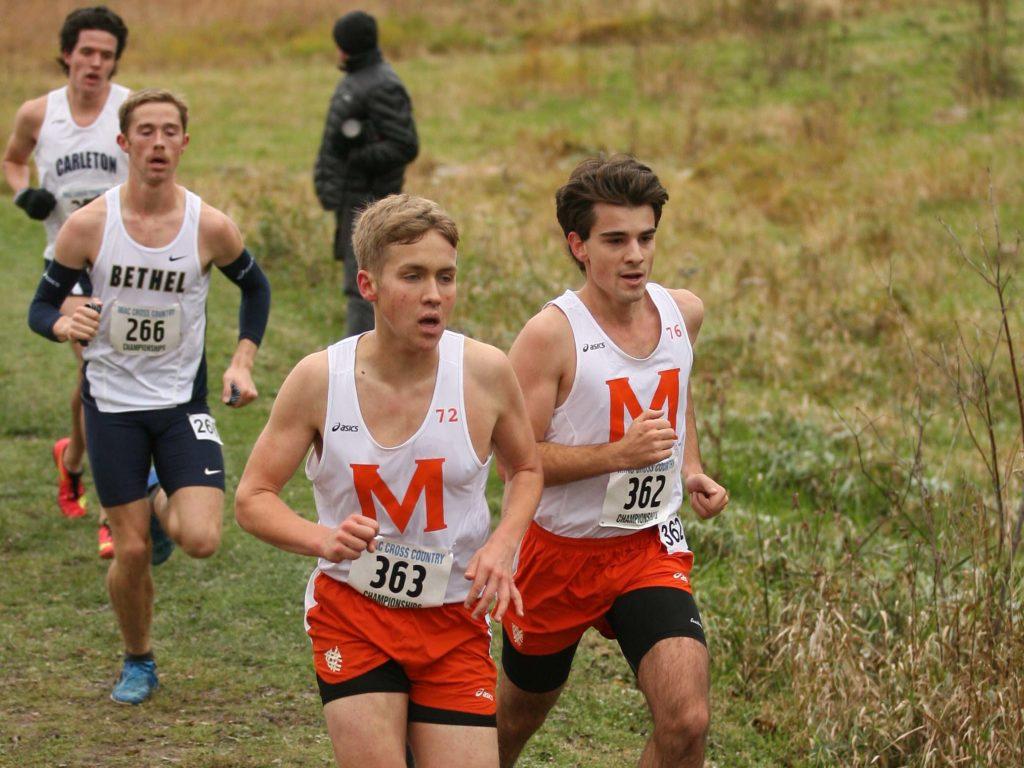 On Saturday, Oct. 28th, the Macalester Men's and Women's Cross Country teams competed at the MIAC Championship meet. The women's team raced across the finish line in sixth place overall, while the men took seventh place.
The women's team had several strong finishers as Marlee Yost-Wolff '19 led the way in 22nd place, earning Honorable Mention All-Conference honors, with Lea Davidson '18 and Alia Benedict '19 close behind her in 39th and 44th respectively. Carmen Garson-Shumway '18 finished 54th while Elena Smith '19 ran just one second behind her in 56th place to finish off the scoring for the Scots. The finish pleased Benedict, particularly given the transition the team went through from last year to this year.
"As a team we… edg[ed] out teams like [the College of] St. Benedict's who in past invites this season had beaten us," said Davidson. "It was [a] very cold day, and the St. Olaf course isn't easy. [There are] lots of different types of terrain and small hills throughout, with one distinct large hill between the 4k and 5k. Our team took it in stride and excelled. We had many season personal bests, and almost everyone improved their time from when we raced the course earlier in the season. A handful of people had all time personal bests as well, [which is] an awesome, hard thing to do."
On the men's side of things, Chris Boranian '19 led the way for the Mac Pack in 17th place with Mac Doherty '19 hot on his heels in 20th, just six seconds behind him. Both earned Honorable Mention All-Conference honors for their races, and Doherty was happy with the close finish. "My game plan is always the same: stay on Chris, as long as I can, and I was able to do that," he said.
Jake Lepak '20, Peter Jarka-Sellers '20 and Adrian Johnson '21 rounded out the scoring for the Mac Pack in 40th, 50th and 63rd places. The men finished seventh, up two places from where they were last season.
Reflecting back on the race, Boranian was proud of the effort put forth by everyone on the team.
"We moved up two spots in the MIAC this year, which I think is a lot more significant than it looks on paper, because we showed a lot of potential last year and where we kind of struggled was coming through in the big races," he said. "This year at MIAC, I was really proud individually of my race, it's better than I've ever done before, and I'm really proud of my teammates for also coming through."
That pride was not unique to the men's team. Both groups had to cope with graduating talented runners from last season, and rebuilding from within by asking younger runners to step up and fill the shoes of those who came before them. The growth stood out to runners on both teams.
"I'm really proud of how the team has grown this year," said Benedict. "We've really become closer as teammates and as friends, and [Coach] Betsy and [Coach] Margaret have adapted their program to help the team succeed in the best way we can."
Lepak struck a similar chord, saying that he is most proud of "the improvement." "Last year, we got ninth in MIAC and we lost three of our top seven, and normally when you lose that many of your top scoring guys, you're not supposed to be as good the next year, but a lot of guys stepped up. Coach never gave up on us, he always believed that we could do a lot better than we did last year," Lepak expanded.
With MIAC behind them, the men's and women's teams have started preparing for the NCAA Central Regional Meet in Northfield. Regionals is a lower-stakes race for both teams, and they will look to build on the successes of MIAC while keeping in perspective all they have done this year, enjoying their last few weeks as a team and thinking about what is to come down the line.
"The thing that I'm really optimistic about is that we have five of our top five returning next year, so we can really show some folks that we're the real deal," Boranian said.
Until then, there are still two weeks of racing left, and plenty more fun to be had. Benedict, for one, is hoping to see more than just good running as the season winds down.
"I'm hoping to see more singing and dancing from my teammates," she said. "We really can dance. Can the MIAC rank that?"
The NCAA Central Region Meet will take place at noon on Nov. 11 at Carleton College in Northfield, MN.