Trustees approve theater plans, set goals for coming year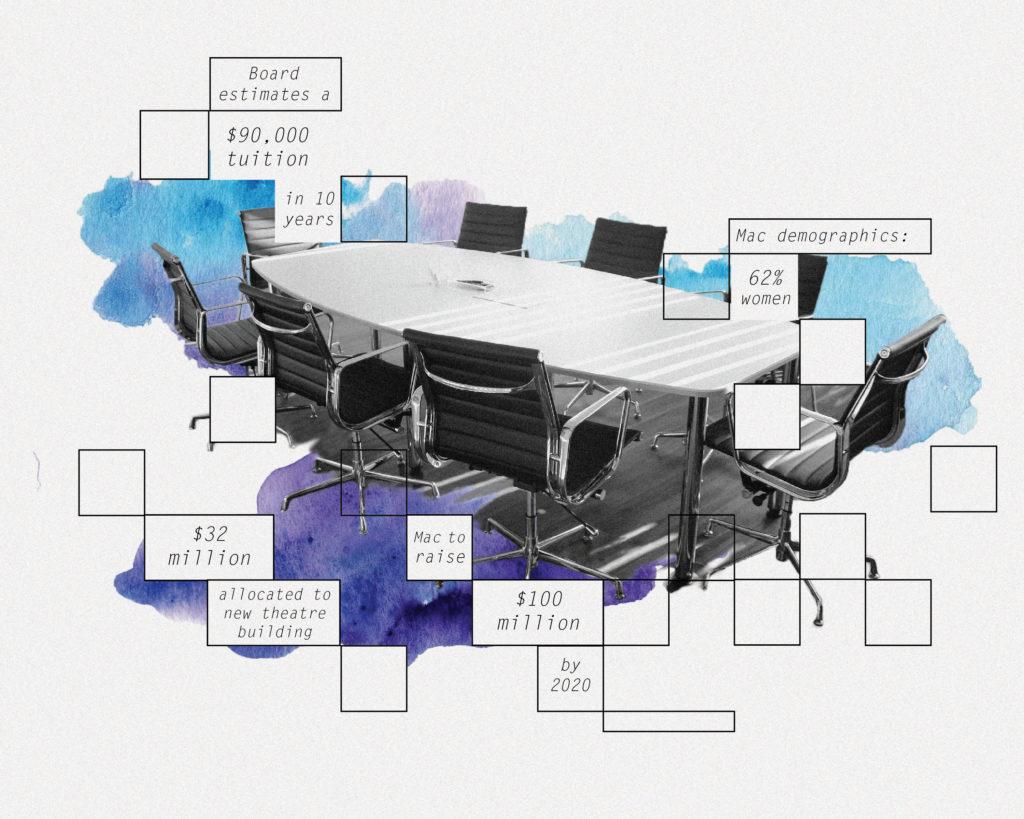 Macalester's Board of Trustees met for the first time this academic year on Oct. 5 and 6. They voted to move construction on the new theater and dance building ahead and outlined a number of goals for the upcoming year.
First, the big-ticket items: Jerry Crawford '71, Chair of the Board of Trustees, wrote in an email to The Mac Weekly that the college's capital campaign – which started in June 2016 and aims to raise aiming to raise $100 million by the summer of 2020 – is running "ahead of schedule."
The campaign is slated to go public next fall, by which time the college hopes to have raised 66 percent of the funds it needs to meet its stated goal.
On a related note, the Board – by a significant margin – approved a major feature of the campaign: the plan to replace the theater and dance building. Construction is set to begin this winter and take a full year, with the new building opening for the Spring 2019 semester.
Roughly $32 million has been allocated to the project, which Board members had the chance to preview with the building's architects.
The Board also heard from and spoke with a number of students during its time on campus. Two students, MCSG President Suveer Daswani '18 and Student Liaison to the Board of Trustees Jaime Hasama '18, made presentations on Friday.
In her presentation, Hasama outlined two main goals for the upcoming year. The first is well-worn: a campus-wide conversation about the role of entrepreneurship at the school.
"[The second floor renovation] seems to be pretty popular," she said. "But some people are kind of upset with it in regard to the idea of entrepreneurship at Macalester."
Hasama, who is involved with entrepreneurship on campus, would like to deepen the conversation. "One of my goals for the year is to work with students and faculty to think about how entrepreneurship works at Mac, and how it fits with liberal arts ideals," she said.
"My second goal for the year is making the Leonard Center – specifically the weight room – a more accessible place for women, people of color and non-cisgendered people," Hasama, who is a captain on the women's soccer team, said.
"I think some people feel like the Leonard Center, in general, is an unwelcoming place for non-athletes – which is kind of sad," she continued. "In order for us to have successful students, we need to have healthy and happy students."
The Board discussed campus diversity and support for various identities throughout the two days. "We are one of the most diverse in terms of small liberal arts schools, but there is so much more we can do," Hasama said.
"We specifically talked about support for undocumented and DACA students as well, and how we can provide more resources for that community," Hasama continued. "It's important to recruit those students, but it's almost equally as important to support and retain those students."
On that topic, Interim Dean of Multicultural Life Sedric McClure and Program Coordinator for Student Success Carol Mejía presented to the Board on the college's efforts in supporting undocumented students – especially with the status of DACA in limbo under the Trump administration.
The presentation was well received. "They were really impressed to see the initiatives and the work that the DML has been doing, or has done," Daswani said. "They were really supportive of that."
With 10 committees covering everything from investment to campus life, the Board reviewed a number of topics during their short visit. Daswani was involved in an admissions committee meeting that discussed the growing gender imbalance of the student body.
"Right now it's 62 percent women on campus," Daswani said. "So a big question that came up was whether we're seeing this kind of imbalance through the admissions process, or is this something that's happening at the last step of Macalester's admissions process?"
The consensus is that it is more the former. "This [imbalance] is actually in line with the national trend, or what's being seen overall," Daswani said.
One eye-popping admissions-related number: in 10 years, it is estimated that full tuition to Macalester will cost somewhere around $90,000 a year. The growing disparity between the income of students' parents and rising tuition is very much on the administration's radar.
Sustainability was another major theme throughout the two days. Over the summer the college changed the shower heads in dorms and gave each building its own energy meter in the name of energy conservation. Another idea, to build community solar garden, is in early development.
Hasama said it was "cool" to see the Board of Trustees become more diverse every year – something that she believes "reflects the population of Macalester changing."
"Sometimes it's easy to look at the Board of Trustees as a higher power that's inaccessible to students, but a lot of them want to be more involved," Hasama said. "They care so much about Mac."
The Trustees will return to campus in May.
About the Writer
Abe Asher, Former Editor in Chief
Abe Asher (he/him/his) is a senior political science and religious studies major from Portland, Oregon. He is a 2020 graduate of Macalester, and has in...