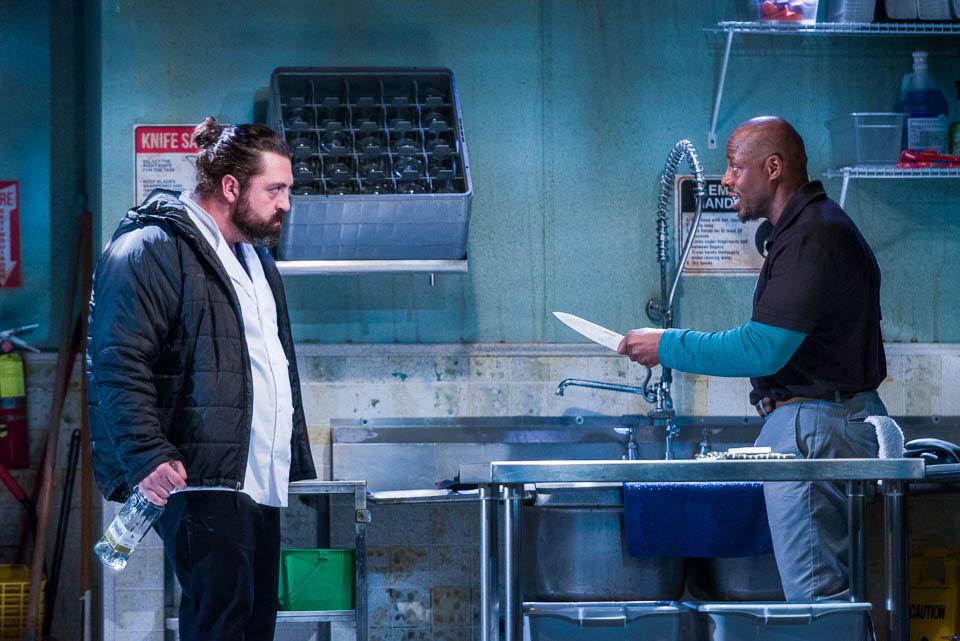 Will Snider's How to Use a Knife is as sharp as its title would suggest. A gloriously irreverent comedy that moves deftly between hilarity and heartbreak, it serves as an impressive start to the Mixed Blood Theatre season.
For those of our readers who are unfamiliar with this venue, The Mixed Blood Theatre is a nonprofit theatre in Minneapolis committed to changing attitudes, behavior and policy by celebrating difference through art. The company gives a voice to those who have historically been silenced, eliminating barriers to participation and addressing social inequities along the way. Located in a historic former firehouse, the venue is intimate, vibrant and easily accessible via the Green Line. The Mixed Blood Theatre makes itself visible with a red neon sign that one cannot miss.
How to Use a Knife, directed by Jesca Prudencio, deals with a collision of cultures in a restaurant kitchen after the appointment of a new chef, George, played brilliantly by Zach Myers. It concerns the interactions of Chef George and his jovial Guatemalan line cooks, quiet East African dishwasher and frustrated white American busboy. Tempers are lost, unsavory secrets are unearthed, friendships are formed and someone learns how to use a knife, all of which is framed by witty, expletive-laden banter.
The play moves at a breakneck pace, running a full 90 minutes with no intermission. This speed is complemented by impressive sound design, which consists of up-tempo Jazz drumming – think Duke Ellington – as well as the frantic sounds of clinking plates and sizzling grills one would expect to hear in a busy restaurant kitchen. The music and on-stage sounds come together to create a truly immersive theatrical experience.
In terms of set design, the stage is set up in classic style, with great attention to detail that can be seen in the use of actual food and drink, and well-constructed props.   
It is worth mentioning that there is a fair amount of Spanish dialogue in the play, although no knowledge of the language is required to understand or appreciate the production.
When it comes to the plot and themes, without giving too much away, I will say that this production is extremely relevant in the modern day. It deals with issues of immigration, the oft-maligned American Dream and white privilege. It employs comedy as a way to broach difficult topics, and is likely to provoke some thoughtful conversations.
How to Use a Knife opened on Friday, Sept. 29, and will run until Oct. 15. Tickets are about $23, but a limited number of rush tickets are available for free two hours prior to the performance.
Note: the next production at the Mixed Blood Theatre, opening Nov. 10, will be the Tony Award-winning The Curious Incident of the Dog in the Night-Time, directed by Macalester alum and Mixed Blood artistic director Jack Reuler.