Women's soccer releases statement on kneeling anthem protest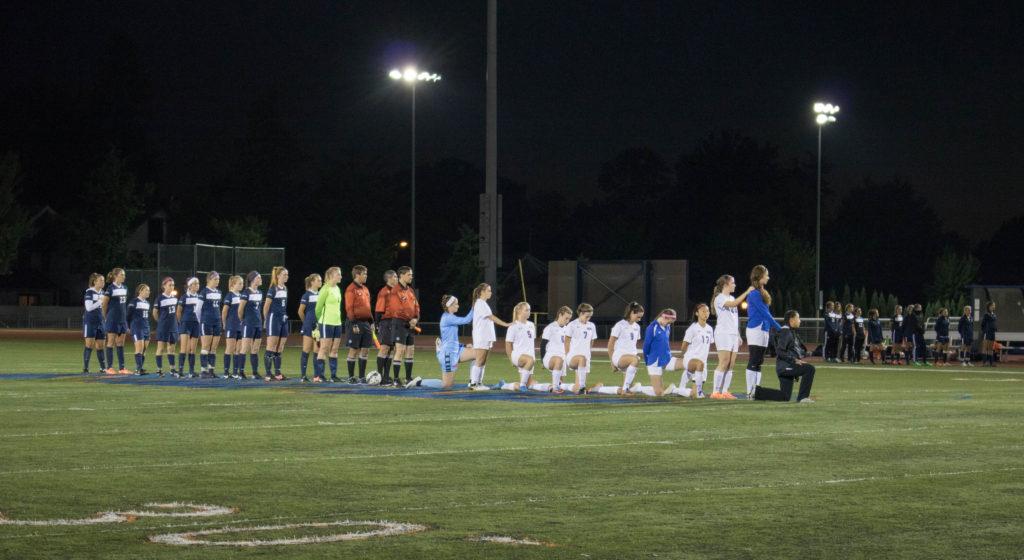 The Mac Weekly
October 5, 2017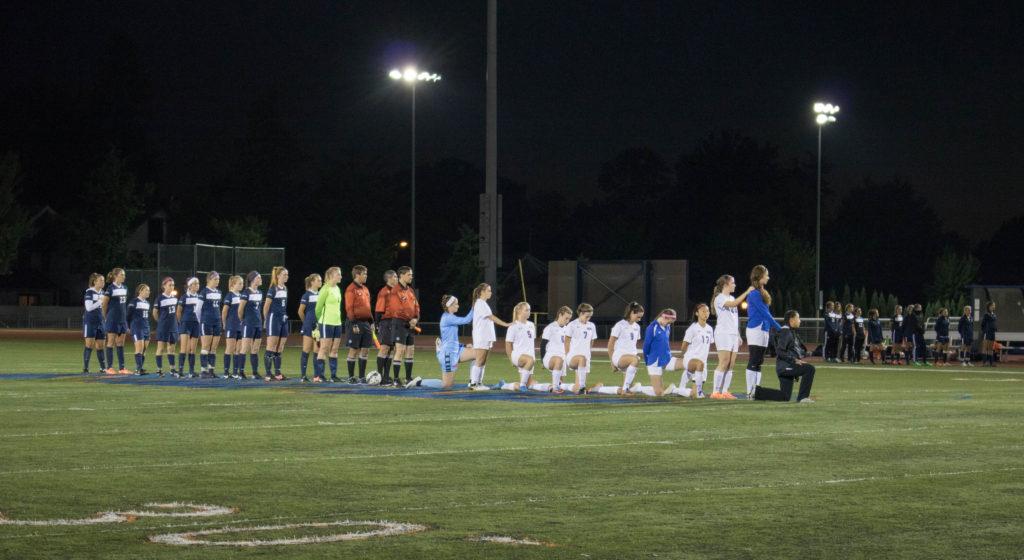 On Wednesday, Oct. 4, members of the Macalester women's soccer team knelt in protest during the playing of the national anthem. The team collectively wrote a statement, which The Mac Weekly has decided to publish in full.
Several members of the Macalester Women's Soccer team have recently decided to join athletes across the country in kneeling for our national anthem. As a team, we engaged in a number of conversations about how to participate in the protests in a constructive and appropriate manner, and we felt it was important to share some of our reasoning with the broader community.
It is impossible to ignore the history of systemic injustice that targets people of color in our country, and it is dangerous to pretend that these issues of institutional racism don't continue to exist today. By taking a knee during the playing of the national anthem, we acknowledge and protest police brutality and racial injustices that affect ourselves, teammates, classmates, friends and families on a daily basis.
We acknowledge that protests during the national anthem are not new and for many years professional athletes in the WNBA, NBA and NFL, as well as numerous other individual athletes have used their platforms as public figures to speak out against racial injustice in this country. Though our decision to participate in this protest coincides with the increase in NFL participation, ultimately it is our conversations as a team and a lack of action from authority figures which have prompted our participation and commitment to combatting these issues as a program.
We recognize that the majority of the people of color on our team are Asian Americans. Though we have been the victims of violent racism, we are not currently being targeted in the way that African Americans have been through police brutality. Though we acknowledge these differences, we understand that race-based police violence is only one manifestation of the inequalities that people of color face.
The white women on the team acknowledge our privilege as the beneficiaries of a deeply flawed system, and are committed to being effective allies to our teammates and to other members of our community. Those of us who have chosen to kneel with our teammates of color do not intend to appropriate our teammates' platform in any way, but rather have chosen to participate because we feel it is important to tangibly show our commitment to engaging these issues. Those of us who have decided to remain standing do so for personal reasons, recognize the discussed social injustices, and stand in solidarity with our teammates who have chosen to kneel. All of the white women on this team are committed to being allies to the people of color in our community, and understand that we must not only acknowledge the ways in which we benefit from the institutions of this country, but also that we must take steps to dismantle such systems.
Our team's participation in the protest is not meant to signify that we know all the answers. We recognize that there are different opinions and reactions within our broader community, and even within our team. However, we also recognize a need to engage in these difficult conversations and understand that they require mutual respect and civility.
Our protest is not aimed at our flag, our armed forces, or our politicians. We honor, are thankful for, and respect those who have fought and continue to fight for our country. This protest serves as a testament to some of the most basic freedoms that their sacrifices continue to ensure to us. However, we hope to draw attention to the fact that other values they strive to protect—freedom, liberty, and justice—are not experienced by all Americans, and it is only through an acknowledgement of this and continued commitment to change that we can begin to establish systems that allow for everyone to experience these values as equitably as possible.   
Our protest is aimed at acknowledging and opposing racism in all its manifestations. We recognize that protest is only the first step, and have committed ourselves to becoming involved in more tangible ways on our campus and in our community. We have reached out to multiple Macalester professors requesting a facilitation of conversations about race, racism and the ways in which we can be introspective of our own roles in combatting these problems. We are also tailoring our volunteering projects towards working with groups that focus on racial equality. In addition, we will be working with our Student Athletic Advisory Committee to facilitate discussions on racial equality within our Macalester community.  Our conversations and volunteering efforts to combat systemic racism will not only be for our season, but are initiatives that we have committed to as a team for years to come.
If you have any comments or suggestions on how we can be more involved or to further extend the dialogue, please do not hesitate to reach out.
To remain silent is to side with the oppressor, and we will not side with the continued injustice and oppression that has systematically targeted people of color in our country.
Sincerely, The Macalester Women's Soccer Team
by the Macalester Women's Soccer Team