[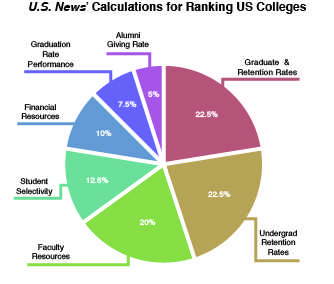 ]On Sept. 11, the U.S. News & World Report released its 2018 college rankings, dropping Macalester from a tie for 24th place into a tie as its 26th-best liberal arts school in the country.
While Macalester's U.S. News score of 81 remained unchanged this year, the college was passed in the rankings by Bates College in Maine and the University of Richmond in Virginia. Carleton College, with its score of 90, ranks eighth.
In the world of American higher education, the U.S. News list is a big deal. In 2011, the U.S. News website recorded more than ten million visitors the month its college rankings were released.
Macalester President Brian Rosenberg wishes that wasn't so. At a question-and-answer session for parents over orientation weekend, Rosenberg was asked about the admissions process — and gave a characteristically sharp response.
"To be totally honest, I think the whole process at this point sort of sucks," he said. "It's not good for anybody. It's not good for the students, it's not good for the colleges."
Rosenberg's chief contention is with the amount of money colleges spend "chasing applications" – a process that, he feels, is fueled by schools competing for high rankings in the U.S. News college issue, which incorporates admission rates in its score for each school.
"What's happened is that we're caught in this vortex of competitiveness and U.S. News rankings, and no one really knows how to get out of it," Rosenberg said. "I don't spend a lot of time railing against U.S. News, because it's pointless. It's like shaking your fist at the heavens."
But the rankings aren't going away anytime soon.
"As long as [U.S. News] keeps making half of their annual revenue off from their college rankings issue, they're going to keep doing it," Rosenberg said. "As long as you all keep buying it, they're going to keep printing it."
"So colleges take a look at what U.S. News thinks is important. One of the things that they think is important is selectivity. So colleges chase application numbers."
"We all spend a lot of time getting as many applicants as we can, even though we know that we don't necessarily need more applicants to fill our class," Rosenberg said. "The fact that Harvard, Yale and Stanford are still out there chasing more applications when their admit rate is five percent – there's something profoundly wrong with that."
Rosenberg has been bemoaning the rankings loudly for years. His "It feels a little bit like shaking your fist at the gods" quote also surfaced in a Politico article from Sept. 10 entitled "How U.S. News college rankings promote economic inequality on campus."
The amount of money colleges spend chasing application numbers isn't the only problem with the rankings. The Politico article that Rosenberg is quoted in outlines how U.S. News "create[s] incentives for schools to favor wealthier students over less wealthy applicants."
There is, for instance, no measure in the U.S. News rankings for the economic diversity of a school's student body – but there are measures for alumni giving and standardized test scores, which correlate strongly to family income.
Nearly a quarter of each school's rating is based on their "undergraduate academic reputation" – a score based, the U.S. News says, on ratings from college presidents as well as high school college counselors, who are most often found in affluent school districts.
Because of their quantitative nature, scores are easily manipulable. George Washington University, Claremont McKenna College, Tulane University and Emory University have all, in the last five years, admitted to inflating the test scores and high school class rankings of their incoming students.
"There are a lot of alternative rankings, and you can get a lot of different information from the Princeton Review and 100 other different places," Assistant Vice President of Admissions and Financial Aid Brian Lindeman said. "The challenge with U.S. News is that it has come to be seen as the be-all, end-all of rankings."
He's not wrong.
Some schools base fundraising campaigns to try to increase their U.S. News ranking, and then issue press releases when those rankings improve.
"I believe U.S. News will sell a college emblems to use in their marketing materials," Lindeman said. "I've certainly seen those."
For Director of Recruitment and Admissions Anne Walsh, there is a more general problem with ranking systems for colleges. "Are you saying that the college that is ranked 10th is going to be a better college experience than the college that is ranked 20th? It's a quantitative ranking for a qualitative experience," she said.
What can any one college do? According to Rosenberg, very little.
"Nobody can unilaterally disarm," Rosenberg said. "If you become the one college caught up in this competitive marketplace that suddenly says 'you know what, we're going to stop the marketing,' then what's going to happen is everyone else is going to market and kids won't look at your school."
"So it's very hard to do this individually," Rosenberg continued. "It's much easier to do it collectively. The challenge with collective action among colleges and universities can be summed up in three words: Department of Justice."
Rosenberg is referring to antitrust laws, enforced by the Department of Justice, that prevent colleges and universities from collaborating on issues of marketing and pricing. That position has long been enforced. Back in 1991, the eight colleges and universities in the Ivy League had to agree – under threat of antitrust violation charges – to stop sharing financial aid information and collaborating on tuition hikes.
In 2013, the Justice Department opened an investigation into a number of private colleges for "possible agreement to restrict tuition discounting and prevent colleges from changing or improving financial aid awards to individual students."
"Trust me when I tell you this," Rosenberg said. "If we even talk about it [collaborating], we get letters from the Department of Justice saying, 'we heard that you've been talking about talking about collaborating. Watch it.'"
"We've given up on the Department of Justice, they're not going to change," he continued. "The only change that there actually could be – and this shows you what a longshot it would be – is Congress. Congress would have to pass a law exempting colleges and universities… and that doesn't look like it's going to happen any time soon."
There have, in the past, been attempts to push back against the rankings. In 2007, some 66 college presidents signed a letter refusing to participate in the U.S. News survey.
But that movement had precious little support from the country's biggest colleges and universities. Rosenberg himself was not a signatory to the letter, and a number of the colleges who did sign continue to fill out the U.S. News survey regardless.
Some colleges, however, have decided to bow out of the ranking system. A prominent example is Reed College in Portland, OR, which, citing their "hopelessly flawed" methodology, has refused to comply with the U.S. News since 1995.
Reed has paid a price for its noncompliance.
In 1983, when it was still participating in the survey, U.S. News ranked Reed as the ninth-best liberal arts school in the country. In 2015, Reed was ranked #93. This year, Reed is ranked #82 – tied with another Oregon school, Willamette University, that has an admission rate nearly fifty points higher than Reed's.
Reed's admissions website states that "there is little doubt that Reed's stand on the rankings comes with a price tag. Every year, thousands of promising high school seniors (and their parents) might cross Reed off their list if it doesn't land in the top 50 or top 25. Nonetheless, Reed… refuses to participate in what is essentially a statistical charade."
Reed is still regarded as a premier college. It has, to a large extent, survived its recusal from the U.S. News rankings. Perhaps Macalester could do the same.
But Lindeman is skeptical. "That's never occurred to me as an option for Macalester," he said. "It's important for Macalester to market itself. It's important for us to make prospective students aware of who we are."
"We have to, on balance, decide whether appearing where we are in the U.S. News rankings helps the college fulfill its mission more than falling x number of places would," he continued. "And my inclination is to say that we're better off participating. With all the reservations."
"For me it's a question of opportunity costs," Walsh said. "There's value in the [college ranking] marketplace, if [the rankings] are something that we are fundamentally not embracing."
Both Lindeman and Walsh said that the ranking system does not drive the practices of Macalester admissions office.
"We're aware of it," Lindeman said. "We'd love to see ourselves going up. Whether or not we're concerned about it? I don't think the rankings drive the interest of our prospective applicants."
"What we're looking for in a student or perhaps what a student is looking for in a college, doesn't really match the methodology that U.S. News uses to arrive at those rankings," Walsh said.
"At the end of the day, our goal every year is to enroll 500 terrific kids," Rosenberg said. "I remember a good friend of mine who was the Dean of Admissions once said, 'if I could get 500 perfect applications, 500 kids would say yes, and we would enroll them every year, even though our admit rate would be 100 percent, I'd be completely happy.'"
"So I don't think the admissions process is better now for students, [and] I don't think it's better now for colleges," he continued. "But nobody really knows how to end the cycle."