Joe Giamberdino '15 : two years back running with the MacPack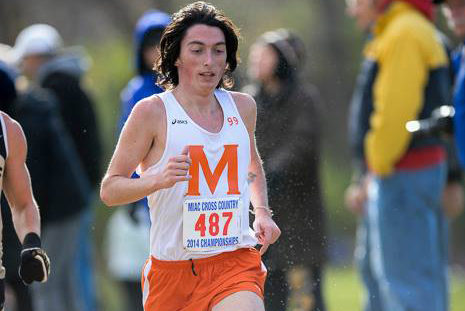 Many people can never seem to find time for the things they love. For example, people will blame their job when they have to give up on hobbies or activities that once meant a lot to them. Not Joe Giamberdino '15. He works two other jobs and still finds time to be an assistant coach for the MacPack at his alma mater.
The MacPack, if you're unfamiliar, is the nickname that the Men's Cross Country team proudly uses to refer to themselves. It's an identity and a philosophy wrapped up into one. Giamberdino describes it like this: "When I think MacPack, I think of a group of guys that are close, they're family, they're tight-knit and they're always striving to be the best they can be… whether that's in their homework, or just as human beings and individuals out there in the world. It's a group of guys who love hanging out with each other, being with each other. When I think MacPack, I think family. That's my buzzword."
It's clear that Giamberdino still sees the MacPack as his family. A dual religious studies and international studies major from St. Charles, Illinois, he describes choosing Macalester back in 2011 because of its international focus and feeling "at home right off the bat." Once here, he settled in quick as part of the Cross Country team. He says that his time as a competitor with the team was a "fundamental experience and major part of my life." To him, coaching is a way to give to others the positive experience that he had. He's an advocate for the runners on his team, though he doesn't shy away from pushing them as well. "As a coach, I'm doing everything I can to make sure they're the best athletes, day in and day out," he said.
While Giamberdino is busy, he can't imagine giving up the MacPack. "For the time being, I definitely intend to keep pursuing the coaching stuff in addition to the other stuff I do," he said. Expect Giamberdino to stick around for some time.