Cora Trout '16 works on and off the court at Macalester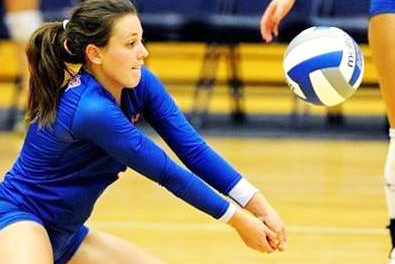 After a stellar career as a Fighting Scot, Cora Trout '16 still remains a significant part of the volleyball team as a new assistant coach. A libero from Columbia, Missouri, Trout's career as a Scot ended last year after four years that included honors such as MIAC Academic All-Conference and Macalester Defensive Player of the Year.
Following the end of her senior season, Trout was playing cards in Head Volleyball Coach Annie Doman's office when Doman asked her if she would like to help out with the team. "I just wasn't really ready to be done with volleyball completely so this was a really nice way to keep going with it," Trout said. "I work a lot with the defensive players. Along with positioning on the court… I help in games and making adjustments," Trout said when asked about her role as coach.
Trout currently works in Macalester's Communications and Public Relations Office as a graphic designer, in addition to coaching, which she says takes up most of her time. When she isn't working or coaching, Trout enjoys running, making art and playing volleyball when she can. "I played in Grass League; I played on a team for the summer and hopefully in the fall I'll join a league when I have more time. There's a lot of volleyball in the Twin Cities, so it is really easy to play," Trout said.
When asked how it felt to coach the people she'd played with, some for years, Trout said, "At first it was really weird to be their coach, but after a while… it was just like I'm here to help and they respect me for that. It's really fun to get to see them a lot because if I weren't coaching I wouldn't be able to see them that much."
Currently, Trout is trying to figure out what she wants to do next. "Either I want to stay at this job for another year or go to grad school. I don't know if I want to commit to something yet." No matter what she decides to do, Trout still wants to stay in the Twin Cities and help with volleyball as much as she can.