Space plan highlights need for more classrooms, event spaces
On Tuesday, September 27, David Wheaton, Macalester's Vice President for Administration and Finance, presented the results of a campus space study conducted last year to a group of students, faculty and administrators.
The study was conducted by Boston-based architectural firm Shepley Bulfinch, which specializes in college campus planning. Wheaton served as the chair of a committee of eight Macalester administrators working on the project.
The result, as Wheaton noted at the outset of his presentation, is "not a to-do list. It doesn't go step-by-step." This is not, for instance, a campus master plan similar to those that were constructed in 1965, 1995 and 2005.
Instead, the study — which was started in October of last year and finished two months behind schedule this April — provides Macalester with much-needed data and information on the state of its facilities and their use.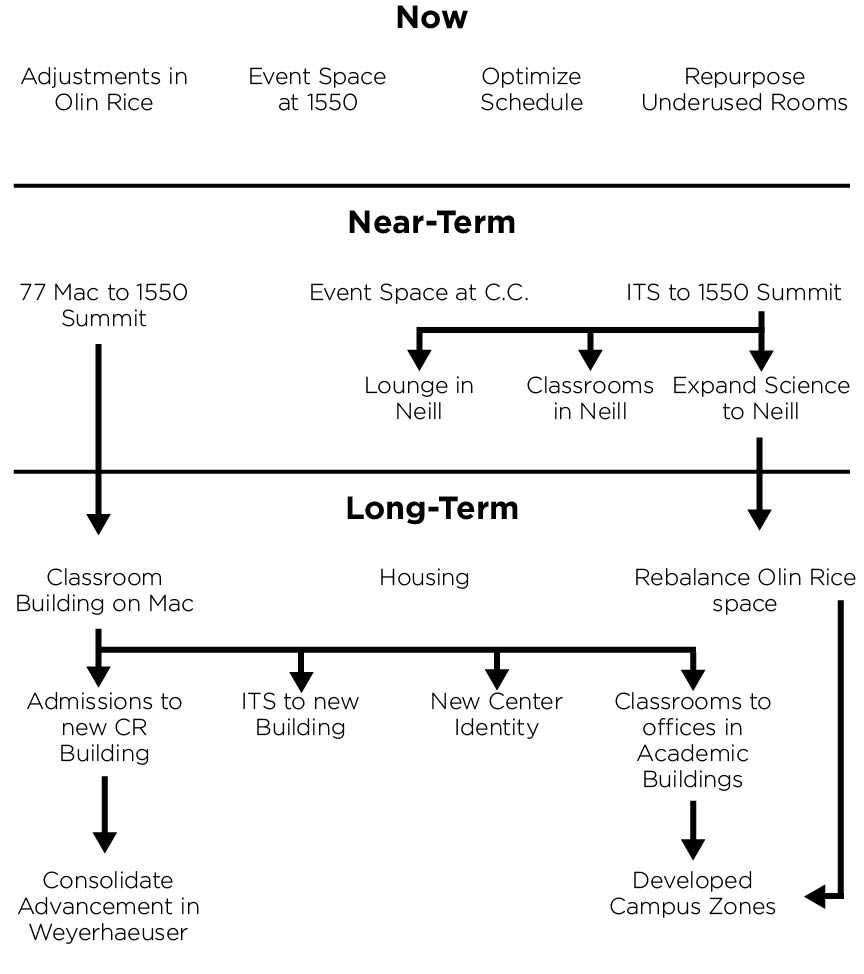 The catalyst for the decision to contract a campus-wide study came from the science departments in 2015, with concerns about a lack of space in Olin-Rice quickly mounting.
"Right now," Wheaton said, "48 percent of our students have an Olin-Rice-based major. There has also been an increased interest in coursework in Olin-Rice—in particular, I think students like having a computer science-based course on their transcript."
The study's foundational finding? Space, unsurprisingly, is tight.
Of a group of similarly-sized liberal arts schools — including Hamilton, Carleton, Kenyon, Vassar, Colby, Oberlin, Middlebury, Wesleyan, Grinnell and Reed — Mac has the smallest campus. Macalester's campus could fit inside of Hamilton's campus approximately fourteen times.
Out of these schools, Macalester also has the highest percentage of campus space occupied by buildings. There is very little room to create entirely new structures.
The priorities that Macalester identified for the next several years include more flexible event space, departmental common space in Carnegie and Neill Halls, theater upgrades, and the situation in Olin-Rice — which is being characterized as at "Crisis Level."
Junior housing is also on the agenda. "We have a few trustees who ask about housing," cracked Wheaton. "They all say they lived in Dupre at some point."
One of the immediate focuses is building or creating a new event space for 40-150 people. One idea is to fill one end of the second floor of the Campus Center looking down onto Café Mac. Another is to provide multi-use space at 1550 Summit, a former church that the college purchased last year.
A second option is to move 77 Mac to 1550 Summit, and move an academic department or event space into 77 Mac. There's also a potential plan that includes moving ITS out of the third floor of Neill Hall and moving some of the science departments into that space.
There are several other areas of concern. One pertains to admissions. "We'd really like to take the cottages down," Wheaton said. "We've been kind of holding those together with duct-tape for twenty years."
But the immediate focus for the school will be on classrooms. The study compiled data on how much every classroom and pseudo-classroom on campus is used — Olin-Rice 241 clocks in as the most-used room — and Wheaton and his team have looked at why some rooms are used more than others.
Elements like lighting, desk placement and style, and window placement all play a role. The school has already begun subtly renovating some classrooms. Old Main 003, for example, was repainted and refurbished over the summer. The school has renovated four rooms so far this year, and has the funding to increase that number.
But renovations alone won't be enough. The school, Wheaton says, needs "8-12 more classrooms." There are a number of possible ways, which Wheaton detailed in his presentation, to accomplish that goal.
The study doesn't advocate one plan over another, but it does, Wheaton says, "tend to lean towards improving 2-7 classrooms if we can, capturing 2-3 classrooms if we can, and then building 9-15 classrooms."
Wheaton also wants to overhaul and streamline the process by which rooms are booked—a process that he says is currently muddled and laborious.
Wheaton will give his presentation again later this month. In the meantime, the work of improving Macalester's campus has already begun.