KWOC student activists on their arrests, civil disobedience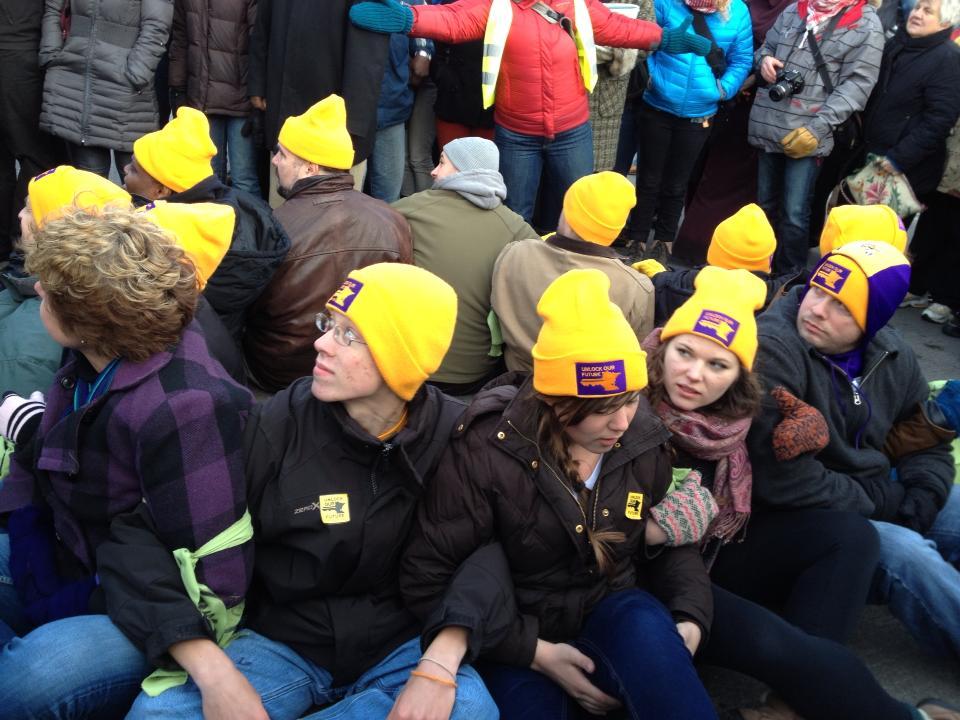 Minnesotans for a Fair Economy's Week of Action had a presence at Macalester as part of Kick Wall Street Off Campus' continuing movement to end the college's banking relationship with Wells Fargo. Throughout the week, students and community members moved their money to different banks and credit unions and rallied on Bateman Plaza, in addition to taking part in other events and displays that showed support for the cause around the Twin Cities. Four Macalester students went one step further — during Wednesday's action events, they were arrested.
Rebecca Hornstein '13, Maya Pisel '13, Leewana Thomas '14, and Luke Mielke '16 were arrested along with nine other protesters for blocking traffic on the 26th Street bridge above Interstate 35W.
After the rally at Macalester, where approximately 200 people attended, the group traveled with Minnesotans for a Fair Economy to the State Capitol. There, they presented reports to legislators and participated in a press conference on the Homeowners' Bill of Rights, of which passage is a major goal for Minnesotans for a Fair Economy. The day culminated with a march that ended at the Wells Fargo Home Mortgage Center, where Macalester students and Wells Fargo workers spoke. As the protesters congregated on the bridge, the arrests took place.
"At first, we got [to the bridge] and everybody was extremely energetic," said Thomas. "Then, the police told everyone they had to move to the sidewalk if they didn't want to be arrested." Hip-hop artist Brother Ali performed at the protest out of the back of a pickup truck, while the group marched, chanted, and hung banners off the bridge overlooking the interstate. All of the events were conducted in plain view of the Wells Fargo office.
The police notified protesters three times that they had to leave, threatening arrest if they disobeyed. Most complied and left. However, 13 of them — including Hornstein, Pisel, Thomas, and Mielke — interlocked arms instead and sat down.
The experience of being arrested, however, was unpleasant and surreal to them.
"It wasn't very fun, for sure," said Mielke.
Pisel said that as she was being handcuffed and escorted away, she was shouting, "Fight, fight, fight! Housing is a human right!" to the support and enthusiasm of the rest of the protesters. "Our civil disobedience reflected the solidarity and coalition building of Minnesotans for a Fair Economy," said Pisel. "The people who risked arrest and were arrested … represented a broad swath of people who were in the rally that day."
"It was kind of surreal," said Thomas. "It really didn't hit me until the next day that that was what happened. At the time, I was thinking about how amazing it was to feel supported by so much of my community and to be engaging in this act with other people I really love and support."
The decision to be arrested stemmed from a desire to make a strong statement about the foreclosure crisis and hopefully bring awareness to Wells Fargo's actions.
"The foreclosure crisis sits at the intersection of a lot of inequalities and injustices that I care really passionately about. I wanted to stand up for that," said Pisel. "As a documented US citizen who had very little to lose, I felt like it was a good opportunity to use my body to show that the housing movement isn't dead. There's a lot of people standing up in different ways. This is one way I can stand up."
Mielke said he was inspired by his experience teaching Parks and Recreation classes to children in low-income areas, many of whom faced the threat of foreclosure.
"I don't think we should have kids that have to go home every night and worry that they're not going to have their home the next day," said Mielke. "I'm willing to put my legal history on the line for those kids, to make sure they can stay in their houses."
Hornstein, who grew up in Minneapolis, saw the need to call attention to a crisis she wishes was more visible.
"People are losing their houses everyday. This has been happening for years because of the actions of banks like Wells Fargo, and it hasn't been fixed yet," said Hornstein. "Sometimes, you have to do something dramatic to call attention to the fact that it is a crisis, because if people don't see it, [then] you have to create the feeling of a crisis for people to see it for what it is."
"In breaking the law, I felt like I was trying to symbolically show that I don't think the legal system is working like it should, and it's not punishing the people that are causing the greatest damage," said Thomas. "I've been really disgusted with how banks and corporations have done horribly, horribly criminal things and gotten away with it, ruined people's lives, and never been put to the scrutiny of the law."
All thirteen protesters that were arrested were taken to the Hennepin County Adult Detention Center, where the males and females were separated and placed into holding cells with other protesters.
According to Thomas and Pisel, their goal went much deeper than simply being arrested and ending up in jail.
"The experience I had in jail was so different than someone who would [not go there purposefully]," said Thomas. "We had phenomenal legal counsel and support. We knew we would get bailed out, and that's what comes with being arrested for civil disobedience."
"We used arrest as a way to amplify our voice, build community, and stand up against unjust wealth inequality," said Pisel.
Pisel also noted the paradox that while they hoped their arrest and the attention drawn to it would build community and support, they also lived in a society with high incarceration and imprisonment rates, which served to tear apart communities and perpetuate the problem they are fighting.
The four of them were charged with obstructing traffic and unlawful assembly, a fairly commonplace charge for those participating in civil disobedience. According to the Minnesota Statutes, unlawful assembly occurs when a group of people "conduct themselves in a disorderly manner as to disturb or threaten the public peace," and brings a charge of a misdemeanor. Misdemeanors carry up to a $1,000 fine or 90 days in jail, depending on the sentence. They have a court date set in the future, and are still discussing the best way to respond to the charges.
In the meantime, their fight continues. They are still working with KWOC to have Macalester end its banking relationship with Wells Fargo, and they hope their arrests bring attention and momentum to their cause.
"We see people in our community taking incredible risks to hold Wells Fargo accountable," said Hornstein. "We were honored to be a part of that."