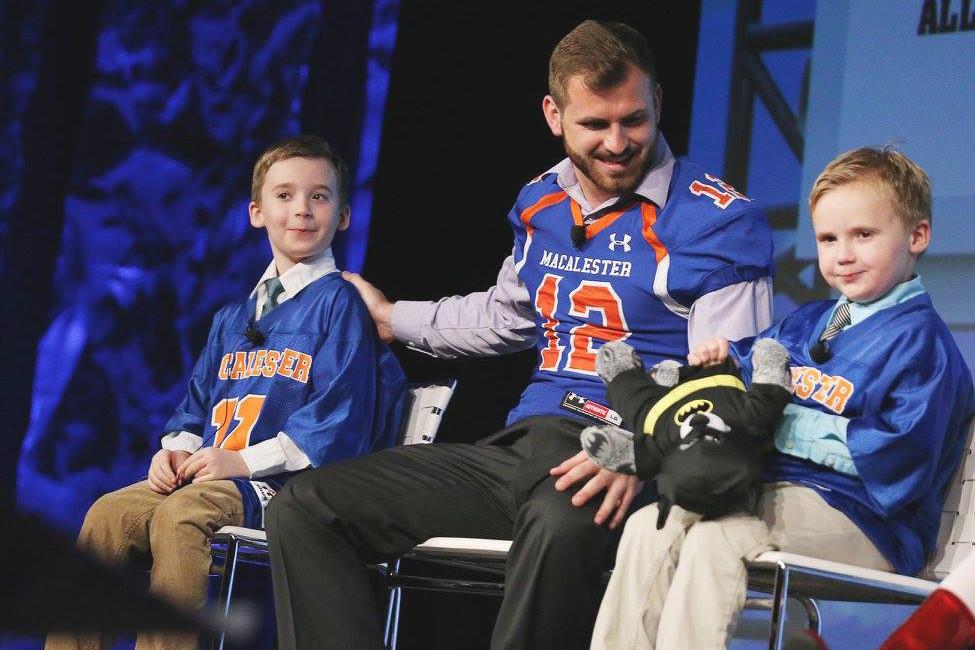 Being part of a team isn't always just about playing a sport. At its best, being part of a team means transcending the sport altogether, hopefully to learn a grander lesson or find a greater purpose. The people at Team IMPACT understand this. Team IMPACT is an organization that pairs college sports teams with young children suffering from chronic, life-threatening illnesses. Since its foundation in 2011, they've paired up more than 900 children with 400 schools in 45 different states.
More than 25,000 student-athletes are now involved with Team IMPACT, which provides each child with a "signing day" experience, making them a full part of the team. Once the child is "drafted," they become involved with the team in a meaningful way, taking part in activities with the team and attending practices, birthday parties and other organized events.
Here at Macalester, we have two teams that are partnered with Team IMPACT: softball and football. The softball team began a relationship with a girl named Alyssa, now ten years old, last spring. Coach Jody Gabriel initially broached the idea, but leadership on the initiative was quickly taken up by Morghan Bean '18 and Logan Tootle '18, who have become the main points of contact between Team IMPACT and Macalester Softball. Alyssa suffers from Dandy-Walker syndrome, a condition that affects one in every 30,000 people. Dandy-Walker is a brain malformation that targets the cerebellum and causes the brain to fill with fluid. It can cause seizures, lack of coordination, vomiting, and cognitive difficulties. New scientific research indicates that it can also be indicative of other abnormalities in the body. Alyssa has had problems with her liver, kidneys and immune system.
I sat down to talk with Bean and Tootle to discuss their relationship with Team IMPACT and how having Alyssa as part of the team has affected them. "She's just a wonderful person," Bean said. "With all the stuff that she's going through, she just keeps fighting. I think with her ability to keep fighting and pushing through, it pushes over to us and tells us to keep fighting or pushing too. Every time she's with us, she always has a smile on her face. Her favorite thing to do with us is actually playing softball."
One thing that immediately became clear during our conversation is that Bean and Tootle see Alyssa as part of the team. Both through the way they describe their relationship and the love that they clearly have for her, Alyssa seems more like an equal than anything else. They talk about how much fun they had attending Alyssa's birthday party, where pin the tail on the donkey was the crowd favorite, and how Alyssa joins them in the dugout during games. "It truly is a very reciprocated relationship. I feel that we've gained and learned more from her then she's gained or learned from us, which is really awesome," Tootle said.
The football team was the first team at Macalester to draft someone through Team IMPACT. Over two years ago, Head Coach Tony Jennison presented the idea of working with the organization to the team, which was met with unanimous support. This led to the drafting of Caleb Maaske, four years old at the time, who suffers from Chiari malformation, a rare and incurable disorder in which part of the brain does not sit properly against the spinal column. This leads to migraines, sleep apnea, difficulty breathing, dizziness and seizures. The condition is chronic, and the combination of its relative rarity and its lack of public profile means that the research into it is lacking. As of now, the only way to treat it is through a series of difficult and grueling surgeries.
Caleb has quickly become a beloved part of the Macalester football team, along with his brothers Elijah and Isaac and his parents Rachael and Chad. The football team's relationship with the whole Maaske family runs quite deep. "It is hard to put into words, or formulate a coherent thought, about the immense blessing that Team IMPACT and the Macalester football family has been to us," Rachael said. "But that is exactly what it has become: family. When we signed up, we had no idea what to expect. All we wanted was something for both Caleb and Elijah to enjoy equally while facing hardships no children should ever have to endure. We were given that, and so much more."
Macalester's on-campus representative for Team IMPACT is Forest Redlin '16, who recently went to Team IMPACT's national conference, with the Maaske family, in Boston. This event brought together more than 800 people including players and matches alike in a night to celebrate how far Team IMPACT has come and strive for even greater impact the organization hopes to help foster. Redlin and the Maaskes had countless unforgettable experiences during the Team IMPACT Gala, but he did have one that stood out for him. One of the reasons Redlin and the Maaske's had been invited to Boston was for him, Caleb and Elijah to speak on a panel about their Team IMPACT experiences. At one point, Elijah was asked about what the experience had meant for him. "His response blew me away," Redlin said. "He spoke not one word about himself but how grateful he has been for this relationship in the way he has seen it help Caleb in his battle with Chiari. This was coming from a 7-year-old! I never had a younger sibling growing up, but I find myself learning something new from my two younger brothers every time we are together." Clearly, the Maaske boys have meant just as much to Forest as he has to them.
Rachael Maaske often says that Team IMPACT "goes way deeper than a football game." She's absolutely right. After every game, win or lose, when Caleb comes running over, everything is given its proper perspective. If sports were just about the time we spend on the turf, in the dugout or on the court, then it wouldn't have the significance that it does. Sports, done well, should be more than an activity, and Team IMPACT transforms athletics into a vehicle for positivity. However, the true strength of the program is that it also builds upon the lessons inherent in any organized sport. It teaches empathy, compassion, responsibility, and it teaches us to honor and respect our sport, but also to understand that, in fact, athletics aren't the whole world.
Rachael sums it up like this: "On some of the very hard days when he has been crippled with pain, Caleb will see the team and forget all about it. As soon as we leave, it hits him like a tidal wave. But for that period of time, he's a 'normal' 5-year-old. His jersey has become his 'armor.' When he is scared, when he has surgery, when he is scared of being made fun of; he wears his jersey." No game is half as important as that.