Michael Bliss: Soccer player, soccer freestyler, film director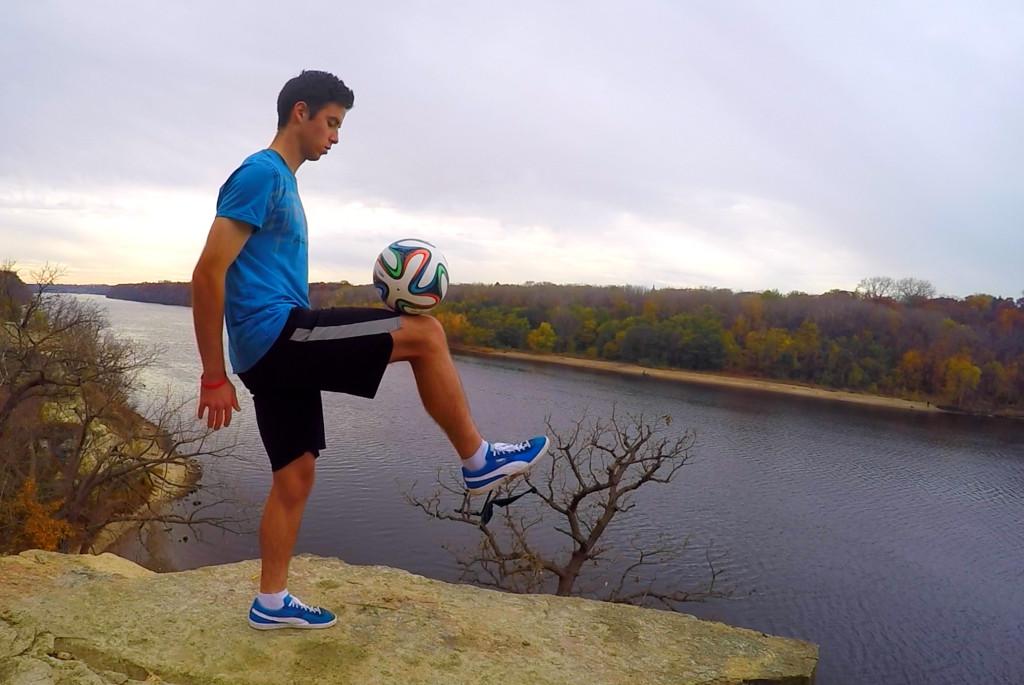 After advancing to the final round of a freestyle soccer video contest hosted jointly by soccer.com and Adidas, Michael Bliss '18 hopped on a plane to Los Angeles, California on March 5 to have his freestyle filmed by professionals.
As one of five finalists chosen for BossTheContest, Bliss' video is currently posted on soccer.com for a round of voting before the winner is announced this weekend. The winner of the grand prize will be the new soccer.com brand ambassador.
Hailing from Madison, Wisconsin, Bliss has been playing soccer as long as he can remember. His years of practice and love for the sport led him to Macalester and also to two of his passions: filmmaking and freestyling.
Bliss has been making videos for just under two years. During the spring of his senior year of high school he got together with a few friends to make videos of their free kicks. "I was pretty bad at filming and editing, but slowly I was getting better, and I found out there was a community for it, so that made me want to keep going," Bliss said.
Bliss, who is a self-taught soccer player, improves his skills by watching tutorials and taking notes from the work of others. Over time, Bliss got into freestyle soccer. This has driven him to improve his video making because of how well they go together. "I find that the more I get into video, the more addicted I become to trying to get better at editing. It's a good way to experiment with the new freestyle things I'm working on," Bliss said.
Freestyle soccer is all about doing tricks with the ball as a form of creativity and self expression. According to Bliss, there are four main categories of freestyle: lowers, uppers, sitdowns and blocks. Lowers are tricks around your feet, and uppers are near your head. Sitdowns involve juggling while seated, and blocks include methods of catching and stalling the ball.
Although Bliss admits that his freestyle probably helps his touch in his varsity soccer career, he likes to keep the two separate. "I'm juggling the ball a lot every day, so I think that does help, but if I was training for soccer I wouldn't be doing all of that," Bliss said. During his offseason, Bliss generally wakes up and practices freestyle for a few hours in the morning, goes to class before offseason training then ends his day studying.
In addition to the opportunity for self-expression, Bliss has found a lot of support in both the freestyle and YouTube communities. "I've had conversations with people I've never met, and they've help me out with advice for my videos."
While in Los Angeles, Bliss was able to meet and train with some of the other freestylers whose work he had seen but whom he had never met before. The community is very open. "It's a cool way to get to know people from across the country," Bliss said.
If you look at his YouTube channel (BlissFootball), there is an assortment of videos ranging from free kicks on the field to freestyles on the river bluffs. Currently, Bliss has a one-year deal with New Balance in which the company sends him products like apparel, balls and cleats. "I'm not required to make videos in [the shoes], but I like to incorporate them into my videos with the idea that in the future I would like to do that on the side as a source of income," Bliss said.