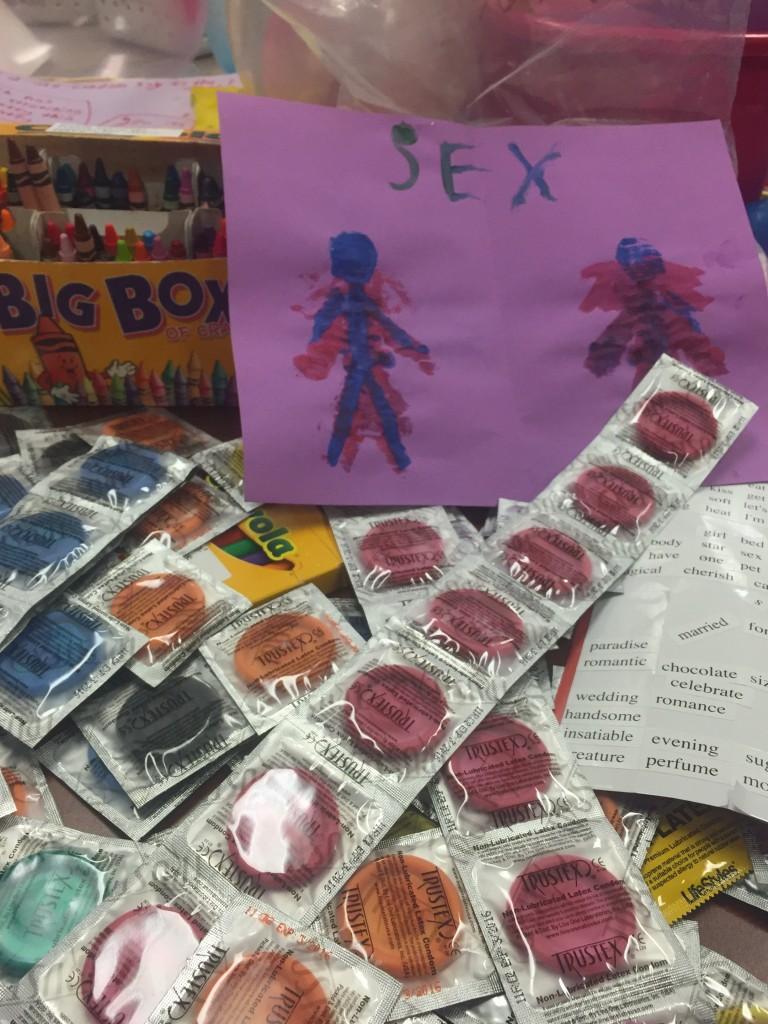 One of the first things sex educators tell you about condoms is to "check the expiration date before use." This begs the question, "What do you do with the expired condoms?" One option is to take a page from Health Promotions and create a condom art activity as a part of Safer Sex Week. This past week was Safer Sex Week at Macalester. This year's theme was simply to raise awareness about all of the lesser known services that the Health and Wellness Center offers.
Shannon Mahedy '17, a member of Health Promotions, said that there are several new elements this year, along with the continuity of The Hunt for the Golden Condom, which is a "staple" for a good Safer Sex Week. Each of the new events were designed expose the student body to another service that Macalester offers.
To kick off the week, there was an event in the Wellness Lounge (located across the hall from Studio 1 in in Leonard Center) that used expired condoms to make art. This was a creative way to put unusable condoms to use; although it also functioned as a way to demonstrate where and how Safer Sex Kits are assembled, and where you can purchase emergency contraception for $15. Mahedy said that the Wellness Lounge is somewhat out of the way for most students, so going there can be mystifying. The condom art activity was a way to try to familiarize students with the Wellness Lounge's location and make their purposes and services better known.
Later in the week, there was "Lunch with Liz," a question and answer session offered by biology professor Liz Jansen concerning the biological aspects to sex, which had a very large turnout. There was also a movie night, special edition safer sex kits and several other special events centered around safer sex that went on all week long.
While Safer Sex Week puts a strong focus on the services that Macalester College offers to students, it is important to recognize that there are a plethora of often underutilized resources available to students year-round.
In addition to Safer Sex Kits, which are delivered directly to your SPO, there are Lusty Lunch-boxes, which are bags that have free and easily accessible condoms, located outside any RA's room, an on-campus sexual violence support group and campus counseling services that offer 10 sessions of free counseling per academic year.
The point of every Safer Sex Week is to exemplify that there are many outlets for access to contraceptive, mental and physical health assistance at Macalester.