If you're a Chicago or New York native, don't fret! While they might not be as good as Lou Malnati's, these three pizza joints won't let you down.
1. Mesa Pizza ($) – 1323 4th St, Minneapolis – Distance from campus: 5.4 miles
If you're an adventurous eater/pizza lover, this place is for you. If you're a late night eater, this place is also for you. Mesa is open until until 2:30 a.m. on weeknights, and 3:00 a.m. on weekends. Think of your favorite meal, put it on a pizza, and Mesa will have it. If you're a pasta lover, no problem; try the chicken penne alfredo, tortellini pesto or mac and cheese slice. If you're in the mood for something spicy, go for the spicy chicken quesadilla, southwest taco or the guacamole burrito slice. Meat lovers will fall in love with the BBQ steak and fries (!!!) philly cheesesteak and gyro slices. If you're a vegetarian, try the avocado delight, cheesy potato or penne marinara slices. Mesa has two locations in Dinkytown by the University of Minnesota and one location in Iowa, if you ever find yourself hungry in Iowa. A cheese slice here goes for $3.60, while a specialty slice is $4.10. While that may seem pricey for a mere slice of pizza, these slices are large, in charge and delicious.
2. Black Sheep Pizza ($$) – 600 N Washington Ave, Minneapolis – Distance from campus: 4.8 miles
I tried Black Sheep Pizza for the first time last weekend, and was very impressed by the taste, price and service. With one location in St. Paul, and two in Minneapolis, this place is hard to ignore! While the menu is simple, the taste is anything but. Black Sheep offers 11 specialty pizzas in two different sizes (12 and 16 inch). The 16 inch is perfect to share with friends, and ranges from $15.50-$27. Last weekend, my group of five split two 16 inch pizzas, and each got three slices for $6 each. We tried the tomato and oregano, and cheese and garlic and they were both fantastic. If you're a meat lover, go for the meatball, ricotta and garlic, or the persian beef, feta, tomato and harissa. Vegetarian? No problem! Try the fresh tomato, green pepper and kalamata olives or the oyster mushroom, smoked mozzarella, rosemary and garlic. If none of those sound convincing, customize your own pizza or try their famous cheese and sauce sicilian pizza.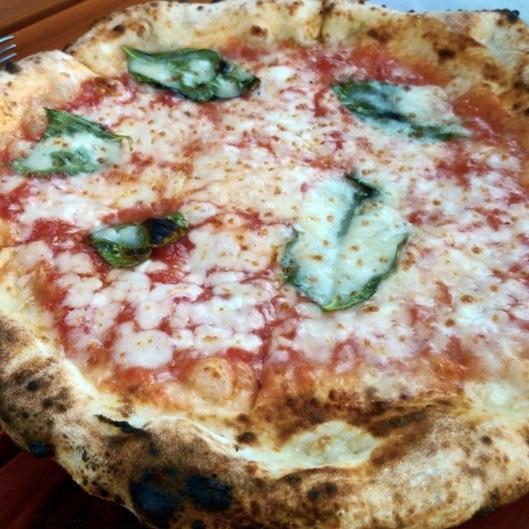 3. Punch Pizza ($$) – 704 Cleveland Ave S, St Paul – Distance from campus: 1.8 miles
If you read The Star Tribune, MPLS.St. Paul Magazine or watch the Food Network, you have probably come across Punch Pizza. Meryl Streep's "choice of pizza" will not disappoint, and is a straight shot down Grand Ave. Punch's authentic and fresh Neapolitan pizza will have you questioning everything you thought you knew about 'za. With their Margherita pizza starting at $6.75, this place is affordable AND delicious. Everything here is fantastic, but the Borgata (sundried tomato, goat cheese, eggplant, olives and basil,) and the Toto (prosciutto, goat cheese, arugula, cracked pepper and garlic,) are my personal favorites. If you don't like sauce, don't fret; Punch offers five sauceless pizzas including the Dino Z (mixed greens, parmesan, balsamic vinegar, onion and garlic.) If you're in the mood for something a little greener, Punch has great salads (and that's coming from a salad hater!) All five salads, are fresh, delicious and can be served Pulcinella style (inside warm focaccia.) Meryl Streep and I both think Punch is awesome, so check it out if you haven't meandered down Grand yet.