LiveIt! The Search for Representative Protagonists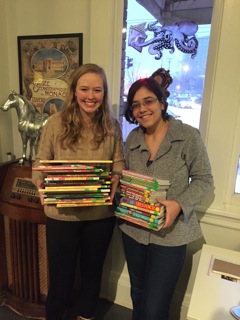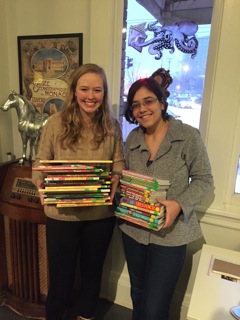 Reading books that resonate with your personal experience and identity is a privilege, but neither Eloa Franca Verona '18 nor Emily Brinkman '17 had thought much about the importance of seeing yourself represented in the media before college. Today, however, the effects of misrepresentative media for kids is an issue close to their hearts. Over J-Term, the two started a multicultural lending library at the Mid-Continent Oceanographic Institute, a St. Paul after-school tutoring program catering primarily to children of color and immigrant families.
"There's a lot of literature out there that says that reading books that contain characters who you personally connect with makes reading and learning a lot more engaging for kids," Brinkman said. "That specifically is why we thought this would be a really good project." Franca Verona and Brinkman met in their School to Prison Pipeline class in the spring of 2015 and this fall ran an International Roundtable Workshop on the subject. Both wanted to learn how they could change the opportunity gap in the American public education system.
The project was originally Franca Verona's brainchild. She started volunteering at MOI in October as a tutor. "I was helping the kids with doing their homework, and then I realized some of the problems with the library there. The first thing that came to mind was the lack of characters of color in the books ," she said. She reached out to Brinkman. Using Macalester's LiveIt! Fund, the pair proposed a project: to organize MOI's library and buy books with better representation.
Most of the students who attend MOI tutoring are children of color, many from immigrant families. "Ninety percent of the books they have there were with white characters and white authors," Franca Verona said, "So the idea was to use the grant to buy new books that are more representative, and also we organized the whole library, divided by grade level, so it's easy for the children to find their books."
While Franca Verona organized and created a database for the books, Brinkman handled the book purchasing. Finding books that talked about the experiences of children of color and immigrants was a challenge. Brinkman said that most picture books with children of color focused on historical narratives, and it was hard to find multicultural books with male protagonists. For the students from Muslim backgrounds, Brinkman could only find books with female Muslim protagonists. "It's interesting because boys are typically more represented as protagonists in books than female characters, but if you look at the specific multicultural literature, I found more books that had female protagonists than male protagonists. "
This is an issue that Franca Verona first noted in girl characters in children's books growing up. "I remember as a child I would be very frustrated with female characters in books or in cartoons or on TV. I would be frustrated because, for one, they're usually not the main characters, but also they're usually weak or silly. Now, thinking about it in terms of race, it's even more frustrating in that sense. Because you see yourself even less."
To Brinkman and Franca Verona, the project is much more than just a library; it's a step towards reversing a system that excludes minority populations from literature and the educational system. "The kids who go to MOI are marginalized and they're usually behind on reading or math," Franca Verona said, "I think any small thing that we can do to help them be more interested in reading is really valuable."
Brinkman added: "We just see a huge gap in how children of color compare academically to white kids – what some call the achievement gap but others prefer to call the opportunity gap – so I think this is a problem that we're facing as a society, and we need to address it and look at the root causes of how to get kids engaged. Why do these gaps exist? Because there is no biological or intellectual reason why this should be happening."
Franca Verona and Brinkman have high hopes for the new library. They expressed gratitude to Macalester for providing funding for projects like this. They strongly recommend checking out the LiveIt fund for other projects Macalester students feel passionately about.